First Person: young composer Nicola Perikhanyan on a new immersive reality experience at London Wall |

reviews, news & interviews
First Person: young composer Nicola Perikhanyan on a new immersive reality experience at London Wall
First Person: young composer Nicola Perikhanyan on a new immersive reality experience at London Wall
Multilayered work for clarinet is part of 'HARMONY' in the City
Wednesday, 22 December 2021
Nicola Perikhanyan at London Wall Place
There's something really moving about standing in the centre of London Wall's Roman ruins and looking up at the city that has grown around it. Thinking about our past, present and future simultaneously. More than 2000 years have passed since the Romans created our city, and while much has changed there's still so much consistency in how our society exists, both the beauty and the flaws.
As a civilisation, how far have things really shifted?
London is a city of contrasts, it's a city you can never tire of because it's constantly evolving and every layer of its history contributes to its character. It's impossible to draw a line between ancient, post-war and contemporary civilizations as they stand side-by-side. HARMONY is the latest statement in the history of London Wall Place, the largest set of public gardens developed in the City of London since the Barbican Estate.
HARMONY at London Wall Place is an immersive music and augmented reality experience that was co-commissioned by property developer Brookfield Properties and cultural district Culture Mile. The project saw Guildhall School of Music & Drama students - who are based five minutes' walk away from the site in the City of London - develop place-inspired compositions under the mentorship of London Symphony Orchestra musicians. These short pieces were then performed by the LSO and were accompanied by augmented reality artworks delivered by Guildhall Live Events, under the creative direction of Dan Shorten, an award-winning director and designer. The finished, immersive works can be accessed by visitors to London Wall Place through their devices.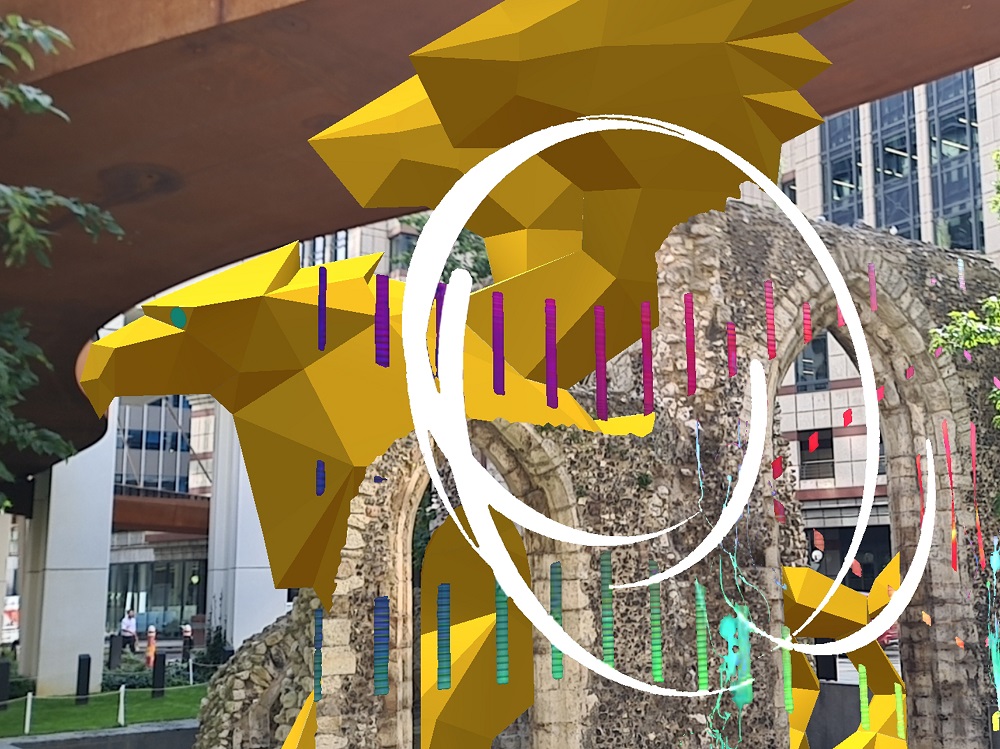 I was lucky to be part of this cohort of young musicians and I worked with Andy Harper, clarinettist at London Symphony Orchestra on my new commission, for St. Alphage's Ruins (where the Griffin AR visual is "based").
I wanted the music to celebrate the reawakening of the City of London as we begin to resume normal life after the pandemic (or did at the time of writing). I was inspired by the vertical composition of the buildings and the evolution of the landscape over time. The music consisted of 113 layers of recordings and manipulations, which continuously evolve, becoming more electronic towards the end of the piece.
I feel very privileged to have worked with Andy on this project, and not just musically; I loved hearing the stories of his life as a musician. With Andy's help I've been able to discover the range of possibilities that can be considered when writing for the clarinet. The making of the piece was very organic and collaborative and I constructed it from the bottom up, like the tall buildings surrounding the ruins. I approached the writing in an open minded way, being guided by the material captured in each session and building on it. I love working with instrumentalists and exploring the boundless possibilities of manipulating acoustic sounds and combining these textures with the sound of the raw instrument.
The music consisted of 113 layers of recordings and manipulations, which continuously evolve
Explore topics
Share this article