theartsdesk in Gothenburg: concert-hall storytelling rivets at the Point Music Festival |

reviews, news & interviews
theartsdesk in Gothenburg: concert-hall storytelling rivets at the Point Music Festival
theartsdesk in Gothenburg: concert-hall storytelling rivets at the Point Music Festival
Galvanizing Santtu-Matias Rouvali kicks off, and two dozen instrumentalists go barefoot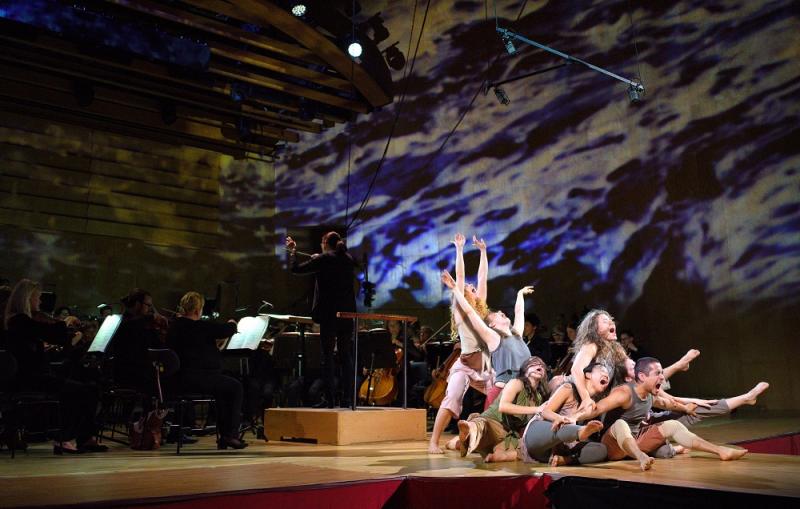 Strange meeting between the Gothenburg Symphony Orchestra conducted by Anna-Maria Helsing and the Iceland Dance Company in the world premiere of Anna Thorvaldsdóttir's and Erna Ómarsdóttr's AION
There was a special celebratory aura to the start of Swedish city Gothenburg's first Point Festival. Earlier in the week its Symphony Orchestra's Chief Conductor, electrifying Finn Santtu-Matias Rouvali, had not only announced a renewed contract there but also been appointed to the same position with our own Philharmonia Orchestra, to succeed Esa-Pekka Salonen.
Further excitement was further guaranteed by the fact that two of the world's finest ensembles, the GSO and violinist-genius Terje Tønnesen's uniquely innovative Norwegian Chamber Orchestra, would share five of the 11 major events, all of them testing the adaptability of Nils Einar Eriksson's open, airy 1935 Concert Hall. But would it all work in practice?
By Sunday afternoon, with one major event still to go, GSO General Manager and Artistic Director Sten Cranner was happy to agree that it had, triumphantly; "I hoped it would be one and one equals three, but I'd say it was more one and one equals four or five". His is the sort of intuitive festival planning, forging connections but not cramping with a rigid theme, that I've only witnessed at this level from Svend Brown at the East Neuk Festival. "Point" may be ambiguous and one-size-fits all as a title, but each event attempted to do more than just offer up the usual concert format, and that wasn't just a question of adding smoke and vaguely suggestive lighting. There was a core of human storytelling, with women's voices and spirit very much to the fore.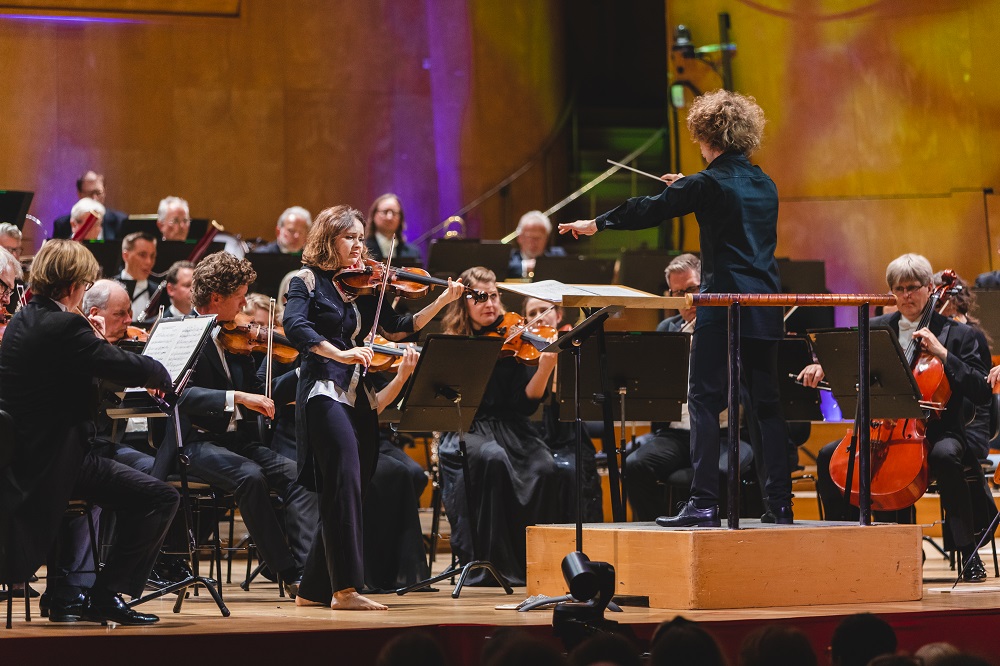 Legendary barefoot violinist Patricia Kopatchinskaja adapted to the theme naturally. Her art is both theatrical and intuitive (that word again), and only she could compel attention throughout Bartók's loose-limbed early First Violin Concerto which launched the festival. This was a way of reclaiming ground lost by Bartók's intended violinist, Stefi Geyer, with whom he was in love but who rejected his marriage proposal on the grounds of incompatibility and never performed the concerto. Its opening hymn is inward, ethereal; later Bartók would make it the first of his Two Portraits ('Idealized') and follow it with a Berlioz-like parody of its idee fixe ("Distorted"). It's easy to see why he discarded the wayward antics of the original work's faster music, apparently a sketch of Geyer's lighter, brighter public image. But "Pat Kop" and an orchestra on a thrilling knife-edge, just keeping tabs under Rouvali (pictured above by Francis Lövenholm) made it work.
Turbulent love might seem a long way from the mock-epic portrait of rumbustious family life in the second half's blockbuster, Strauss's Symphonia Domestica. Love it or hate it, you can't deny the composer's masterly manipulation of the themes he lays out, as if for variation treatment, right at the start: Papa and Mama have multifacted temperaments, while the Child seems all folksy innocence until he starts wailing. There are so many pitfalls in this complex spider's web; if the kid-at-play scherzo is as beguiling as elements of Mahler's near-contemporary Fourth Symphony, the ebb and flow of the long slow movement's four sections needs a master's hand, and no conductor I know has a more fluid way with them than Rouvali. With the orchestra glowing but never overwhelming in its hall's superb acoustics, this was the best live performance I've heard – until the very end, when Strauss's horn-whooping final romp needs a devil-may-care exuberance that mocks the false conclusions. Rouvali's tendency to abstraction didn't exactly fall at the final hurdle, but it could do with more of a graphic edge in future performances.
The second concert of the evening saw a slight misalliance between jazz pianist Bugge Wesseltoft and the Norwegian Chamber Orchestra in the first and least succesful of their three programmes. It was a bold idea to try and match strings in transcriptions of selected Bach Goldberg Variations – plus a few interestingly distorted transitions by Renaissance man TønnesenTonnesen – with improvisation, and fine to start and end with harpsichord original. But Wesseltoft had confessed in interview that he'd been at a loss to know what to do with his material, and the hole in the middle showed. Most magical moment, apart from dancing, biting violins in thirds, was when his double-bass player took on the aria just before the end.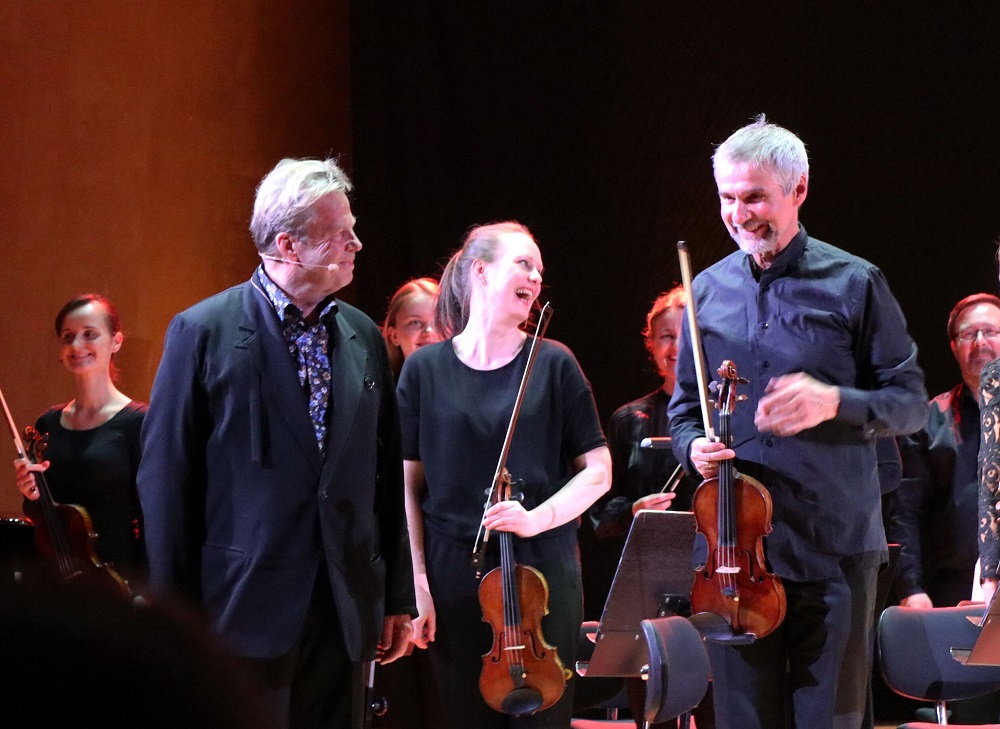 No question, though, that the NCO's two other events triumphed in their intense originality. Late on the second evening, movements from Tønnesen's utterly convincing transcription of Janáček's First String Quartet for string orchestra punctuated readings from the novella which the Czech composer took for his theme and subtitle, Tolstoy's horrifying story of marital hell and pathological jealousy, The Kreutzer Sonata; Beethoven's work for violin and piano is heard at the beginning of this lacerating hour. On a three-CD set which deserved to walk off with every award going in 2018, the reader was Teodor Janson (in both Norwegian on one disc and idiomatic English on another). In Gothenburg, a full house was assured by the Swedish Wallander, Krister Henriksson (pictured above iin the first of two NCO images with Guro Asheim and Tønnesen). In a fusion that worked, the cruel and tender music enhances the words, and vice versa. Both Janáček and Tolstoy leave us crushed and in awe.
The same effect was achieved by an extraordinary mesh of Rodin, Bach, Beethoven and Shostakovich, with a smaller quotient of spoken word in texts by Wilfred Owen and Thomas Mann among others, the next afternoon. In lesser artistic hands than those of Tønnesen and his late collaborator, mime artist Bud Beyer, The Gates of Hell could have been a pretentious flop. But how artistically some of the musicians modelled figures from Rodin's masterpiece in the foyer of the smaller Stenhammer Hall as sounds of Bach's Contrapunktus 14 from The Art of Fugue resounded in the distance, continuing as we took our seats.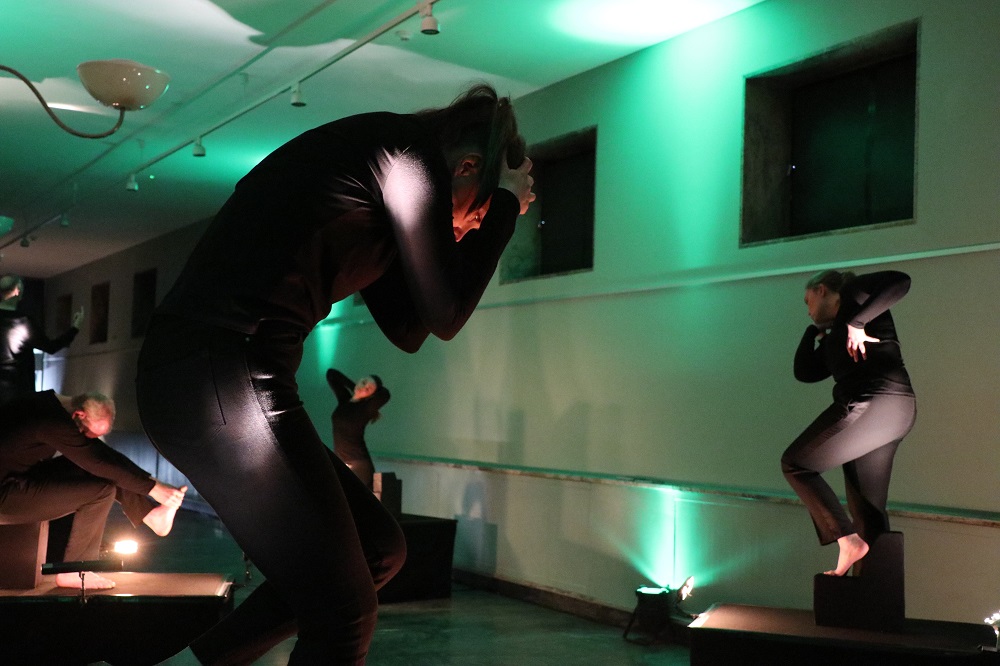 At close quarters, the full ensemble tearing passionately but precisely into the Grosse Fuge was both terrifying and exhilarating. No-one noticed when they put down the music on the stands and segued into Shostakovich's Eighth Quartet, not only with the score in their heads but stricken faces transfixing us as horrified witnesses to the pity and terror of war. As in the Janáček, Tønnesen's placing of solo instruments as they appear in the original heightened the dramatic sense: as he held tenaciously onto a single-note drone at the start of the fourth movement, the rest of the orchestra turned on him, refusing to yield until his lament could get underway; the cello quotation from Lady Macbeth of Mtsensk at the heart of that movement was all the more private in this context. There's such renewal here; the orchestra had previously given the programme with Strauss's Metamorphosen, also memorised, but substituted with the Shostakovich since the Strauss had already featured in the GSO's season. That's creativity for you.
Electrifying, too, was the big world premiere of the festival, leading Icelandic composer Anna Thorvaldsdóttir' 's AION, a collaboration with the Gothenburg Symphony Orchestra conducted by Anna-Maria Helsing and the Iceland Dance Company. Erna Ómarsdóttir 's choreography for this mythological meditation on time and space – if there was a narrative, we weren't made aware of it – contained the wildest of physical gestures, screaming and shouting within rigorous limits and astonishing symmetrical groupings, dancers going to the limits. As Thorvaldsdóttir''s trademark becomings and spacious soundscapes are more about atmosphere than Rite of Spring-like rhythmic intensity, there was a disjunct between the dancing and playing; if anything the stunning video work projected on the birchwood walls of the concert hall, all rocks and water, related more obviously to the music. But the components all stunned.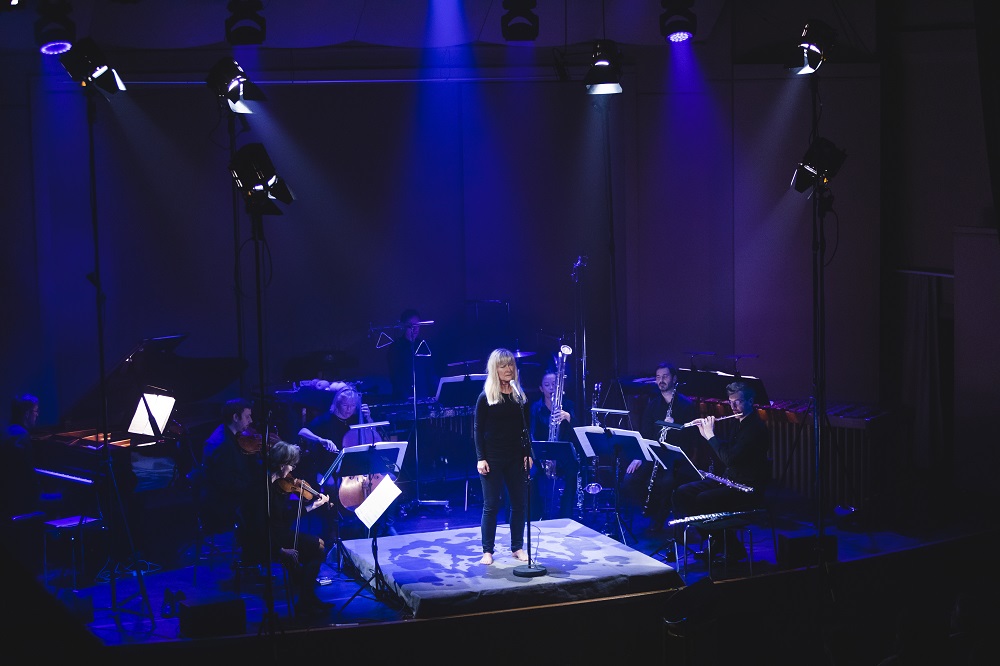 There was much to think about here, but very little breathing-space before we were on to the next primeval drama, Swedish composer Karin Rehnqvist's Blodhov (Blood Hoof) to a poem by another Icelander, Gerður Kristný. Rehnqvist has known folk singer Lena Willemark for over 30 years, and there was a compelling, sometimes blood-curdling intensity about Willemark's multicoloured impersonation of a woman in a male mythic world, memorable phrases echoed by the players of Ensemble Recherche under Svante Grogarn. Patricia Kopatchinskaja's recitation of Schoenberg's Pierrot Lunaire the following evening did not go so deep. The violinist-narrator stuck to playfulness in her speech-song, more coloratura than lyric-dramatic soprano. The payoff here was the brilliant programme planning, interspersing groups of Schoenberg's Giraud settings with Pat-Pierrot taking up her violin for instrumental pieces by Sciarrino, Bartok and Milhaud, and ending with Schoenberg's chamber arrangement of Johann Strauss the Younger's Emperor Waltz.
In the grand finale, we were back to women's stories – this time from contemporary Canadian life in the National Arts Centre Orchestra's dazzling multimedia tetralogy Life Reflected. The players under Alexander Shelley, the stupendous visual and stage design by Normal Studio and music by four composers told four very different narratives. The quirkiest and musically the most successful was Nicole Lizée's scherzo-like celebration of Canada's first female astronaut, Dr Roberta Bondar. Zosha Di Castri's overwrought and cliched score for Dear Life seemed more fit for a horror story than Alice Munro's fluid tale from childhood. In a panel discussion, we had been deeply moved by the work of Carol Todd, mother of the subject of the second narrative, My Name is Amanda Todd, but Jocelyn Morlock's music in this tribute to the teenage who took her life after years of cyber abuse and bullying not long after reaching out in a YouTube video copped out in its sentimental epilogue. Yes, hope and reconcilation are possible, but it's not the whole story.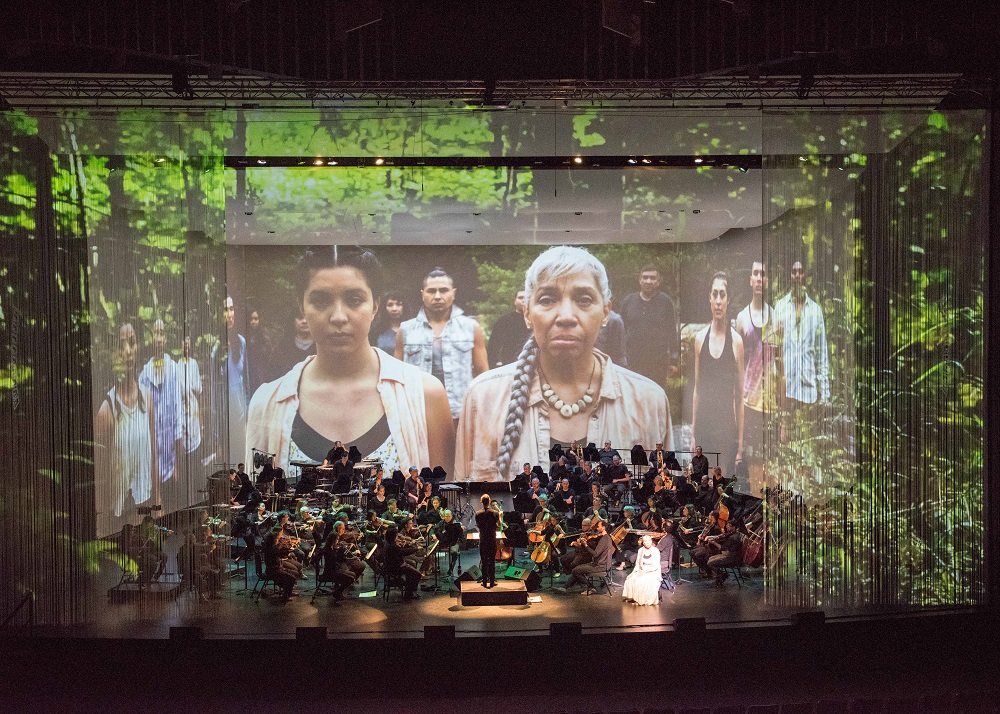 The same could be said for John Estacio's conclusion to I Lost My Talk, but this traditional post-romantic score did allow us to judge the finesse of Shelley and his orchestra. Its poem is simplicity itself, indigenous (M'kmaw) elder Rita Joe's response to the years in a Residential School where her native language was taken away from her. The highlight here was the magnificent narration by Guna and Rappahannock actor Monque Mojica, who also appeared in the filmed choreography (pictured above by Fred Cattroll). As presentation, this visiting spectacular could hold its head high with the best of a remarkable and overwhelming four days in Gothenburg. Expect a similarly unusual approach to the Beethoven anniversary next year.