Jeneba Kanneh-Mason, Sode, Chineke! Orchestra, Edusei, RFH review - protest, passion and joy |

reviews, news & interviews
Jeneba Kanneh-Mason, Sode, Chineke! Orchestra, Edusei, RFH review - protest, passion and joy
Jeneba Kanneh-Mason, Sode, Chineke! Orchestra, Edusei, RFH review - protest, passion and joy
The new, the rediscovered and the familiar rub (distanced) shoulders
Wednesday, 21 October 2020
Jeneba Kanneh-Mason as soloist in Florence Price's Piano Concerto in One Movement
During the Black Lives Matter demonstrations in London earlier this year, a black man named Patrick Hutchinson hoisted over his shoulder an injured white man from the counter-protest of the English Defence League and carried him to safety. The photographs made headlines.
The incident took place just outside the artists' entrance of the
Royal Festival Hall
.
As part of the Black Legacies series for Black History Month, the Chineke! Orchestra - inside the hall, if without an audience beyond a select few - paid tribute to Hutchinson's selflessness with the world premiere of a new work, Remnants, by James B Wilson, featuring the poet Yomi Sode in an eloquent recitation overflowing with anger and outrage but never relinquishing essential dignity (pictured below). The orchestra, conducted by the excellent Kevin John Edusei, sets forth in tense build-ups and glistening surges of passion, periodically quietening to accompany the poet with a low drone to underpin the speaker's words. Short and strong, the piece punches deep in the gut. One of the few advantages of mass cancellation of long-planned events is that now there is unexpected room for music to respond to the most urgent of current affairs.
Also making waves was a piece by the American composer Florence Price, whose Piano Concerto in One Movement received its full-scale UK premiere in this concert thanks to a new orchestral performing edition. It may actually be the first time it's been performed in full since Price played it herself in 1934. "In one movement" is slightly misleading as the piece, though played without a break, falls into three distinct sections, movements in all but name - but it is a splendid discovery and hopefully will attract plenty more performances. With a first section starting in the musical spheres of Grieg and Beethoven, an imposing cadenza kicking in just after the opening, the concerto continues with a lyrical slow section featuring an almost operatic duet between piano and oboe, then concludes with an irresistible ragtime finale.
In another auspicious first, the soloist was 18-year-old Jeneba Kanneh-Mason, the latest of her phenomenal family to step into the limelight, poised, polished, professional and full of the joy of music-making. Her sense of ensemble, no doubt honed well through chamber music with her siblings, proved worth its weight in gold in this highly collaborative piece: it's rare to find such a youthful pianist able to listen to and blend with an orchestra quite so expertly. Now in her first year at the Royal College of Music, she'd learned the concerto in one month flat while quarantined with an electric keyboard in her student room. I'm sure she won't forget this occasion in a hurry, and nor will the rest of us.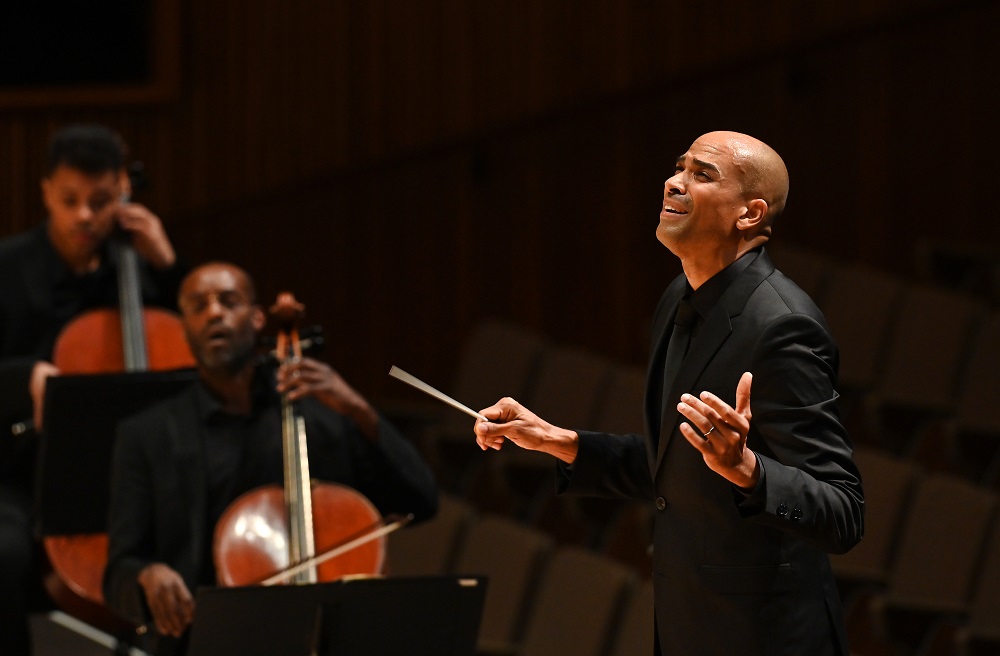 The concert had begun with another rarity, this time by Samuel Coleridge-Taylor, who is something of an emblem for Chineke! His Africa Suite, written in 1898, is full of late-Victorian charm, and has the distinctive Coleridge-Taylor voice we're getting to know better: a mingling of Spiritual-style melody and plenty of rather innocent warmth. It's a somewhat repetitive piece, but an enjoyable listen, well chosen to offset the intensity of the Wilson.
Speaking of intensity, Beethoven's Symphony No. 5 could possibly have done with a bit more of it. Beethoven was never the same again after the "Eroica": this was his "new path", his forging of a new language for a new era, and the Fifth Symphony inspired a paean from ETA Hoffmann about the essence of Romanticism. In full historical context, it's an urgent, red-hot eruption of energy from within a threatened world; and if it is many other things too, relaxed is not one of them. Edusei chose fleet-footed tempi, which have several benefits: letting the second movement's variations build into moments of display, and turning the fugato theme of the scherzo's trio into a satisfying upward flourish. Nevertheless, it was only really in the finale that the symphony fully reached the level of galvanising inner energy that it deserves. That didn't stop me from loving every note of it, overjoyed at returning to the Royal Festival Hall for the first time since March.
Now there is unexpected room for music to respond to the most urgent of current affairs
rating
Explore topics
Share this article