L'Allegro, il Penseroso ed il Moderato, Monteverdi Choir, EBS, Sousa, St Martin-in-the-Fields review - Handel at his most magical |

reviews, news & interviews
L'Allegro, il Penseroso ed il Moderato, Monteverdi Choir, EBS, Sousa, St Martin-in-the-Fields review - Handel at his most magical
L'Allegro, il Penseroso ed il Moderato, Monteverdi Choir, EBS, Sousa, St Martin-in-the-Fields review - Handel at his most magical
Milton's odes to the best of day and night in gorgeous settings and jewelled performance
Wednesday, 01 November 2023
Nick Pritchard's Allegro in opening spat with Bethany Horak-Hallett's Penseroso
There was a good reason why Milton never added a Moderato, a "middle way", to his masterly poems on mirth in bright day (L'Allegro) and more reflective pleasures by night (Il Penseroso), and a bad one why Handel allowed Charles Jennens to tack on his own ode to reason; neither poetry nor music should have much to do with pure intellect.
Yet the joys and solitudes of the first two parts are so mesmerisingly handled, and here well-nigh perfect in performance, that we can forgive a trimmed appendix with a sable final chorus.
Following his takeover from the self-dishonoured Gardiner in a rapturously received Proms performance of Berlioz's Les Troyens, Dinis Sousa (pictured below) now proves he's the right conductor for this happy-looking team (to be fair, the Monteverdi Choir and English Baroque Soloists always looked cheerful and engaged before, but preparations for those vintage JEG performances could be fraught).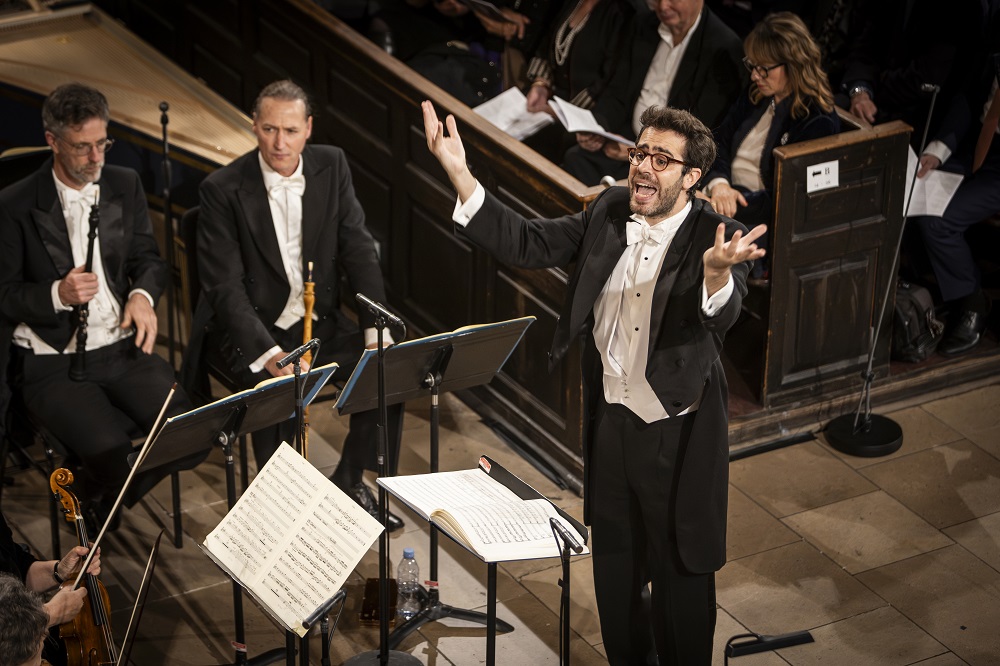 He came on last night to bounce standing upper strings and woodwind into life with an Overture that's more memorable than most of those for the operas – because it's a recycled Concerto Grosso. The rest was the epitome of slow-fast, happy-sad/reflective numbers intensified by Jennens' clever interplay of Milton's contrasting moods, kicked off by two remarkable singers acting out the initial recitative-spat. "Hence, loathed Melancholy", declaimed that most vivid and delightful of tenors, Nick Pritchard, and with "Hence, vain deluding joys", Bethany Horak-Hallett gave as good, dramatically and vocally speaking, as she received.
We should have liked to see and hear much more of both throughout the evening, though Pritchard poured a world of delight and expression into such relatively short numbers as the rush to the stage "if Jonson's learned sock be on" – marvellous word-setting by Handel – and to witness the "native wood-notes wild" of "sweetest Shakespeare, fancy's child". I see no reason to have two tenors; Pritchard's consummate mastery should have been with us throughout, though Jonathan Hanley did a decent job and had fun, as did the chorus, in the "laughing" number.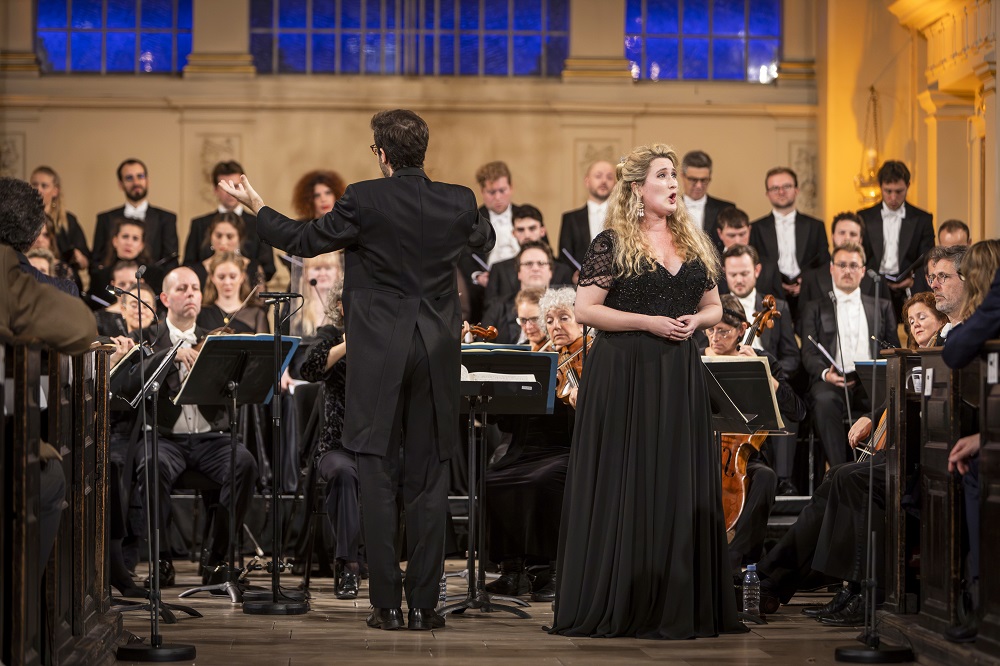 The biggest tasks after the prologue fall to the soprano soloists and their instrumental companions. For the Lincoln's Inn premiere in the freezing February of 1740 Handel apparently had a star, La Francesina, and a boy treble. This performance offered three sopranos, including short contributions from Monteverdi chorister Alison Ponsford-Hill. Hilary Cronin (pictured above) is a regular member, too, but – as her flawless contribution to the unsurpassable Irish Baroque Orchestra Messiah at the Wigmore Hall earlier this year proved – has everything in her vocal armoury for this music. It even sounds, for all the white-note beauty, that there's dramatic-soprano potential, but that might mean sacrificing some of the agility. There was everything here from hypnotic softness in the registering of "the far-off curfew" and "Hide me from day's garish eye" to the quirky imitation of the cricket on the hearth, and the trilling games with leader Kati Debretzeni in "Orpheus' self may heave his head".
Only Samantha Clarke, one of the most remarkable lyric sopranos to have emerged in recent years (she won the Guildhall School's Gold Medal on graduating), could cap that in response to Rachel Beckett's nightingale (the two pictured below with Sousa and company below), simply by virtue of one of Handel's finest ever settings, "Sweet bird, that shuns't the noise of folly". It went even deeper in musical-poetic terms with the walk "to behold the wand'ring moon/Riding near her highest noon". Like Cronin, Clarke has so many colours in the voice, which a perfect technique allows her to access, and like Pritchard, she's a real stage animal. The freedom from scores allowed so much acting out, and Clarke simply lit the place up with her every appearance.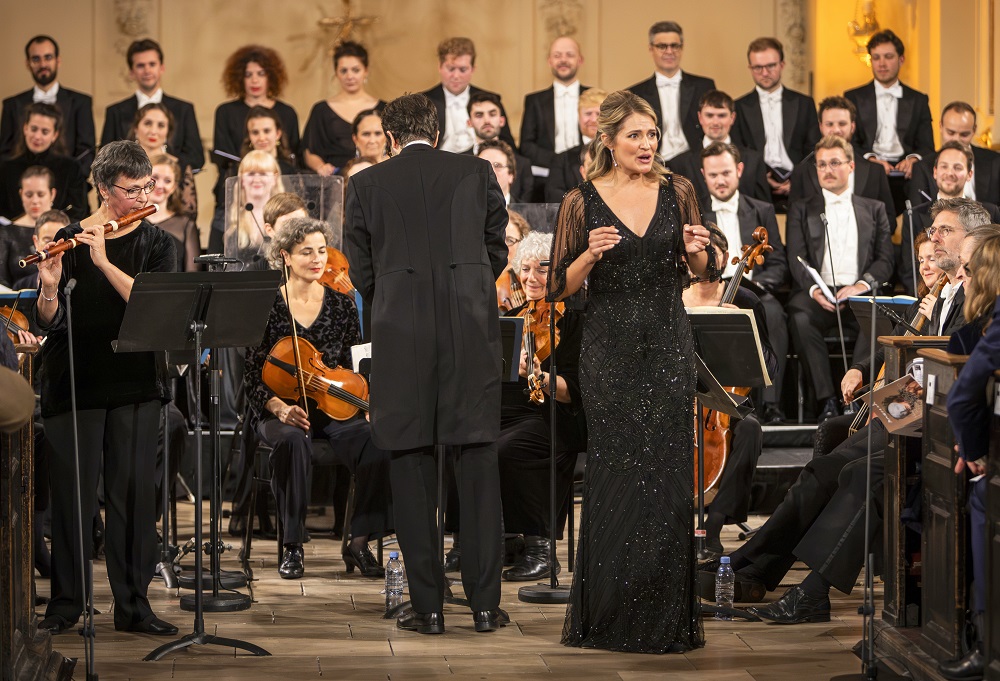 Handel's choruses are glorious and unpredictable: the village-green carillon at the end of Part One gives way to an oddly disturbing conclusion where "by whisp'ring winds" the merrymakers are "soon lull'd asleep". There's also a remarkable set-piece with organ and soprano as we enter the "dim religious light" of church. Two characterful bass-baritones, Alex Ashworth checking in with Anneke Scott's high-raised horn as one the hunting party in the robust "Mirth, admit me of thy crew!", and Frederick Long kept what was left of Part Three ticking, aand if one would rather have ended on the high note of "Mirth, with thee I mean to live" instead of "Thy pleasures, Moderation, give" – as did English National Opera's unforgettable collaboration with the Mark Morris Dance Group – the splendour of a very substantial Monteverdi Choir held us in thrall to the last.
Like Cronin, Clarke has so many colours in the voice, which a perfect technique allows her to access, and like Pritchard, she's a real stage animal
rating
Explore topics
Share this article