The music of isolation: conductor Ian Page on 18th century 'Sturm und Drang'
The music of isolation: conductor Ian Page on 18th century 'Sturm und Drang'
Inspiring mind behind the Mozartists marks the launch of a seven-volume series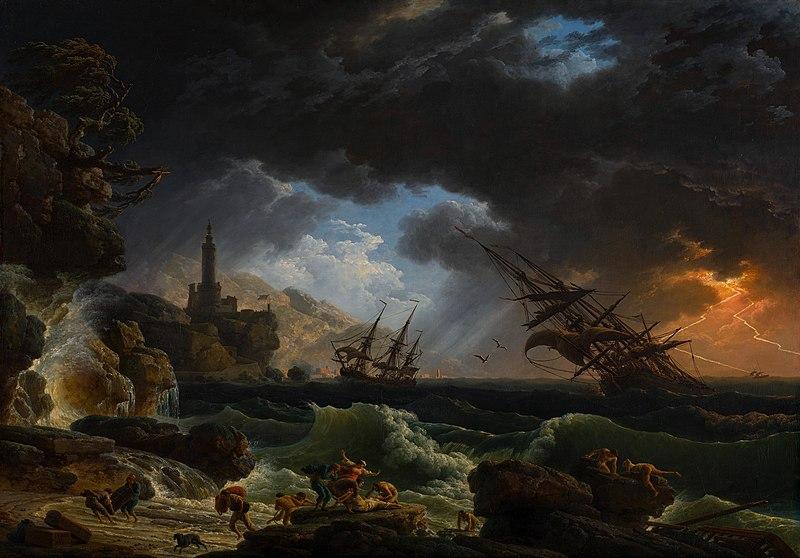 Claude-Joseph Vernet's 'A Shipwreck in Stormy Seas'
My latest recording with The Mozartists is the first in a seven-volume series [reviewed by Graham Rickson in his Classical CDs Weekly column] exploring the so-called "Sturm und Drang" (literally translated, "storm and stress") movement that swept through music and other art forms between the early 1760s and the early 1780s<
/a>. In its strictest sense this was an exclusively literary movement which developed in Germany during the 1770s, and which owes its name to the title of a play written in 1776 by Maximilian Klinger. Its general objectives were to frighten and perturb through the use of a wildly subjective and emotional mode of expression, and the movement sought to evoke ground-breaking extremes of passion and sentimentality.
A leading figure was the young Goethe, whose Sorrows of the Young Werther (1774) anticipated the sombre world-weariness of the next century's young Romantics, and with Schiller's play Die Räuber (The Robbers, 1780-81) the movement is generally considered to have reached its peak. Not surprisingly, the "Sturm und Drang" movement was mirrored in other art forms; the evocation of fear and terror was reflected in the fashion for storms and shipwrecks in paintings of the period by such artists as Joseph Vernet and Philip James de Loutherbourg, while in music there suddenly, and often quite independently, emerged a profusion of intensely dramatic and turbulent minor-key works. Opera, with its dramatically heightened fusion of text and music, initially led the way, with the stand-alone aria increasingly being displaced by less formulaic and more adaptable styles of utterance. Recitatives in particular were increasingly through-composed and accompanied by full orchestra, enabling the composer to respond far more sensitively and astutely to each subtle gradation of a character's emotional and psychological state.
History has understandably placed Gluck at the forefront of these seminal operatic reforms, and his three so called "reform operas" – Orfeo ed Euridice (1762), Alceste (1767) and Paride ed Elena (1770) – undoubtedly played a significant role in the evolution of the artform. At the same time, though, two important but now largely forgotten Italian masters, Niccolò Jommelli and Tomasso Traetta, were forging their own parallel path. Both are regularly mentioned in textbooks, but their actual music is still largely neglected, so I am particularly pleased that Volume 1 of our "Sturm und Drang" series includes characteristic samples of their work (soprano Chiara Skerath at the sessions pictured above by Benjamin Ealovega). A hauntingly macabre aria from Jommelli's Fetonte was originally prescribed to be sung in "the gloomy sepulchres of a subterranean palace", and fully justifies an adulatory obituary which praised the composer's "fiery imagination, comparable inventiveness, great harmonic understanding, a wealth of melodic passages, [and] bold, powerfully effective modulations". The first of two extracts from Traetta's Sofonisba, meanwhile, features the memorable instruction for the singer of the title role to scream ("in the French style") as she laments her tragic plight, and her final scene is not an aria at all but a heart-rending soliloquy set entirely as free-flowing accompanied recitative.
It is the finale of a ballet, however – again by Gluck – that is most commonly cited as representing the birth of musical "Sturm und Drang", and this music opens our new recording. Don Juan was premièred at the Burgtheater in Vienna on 17 October 1761, and the finale in particular, which depicts the protagonist's terrifying but unrepentant descent to Hell, caused a sensation. Again this work represented a deliberate attempt at artistic reform, with the original preface outlining a new manifesto for ballet as "a kind of declamation conceived for the eyes, the message made more apparent by means of music, which varies the sounds according to whether the mime intends to express love or hatred, fury or despair", and Gluck's music features many of the techniques and qualities that were to become synonymous with symphonic "Sturm und Drang".
The increased importance of the orchestra in portraying the narrative and emotional landscape of opera and ballet was also reflected in the creation of an entirely new genre, the melodrama. This featured spoken text declaimed above, or around, a viscerally dynamic and evocative orchestral accompaniment. The first significant example was Pygmalion – with text by Jean-Jacques Rousseau and music by Horace Coignet – which was written in 1762 (though not performed until 1770), and the most successful examples of the form were Jiří Benda's Ariadne auf Naxos and Alceste, both of which were premièred in Gotha in 1775. Three years later Mozart was overwhelmed by these works when he heard them in Mannheim, and he briefly became convinced that the future of opera lay in replacing recitative with melodrama. The following year he incorporated elements of it into his unfinished opera Zaide, but he had already realised that, while highly effective in short bursts, melodrama was less successful across a longer span; Beethoven and Weber were to make the same judgement call in Fidelio and Der Freischütz respectively.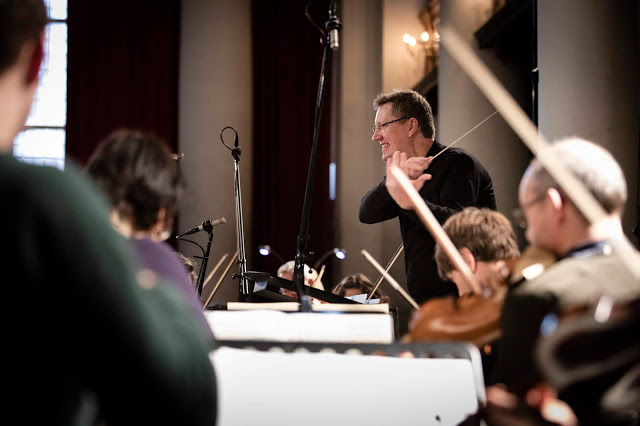 Opera, ballet and melodrama, then, all incorporated and reflected the spirit of "Sturm und Drang", but it is to the symphony – and Haydn's middle-period minor key symphonies in particular – that that the term is most frequently applied. It is important to remember that the phrase "Sturm und Drang" was not used in a musical context until 1909, the centenary of Haydn's death, and that most of the music that we now categorise under this heading actually predates the literary movement. This suggests less a conscious and deliberate "movement" than a latent emotional mood, but such a mood is consistent not only with the calls for operatic reform but also with the clamour for political revolution that was increasingly sweeping through Europe and colonial America.
The symphony was a relatively new form, one which had originally derived from the Italian opera overture and had gradually evolved into a form of genteel diversion for the aristocracy. As such it was still viewed as a kind of warm-up to the main event – be that an opera or a concerto – and it was common for audience members to talk to each other throughout their performance. It was perhaps inevitable and natural, therefore, that there should at some point be a reaction against the superficial charm of the rococo style of the mid-18th century, and "Sturm und Drang" provided an explosion of new ambition and intent.
Horn player Gavin Edwards on Beck's Symphony in G minor
For a composer of the time to write a symphony in a minor key was in itself a bold statement (over 95% of the 10,000-plus symphonies composed in the 18th century were in the major), and the six such symphonies that Haydn wrote between 1765 and 1772 – Nos. 26, 39, 44, 45, 49 and 52 – have an unprecedentedly forceful energy and intensity. No. 49, "La Passione", which is featured in the first volume of our series, is particularly sombre, with all four movements set in the same minor key (the only such example in the entire repertoire?); only in the central trio section of the minuet does the sun come out, as minor briefly turns to major. Consistent to all these works are the same set of dramatic and attention-grabbing traits that had characterised the finale to Gluck's Don Juan – ominous unisons, punchy syncopations, extreme contrasts of dynamic and range, insistent tremolos, aching discords, dramatic pauses – all of which serve to inspire the same fear and unease that were the goals of the literary "Sturm und Drang".
The renewed popularity of Shakespeare's tragedies has also been cited as a catalyst for these remarkable artistic outbursts, and this is music worthy to stand alongside King Lear's ravings on the heath. Rather than providing a beige backdrop to aristocratic indolence, these symphonies painted a wild, craggy – brutal, even – landscape, and suddenly demanded so much more attention from the listener. Others picked up on the mood, and less famous composers such as Vanhal, Kraus, Beck and Kozeluch all wrote magnificent minor key symphonies following Haydn's lead. The contrast with the superficial elegance and charm of the rococo is a violent one, as though Haydn is suddenly insisting that music has to mean more, to express more, to demand more.
From 1766 Haydn and his players spent their summers in Esterháza, the extravagant palace that his employer had built on reclaimed swampland deep in the Hungarian countryside, and it was when he was subsequently reflecting on these years that he wrote one of the most memorable testaments of any composer. "As head of the orchestra", he wrote, "I could make experiments and observe what made an impression and what weakened it… I was cut off from the rest of the world, and there was no one in the vicinity to influence or annoy me, so I was forced to become original." As we now struggle to come to terms with our own isolation, we are perhaps better placed than ever to appreciate the fruits of Haydn's bold experiments.
An extract from Traetta's 'Sofonisba' features the memorable instruction for the singer of the title role to scream ('in the French style')
Explore topics
Share this article