Alder, The Mozartists, Page, Wigmore Hall review - a Mozart feast for eyes and ears |

reviews, news & interviews
Alder, The Mozartists, Page, Wigmore Hall review - a Mozart feast for eyes and ears
Alder, The Mozartists, Page, Wigmore Hall review - a Mozart feast for eyes and ears
Period-instrument thrills and a state-of-the-art soprano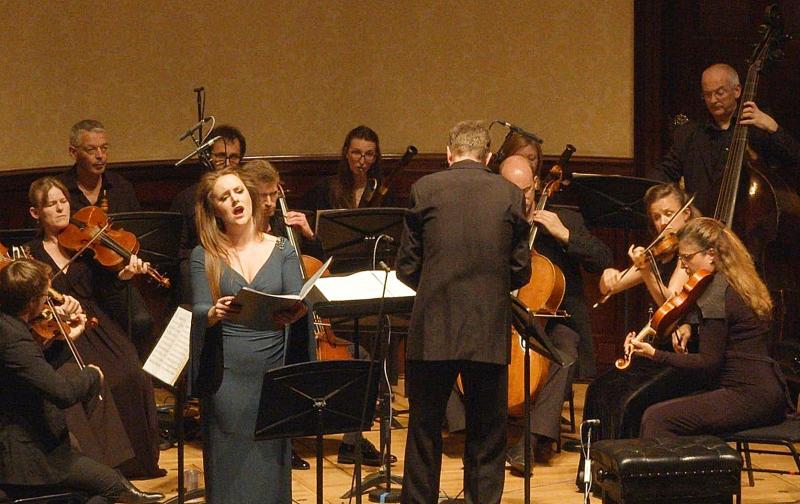 Soprano Louise Alder and the Mozartists conducted by Ian Page: sheer communicative perfection
Seven European cities, seven works: from an eight-year-old's First Symphony composed in what is now Ebury Street to the towering concert aria for Josepha Dushchek of Prague's Villa Bertramka, Ian Page's latest Mozart cornucopia took us on a rich and at times startling journey, a testament - as Page wrote eloquently yesterday in his article for The Arts Desk - to the abiding need for
com/topics/brexit" title="Brexit on theartsdesk">freedom of movement in a human being's development, regardless of artistic talent or age.
If there was a flaw, it came in the inevitable grouping of pretty but hardly ground-breaking numbers in the first half - and if I disagree with Page over anything at all, it's in the equation of precocity with early genius: the latter belongs to Schubert and Mendelssohn, while Mozart hit it in his early 20s. Nevertheless the (very) early symphony (K.16) contains a surprise within its very brief final Presto, and so does No. 10 (K. 74), taking us back to young Mozartino at the end of he concert after the astonishment of the rest of the music after the interval. Page's strings, led here with visible esprit by James Toll, are always keenly sprung and dynamically nuanced, even if there were a few woodwind intonation problems at the beginning, to be expected from period instruments.
In any case two of those lent a very specific colour from two of the soloists in the evening's concertos (I can't guess the provenance of the third, Oliver Wass's subtle and distinctive harp). A wooden flute, cooing like a wood dove, is very different from today's more piercing models, and Katy Bircher made subtle but always audible work of her well-distributed role in the Flute and Harp Concerto composed for Parisian tastes. It's a tour de force of Mozart's practical work with unconventional forces, and the harp especially takes a surprising melodic lead in the Rondeau, the movement you'd think would be least adaptable to such forces, allowing us to hear the exquisite artistry of Wass (pictured above with Bircher and the ensemble). Easy listening - you would hardly expect the two solo instruments to plumb poignant depths, at least not until Debussy and Ravel wrote for them - was offset by the sheer joy of watching as well as listening.
That was even more so the case in the Fourth Horn Concerto, pace Flanders and Swann's celebrated texting of the finale not in any way a lost cause on a natural (ie valveless) instrument. For those of us who've never heard one in live action for a Mozart concerto, Gavin Edwards' rollercoaster ride (the horn-player pictured below) was exhilarating if briefly nerve-wracking. There could be four different instruments in there, so wide is the range of colours, the startling contrasts between open and stopped notes.
Cap that? Only a complete artists like our already great young soprano Louise Alder could do so, rising to the astonishing challenge of Mozart's 1787 concert aria "Bella mia fiamma...Resta, o cara" with the gamut of expressions and full tone from top to bottom of a demanding range (in the confines of the Wigmore, it sounds as if dramatic is being added to lyric perfection in the voice).
She came to it across the evening by gentler approaches - the historically interesting (Mozart's first surviving accompanied recitative) but musically generic "Per quel paterno amplesso", then Ilia's utterly bewitching "Se il padre perdei" from the first operatic masterpiece, Idomeneo. Here Mozart, quite apart from setting the sentiments of the troubled Trojan refugee so sensitively, goes further than any composer before him in generous writing for the woodwind in an operatic context - by giving them an extra couple of turns in the coda, he seems reluctant to let them go.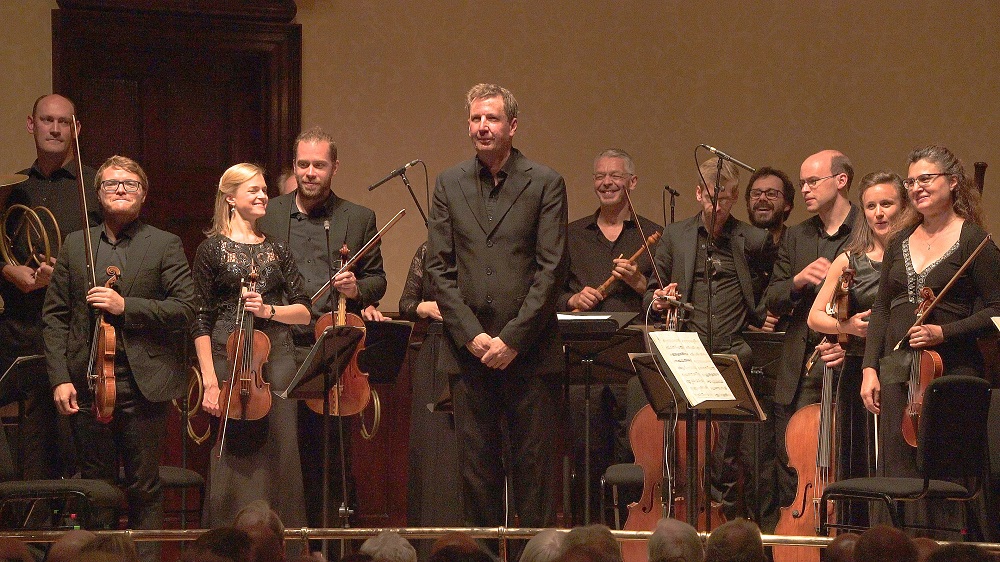 As Page points out, "Resta, o cara" includes the dizzying inclusion of a melodically memorable tone row (all 12 notes, to be flashed up again in the different context of the Fortieth Symphony). Not the first - needless to say, Bach had been there already in his B minor Fugue - but a deeply enriching addition to the most expressive of settings. It needs artists working at this kind of level; Page's choice of players and singers - including, next season, another young soprano following in Alder's footsteps, Samantha Clarke - promises us further riches across the many Mozart years to come.
For those of us who've never heard a natural horn in live action for a Mozart concerto, Gavin Edwards' rollercoaster ride was exhilarating if briefly nerve-wracking
rating
Explore topics
Share this article