Selaocoe, Schimpelsberger, LSO, Ward, Barbican review - force of nature crowns dance jamboree |

reviews, news & interviews
Selaocoe, Schimpelsberger, LSO, Ward, Barbican review - force of nature crowns dance jamboree
Selaocoe, Schimpelsberger, LSO, Ward, Barbican review - force of nature crowns dance jamboree
Cellist, composer and singer is one in a million – and the whole programme zings
Audience participation welcome: Abel Selaocoe, Duncan Ward and members of the LSO
It was good of the EFG London Jazz Festival to support this concert and bring in a different audience from the one the LSO is used to. But how to define it? Jazz only briefly figured in works by Gary Carpenter, Bartók, Barber and Abel Selaocoe. The only category would seem to be All Things Vital and Dancing. Anyone who'd come just for the phenomenal South Africa-born cellist, singer and composer must have been riveted by the rest, too.
Charismatic conductor Duncan Ward, as attractive in presenting the works as in sinuously conducting them, would seem to have played a major part in the programming. No-one in the orchestra had previously played Medea's Dance of Vengeance, a big surprise from the often softcore Samuel Barber, but Ward was hooked on it as a 13-year old, hearing it on Radio 3 as his mother was driving him to a swimming lesson. He made them both sit in the car until it was finished, and this performance made you understand why. It's packed with hooks in the form of pliant themes and lurid riffs, starting with xylophone and passing to orchestral piano (Philip Moore). A distillation of the ballet Barber composed for Martha Graham in 1946, it's a kind of "Salome's Dance" distilling the essence of the Eastern enchantress's multifaceted personality. It beguiled from start to finish.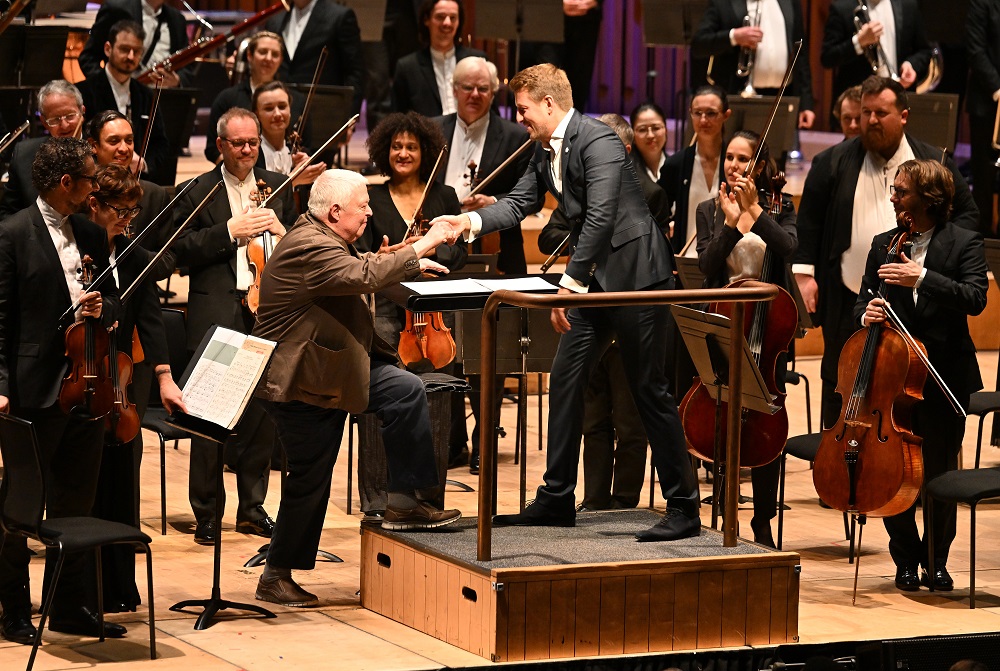 So, too, at half the length, did Gary Carpenter's Dadaville (the composer pictured above with Ward and the LSO), inspired by Max Ernst's work of that name in Tate Liverpool, casting an eerie spell as the concert began before telling us that a dance-riot lurks behind Ernst's iron-cork wall. Precision matched with brilliance also informed the LSO's latest performance of what's become a repertoire staple, Bartók's Dance Suite, showcasing everything from bassoon in Rachel Gough's early solo to trombone slides and harp glissandi.
If the earworm I took away from the concert was the dreamy ritornello Bartók uses to connect his dances, the biggest revelation had to be Selaocoe's performance of his Four Spirits. The already great man only has to walk on stage to make you feel good, and once the performance begins, the music just flows from him without a second's drop in intensity. This is more a continuous tone-poem than any kind of concerto, though there are riveting cadenza-like connecting passages in cello and voice dialogues with the stunning percussionist Bernhard Schimpelsberger (pictured below). As the work involves not only some groundbreaking cello effects, but also overtone singing (umngqokolo) and other beautiful vocal melismas, it can't belong to any other artist but Selaocoe, and it's portable, or rather variable, in that it doesn't necessarily need the full orchestral arrangement made by Benjamin Woodgates.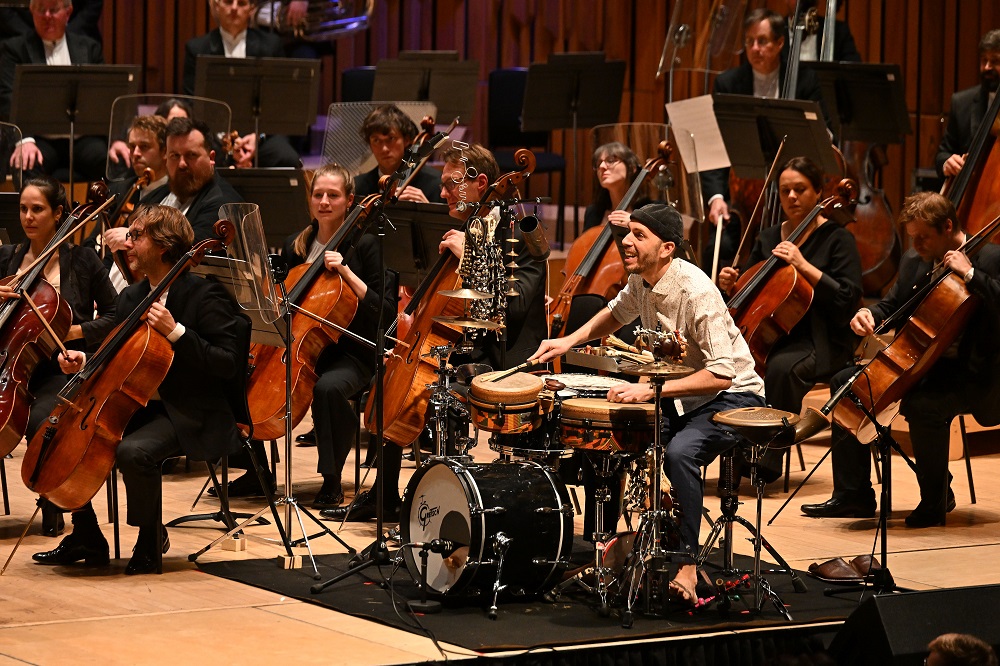 Four Spirits captures aspects of life in the South African township of Sebokeng where Selaocoe grew up: transfixing shamanic incantation in "MaSebego" ("Traditional Healing"), wit in the children's games of "Bana", serenity (but not of the passive kind) in "Tshepo" ("Faith") and a group singalong in "Simunye" ("We are One"), which continued in the joyous encore, Ka Bohaleng (On the Sharp Side). Timmy Fisher's profile tells us that Selaocoe "has said his musical goal is to bring audiences closer to the shared, viscerally human origins of contemporary classical music. In this, he has few equals". I'll buy that one, as I did the vinyl and CD versions of the debut album Where is Home (Hae Ke Ke), spurred on by the knowledge that profits were going to Doctors Without Borders.
Selaocoe only has to walk on stage to make you feel good, and once the performance begins, the music just flows
rating
Share this article