Kopatchinskaja, LSO, Pappano, Barbican review - dancing on the volcano |

reviews, news & interviews
Kopatchinskaja, LSO, Pappano, Barbican review - dancing on the volcano
Kopatchinskaja, LSO, Pappano, Barbican review - dancing on the volcano
Fazil Say's Scheherazade whirls between cataclysmic Ravel and Rachmaninov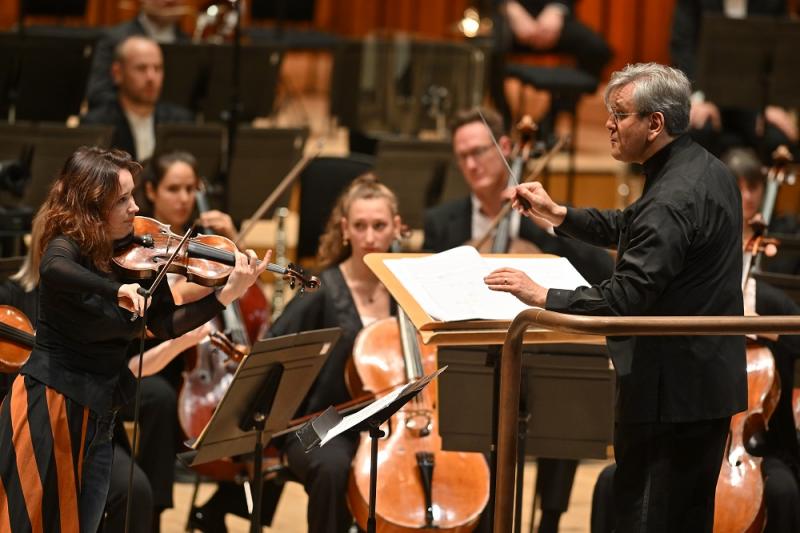 Patricia Kopatchinskaja, Antonio Pappano and members of the LSO communicate vividly in Fazil Say's Violin Concerto
Poetry came an honourable second to sharp rhythms and lurid definition in this choreographic poem of a concert. You don't get more tumultuous applause after an opener than with Ravel's La Valse played like this. Vienna may have nearly collapsed after World War One, but the Scheherazade of Fazil Say's 1001 Nights Violin Concerto lives to see a bright dawn, and Rachmaninov cries "Alliluya' to whirling demons in his swansong Symphonic Dances.
Once again, there's no doubt that the London Symphony Orchestra has made the right choice in Antonio Pappano, this season titled its Music Director Designate. The clear intentions still made magic at the start of the Ravel – all pointillist details emerging clearer than ever in what are usually the mists out of which the dancing couples emerge in La Valse; the haze was confined to the violins' harp-girt swooning. Big chords landed with absolute precision; the nightmare was almost too entertaining to horrify, but maybe that was Ravel's intention. (Pictured below: Pappano signalling to last night's leader, Andrej Power.)
It was the same with the Symphonic Dances: tattoos always precise, miraculously so when the third ritual returns after more swooning at midnight – how did the horn manage them as well as the woodwind? – but wrapped in almost too much gorgeousness for us to feel the Russian exile's inner pain.
Then again, Rachmaninov did write this as a homage to the sumptuous strings and virtuosity of the Philadelphia Orchestra; the LSO duly emulated that total classiness, and Pappano knows how to make instruments sing, as they did collectively after saxophonist Simon Haram's soulful cue at the heart of the first dance. The central Valse Triste had exactly the right volatility; the final battle at hell's gates was razor sharp, and Pappano allowed the habitual tam-tam resonance some seconds after the collective cut-off (in the score, it gets just a quaver more, but the lingering is supremely evocative).
Showpiece with atmosphere is also how best to describe not only the performance but also the work in the case of Fazil Say's Violin Concerto (1001 Nights in the Harem). Say as live-wire pianist started a duo partnership with that most vivid and volatile of violinists Patricia Kopatchinskaja in 2004 and composed this very pictorial work for her, which she premiered with commissioner the Lucerne Symphony Orchestra in 2007. Though the name of the tale-teller, Scheherazade, isn't even mentioned in the notes, it must be she whom Kopatchinskaja impersonates (though not exclusively, as we'll see).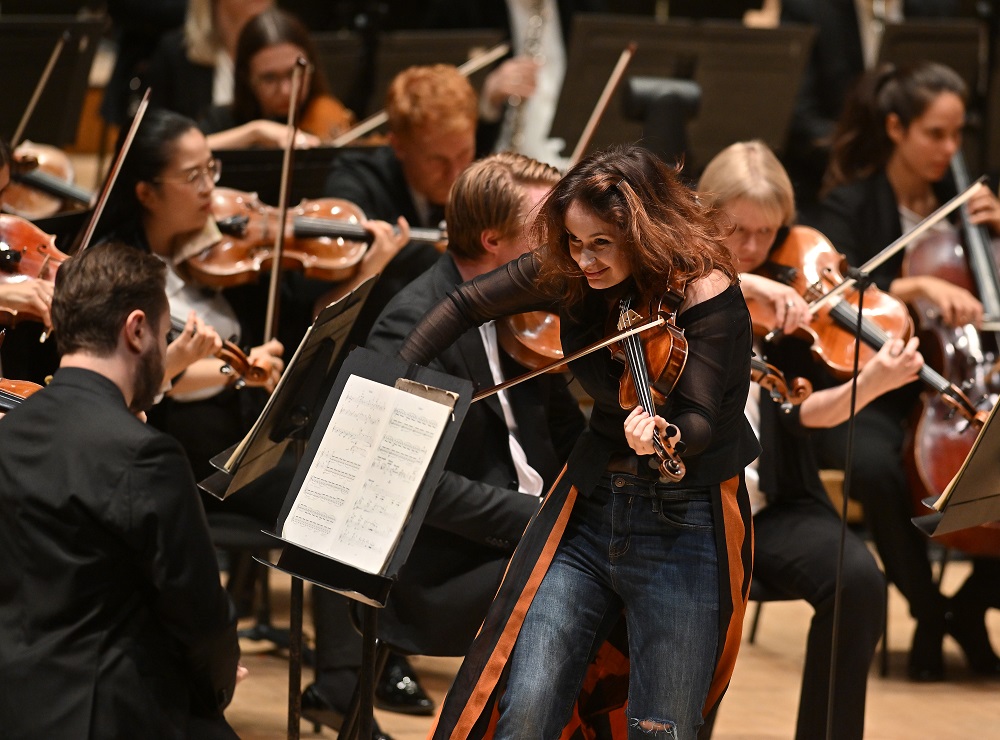 She tells her tales mostly through the medium of vivid dance, hardly likely to soothe the bloodthirsty sultan who seeks her execution in vengeance for an earlier betrayal, and presumably switches stories in the cadenzas, eventually settling on a rather obvious song which isn't the equal of Rimsky-Korsakov's many melodies; Say, as I discovered when I heard his popular (in Turkey) Oratorio on poems by Nazim Hikmet – a real discovery for me – in a festival on Turkey's west coast, is part Lloyd Webber, part canny and original soundsmith.
To see our very physically expressive soloist reacting so vibrantly to her fellow musicians – above all Neil Percy, sounding so idiomatic on Turkish drums, surely deserving a credit – inevitably revived memories of the equally collegial work of Baiba Skride with the National Symphony of Ireland in a much greater concerto, Bernstein's Serenade, only two days earlier. Both violinists are top communicators, and so is Say: the unashamed populist streak is preferable to John Adams' unfathomable notespinning in his second and much less effective violin concerto (or "symphony for violin and orchestra") Scheherazade.2.
Say saves his finest stroke for what I presume to be our heroine's victory as the violinist switches to dawn chorus twitterings at the quiet and beautiful end of the piece. All entertaining, in a concert which was alive in every bar; as in Dublin on Friday, there were plenty of young people in the audience, and this would surely have engaged them all from start to finish.
Fay saves his finest stroke for the quiet and beautiful end as the violinist switches to dawn chorus twitterings
rating
Explore topics
Share this article