Shaw, Attacca Quartet, Kings Place review - composer portrait shows strengths and limitations |

reviews, news & interviews
Shaw, Attacca Quartet, Kings Place review - composer portrait shows strengths and limitations
Shaw, Attacca Quartet, Kings Place review - composer portrait shows strengths and limitations
American composer and singer is impressively multi-talented but the music a bit unvaried
Thursday, 21 November 2019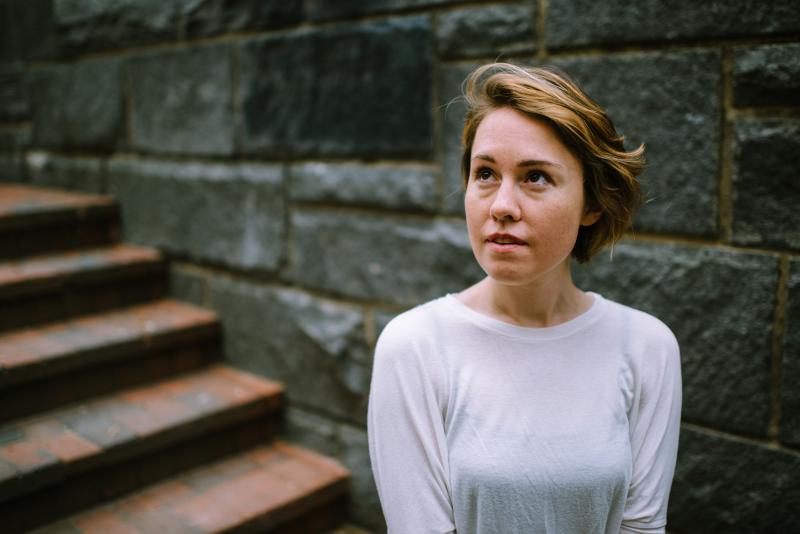 Pulitzer prize-winning composer Caroline Shaw
There aren't many musicians who could appear as composer, singer and violist on a single programme but that was Caroline Shaw's lot last night.
As part of
Kings Place
's
Venus Unwrapped
season, the first half comprised entirely her
music
, played by the Attacca Quartet and featuring Shaw as vocalist, and she then re-appeared with viola in hand after the interval for
Mendelssohn
's second string quintet.
Shaw was the youngest ever winner of the Pulitzer Prize for Music in 2013 for her stunning vocal work Partita, written for the ensemble Roomful of Teeth, which I was really disappointed not to have been able to hear at Kings Place in May. Last night's quartet music comes from her recent album Orange, enthusiastically reviewed by Graham Rickson on theartsdesk last month. Althougi it's enjoyable, I was less taken with it, feeling that for all that the pieces worked individually, in sequence there were somewhat diminishing returns, the stylistic and technical tics becoming overfamiliar.
That was very much how last night felt, although there was the leavening element of five new songs interspersed between the quartet-alone items. Shaw's idiom might be described as New York-postminimalism. It has something in common with the work of Michael Torke, using repetition and diatonicism but without the unblinking single-mindedness of the original 1960s minimalists. Shaw makes extensive – and effective – use of pizzicato and harmonics in music that is intricate and texturally interesting but a little safe. The best of the three pieces was probably Entr'acte, which opens the album (and was also reviewed by David Nice in a striking first at the East Neuk Festival) but, strangely, didn't open here. It has a quizzical, playful air, finding fascinating timbres such as drawing the bow across the string without sounding a note, just a ghostly whisper.
The Attaccas (pictured above) produced a sound that was not that of a "classical" quartet, instead looking back to the viol consort, playing with an astringent edge, little vibrato and even less sentimentality. Cellist Andrew Yee took the viol vibe so far as to play with his instrument gripped between his legs, not using the spike at all. He was the star of the quartet, living every note, relishing every change of harmony, painting every colour, the heartbeat of the music.
What the quartet pieces lacked above all was any real melodic content. That was put right in Shaw's Five Songs, that she scattered among the quartet items. These were beautifully and unpretentiously sung, Shaw's voice clean and effortless. Using a microphone (with excellent technique) enabling her to float her lines over the sometimes busy quartet accompaniments. The melodies, settings of repurposed old texts, were mostly in an American folk style, with the accompaniments embellishing the tunes like the illuminations in a monk's manuscript. The best of the songs, "Cant voi l'aube" indeed took a medieval troubadour text, slipping from Appalachia to medieval France via melismas and false relations. Shaw's singing and stage manner are engaging, and these songs attractive, but there was the same problem of diminishing returns in their samey construction and limited repetoire of textures.
The second half consisted of just the Mendelssohn Quintet. The Attacca players accommodated the different requirements of this music, while maintaining their unsentimental sound. That Shaw was able to hold her own on second viola alongside such accomplished players is a mark of her versatility, and much of the interest of the quintet is in the interplay of their scurrying inner parts. The highlight was the second movement, which is a gem, and was played with elegance and charm, but also a sense of relaxed enjoyment from a quartet steeped in contemporary "knowingness" playing music of an earlier, perhaps simpler, age.
Cellist Andrew Yee was the star, living every note, relishing every change of harmony, painting every colour
rating
Explore topics
Share this article