St Mary's Music School, RSNO, New, Usher Hall, Edinburgh review - a cornucopia of delights |

reviews, news & interviews
St Mary's Music School, RSNO, New, Usher Hall, Edinburgh review - a cornucopia of delights
St Mary's Music School, RSNO, New, Usher Hall, Edinburgh review - a cornucopia of delights
From talented young musicians to a concerto for artist and orchestra
James Mayhew takes a bow, saluted by Gemma New and RSNO players, after his 'concerto for artist' to Musorgsky's 'Pictures at an Exhibition'
This evening brought to mind those marathon 19th century concerts when Beethoven would unleash a handful of new symphonies and a couple of piano concertos on an unsuspecting public.
The programme in Edinburgh's Usher Hall began at 6pm with a smorgasbord of delightful show pieces by the pupils of St Mary's Music School, celebrating its 50th anniversary, and continued with a full programme from the Royal Scottish National Orchestra, effortlessly squeezing in two diminutive saxophone concertos before the interval and Musorgsky's Pictures at an Exhibition after – the latter embellished by a real live artist quite literally painting an accompaniment to the music. One slightly dazed member of the audience confessed to me that there had been almost too much innovation and creativity for one evening.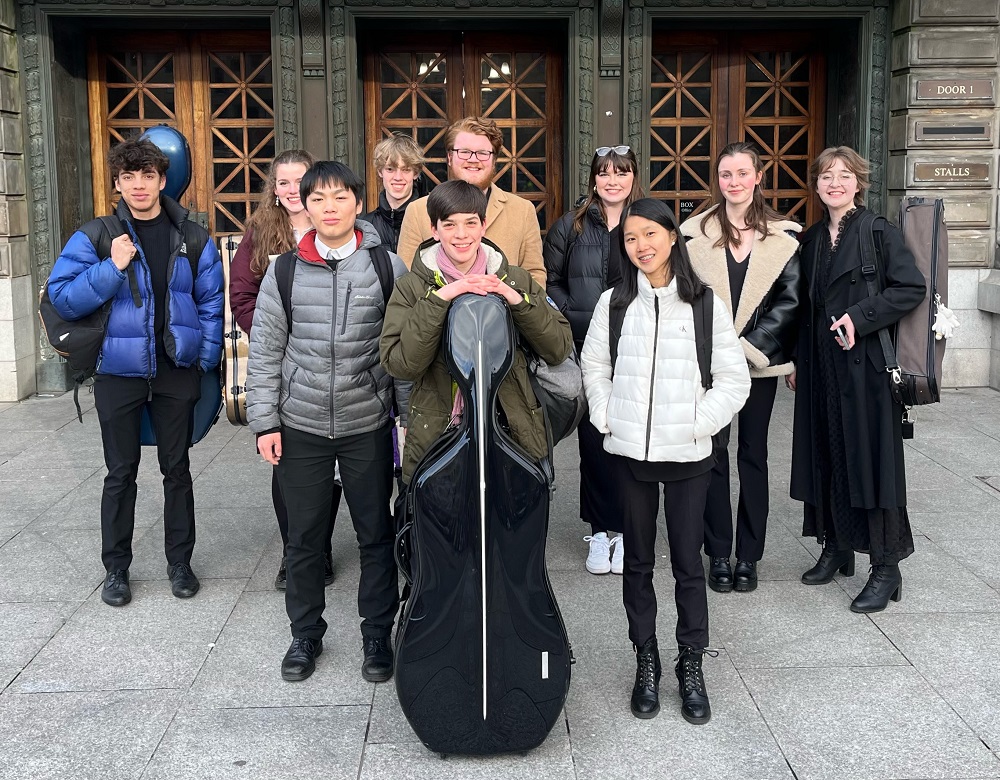 But to begin at the beginning, the RSNO offered St Mary's, Scotland's only specialist music school, a chance to take the main stage of the Usher Hall for a 45 minute showcase recital before the orchestra's traditional Friday night slot. They accepted eagerly, notwithstanding some reported anxious moments backstage at the prospect of playing to this vast auditorium. Senior pupil Carlo Massimo broke the ice effectively with "Dieu parmi nous" from La Nativité du Seigneur by Messaien, a piece that allowed the Usher Hall organ to show off its chameleon-like capabilities – here sounding every bit like the French cathedral instruments for which this music was intended. This short extract proved not only Massimo's musicianship but also, through the use of multiple registrations, his technical prowess. Much work had clearly gone into finding the right combination of stops.
Of the four pieces which followed, including a slice of Schubert's "Death and the Maiden" and a Tchaikovsky Nocturne for cello, those which stood out were the Notturno e Danza by Rautavaara in which Amias Kroeger's violin hovered over a wonderfully accomplished piano accompaniment by Alexander Kwon, and the final piece, Shine you no more, a folksy piece by Rune Sorenson arranged for violin and accordion. This laid back performance by Hester Parkin and Kirsty Grant (pictured below) showed two musicians utterly at ease with each other and the considerable demands of the music.
The RSNO's programme started with Ligeti, whose Prelude to the First Scene and Intermezzo from his opera Le Grand Macabre is a very short fanfare for 12 old fashioned bulb car horns played by all four limbs of three percussionists, sublimely silly, very funny, and a perfect launch pad for the same imitative parp-parp car noises that pervade Gershwin's An American in Paris. This was a tightly controlled, if slightly straight-laced performance under the baton of guest conductor Gemma New from New Zealand – her American walked purposefully around the Boulevards of the French capital, but could have relaxed with a cognac or two.
Star Cumbrian saxophonist Jess Gillam (pictured below with New and the RSNO) joined the orchestra for the next two pieces, firstly Glazunov's 1930s Saxophone Concerto, followed by Milhaud's Scaramouche, a concerto in all but name from the same era. Gillam gives her all to everything she plays, no exceptions here, but the Glazunov is a weary, slightly fey piece whose geniality continually swerves away from popularity. As such it was easily eclipsed by the much more engaging Scaramouche, particularly the famously catchy "Brazileira Mouvement de Samba". If the Glazunov showed off Gillam's poise, refinement and patience, Milhaud's frenetic scales and rhythmic complexity offered a more conventional outlet for breath-taking high wire virtuosity.
But if the audience took one memory home at the end of the evening, it could only have been the extraordinary sight of the artist James Mayhew painting his interpretation of Musorgsky's Pictures in real time as the music was being performed. Using quite a small canvas about A3 size, the images were filmed and projected onto a large screen above the organ console. Not only did he faithfully reproduce likenesses of the paintings, but he did it with brush strokes more on less in time to the music, and at the same time responding to musical cues – such as painting in a church bell seconds before the same instrument is heard in the orchestra in "The Great Gate of Kiev". The result was effectively a Concerto for Artist (seldom could any artist expect to encounter such a storm of appreciative applause for producing half a dozen sketches), but bizarrely a concerto where a totally silent instrument almost completely masked the considerable effort of a large orchestra. I for one regretted that the painting was so compelling that I paid little attention to the music, except as a backcloth.
I noted that the RSNO have a video games music night coming up. Innovation is in the air. Friday's adventurous programme drew a large crowd. So did an utterly conventional Brahms and Beethoven programme a few weeks ago. Whatever it takes, if it helps keep live music alive.
Mayhew painted with brush strokes more on less in time to the music, and at the same time responding to musical cues
rating
Explore topics
Share this article