Grosvenor, SCO, Emelyanychev / Osborne, RSNO, Usher Hall, Edinburgh review - two orchestras in pursuit of innovation |

reviews, news & interviews
Grosvenor, SCO, Emelyanychev / Osborne, RSNO, Usher Hall, Edinburgh review - two orchestras in pursuit of innovation
Grosvenor, SCO, Emelyanychev / Osborne, RSNO, Usher Hall, Edinburgh review - two orchestras in pursuit of innovation
Liszt and Beethoven concertos on consecutive nights, plus preludial novelties
Tuesday, 08 February 2022
Benjamin Grosvenor and the Scottish Chamber Orchestra in the Usher Hall
Two pianists; two concertos; two orchestras. It is not often that Edinburgh's most venerable concert hall plays host, on consecutive nights, to two of our national orchestras offering strikingly similar programmes.
While the Scottish Chamber Orchestra under Maxim Emelyanychev had the young British pianist Benjamin Grosvenor playing Liszt's Piano Concerto No. 1, the following night saw the Royal Scottish National Orchestra tackle Beethoven's Piano Concerto No. 4 with the not-quite-so-young Steven Osborne as soloist. Both orchestras also included a Beethoven symphony in their programmes.
On paper, at least, it looked as though the two concerts would reinforce all our prejudices, namely that the SCO would prove somewhat lightweight for the Liszt, and the RSNO a shade too richly upholstered for the Beethoven, but never could such expectations have been so comprehensively debunked. I doubt anyone expected to come into the Usher Hall on Friday and see, instead of a stage full of the 80-strong RSNO, just a handful of music stands scattered around seemingly at random: this was for David Fennesy's Hirta Rounds, scored for 16 standing string players, a piece whose repetitive meanderings successfully evoke the monotony of sea, wind, and gulls that inhabit the island of Hirta in the St Kilda archipelago.
The tempi of Hiirta Rounds are dictated by the players, so there is no conductor, but in a remarkable departure from tradition the RSNO decided it could do without a conductor for both the concerto and symphony by Beethoven which followed. Not only that, but the members of the orchestra remained standing throughout, cellists and timpanist excepted, of course. And just to make sure we realised that we were witnessing an extraordinary recalibration of this normally large orchestra, the number of players on stage were quite a bit fewer than those fielded by the SCO the previous night.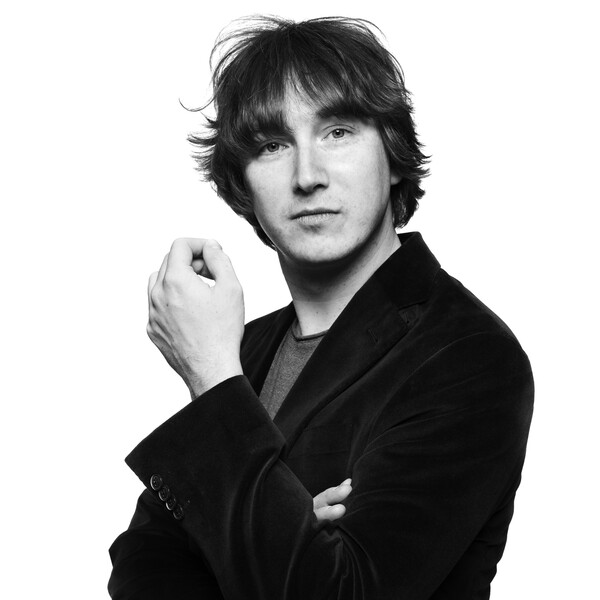 Not that there was any lack of innovation in the SCO's programme on Thursday either. A (smaller) audience was probably equally surprised to find that after the interval a chamber organ had appeared centre-stage, onto which marched three trombonists, a serpent, an organist, and chief conductor Maxim Emelyanychev (pictured right by Christina Kemohan) clutching what looked like a thin baseball bat but turned out to be an ancient form of oboe. This was for Emelyanychev's arrangement of Sweelinck's "Beati pauperes" from Cantiones Sacrae, as a prelude to Mendelssohn's "Reformation" Symphony.
Of course, there's more to innovation than just stage logistics, and the key question that emerges from these two concerts is whether or not the RSNO suffered for lack of a conductor, or indeed whether there was anything to be gained by the SCO's adherence to convention.
Emelyanychev is something of a wizard, and he amply proved his worth by producing three very different orchestras for Beethoven's Symphony No. 1, Liszt's Piano Concerto, and Mendelssohn's symphony. For the Beethoven he conjured an edge-of-the-bow crystalline quality, with limited vibrato, valveless horns and period timpani reinforcing the baroque architecture. If the texture here was a bit like spun sugar, for the Liszt he got out the cream jug: some extra trombones, valved horns, and a fuller, more romantic string sound that amply cushioned the rhapsodic nature of the piano solo. Benjamin Grosvenor was in his element, relishing the exchanges with members of the orchestra – the brief duet with clarinettist Maximiliano Martin was particularly lovely. I don't know who, apart from a conductor, could have sculpted the orchestral sound quite so persuasively; for example, there was a whole passage for muted strings played fortissimo, producing an extraordinary sense of menace.
For the Mendelssohn yet another sound emerged: rich and full, yet austerely controlled, the quotations of the famous Dresden Amen delivered in a near glacial pianissimo. The third movement was almost unbearably poignant while the great brass chorale of the final movement was engineered to sound as though it was at the far end of a vast cathedral – how this was done remains a mystery.
With all that laid at the door of a conductor, it would be easy to claim that even the much reduced, 40-strong RSNO could not hope to produce the same level of nuance, however brilliant the leader/director Sharon Roffman. It's true to say that in Beethoven's Symphony No. 4 there were corners and transitions where fleeting textures could have been highlighted and exploited, but this was more than compensated for by the very real sense of ensemble, that each player was uniquely responsible for the sound of the whole. This was particularly evident in Beethoven's Piano Concerto No. 4, in which you could sense the direct dialogue between the orchestra and Steven Osborne's elegant account, without the controlling lens of a conductor (pictured above, Osborne and the RSNO in rehearsal).
A feature of the pandemic (not over yet: masks must be worn at concerts in Scotland) has been a willingness for orchestras to explore different concert formats and repertoire in their online performances. If this is now spilling over into the real world of live concerts, it can only be a good thing. Conductor or no conductor? It doesn't really matter; what matters is that in both these concerts we see evidence of the flexibility and innovation which is sorely needed if classical music concerts are to remain a feature of our cultural life.