St Matthew Passion, Ex Cathedra, Skidmore, Symphony Hall Birmingham - powerful, poignant Bach |

reviews, news & interviews
St Matthew Passion, Ex Cathedra, Skidmore, Symphony Hall Birmingham - powerful, poignant Bach
St Matthew Passion, Ex Cathedra, Skidmore, Symphony Hall Birmingham - powerful, poignant Bach
Simple and nuanced performance of a supreme masterpiece
Cima's Crucifixion in the Barber Institute, Birmingham
For the final instalment of their three Matthew Passions this Holy Week, Ex Cathedra gave a large scale performance of Bach's oratorio in their home town on Birmingham, after dates with lesser forces in London and Bristol.
With an augmented orchestra and their regular chamber choir and orchestra joined onstage by Ex Cathedra's Academy of Vocal Music - Ex Cathedra's strand for young singers - and members of various community choirs in and around BIrmingham, the collective masses on stage made a full, fabulous sound, which filled Symphony Hall. That's not to say that the increased number of performers, nor the larger venue made the performance any more flashy or grandiose. This was very much oratorio as it should be, with the focus on the narrative uncompromised, and the deep profundity of Bach's music left to shine in its simplicity.
Ex Cathedra's Artistic Director and Conductor Jeffrey Skidmore (pictured below with the group by James Ashby) was careful to be faithful to elements of Bach's writing: using two choruses, two orchestras, and having the major soloists also singing within the choirs. However, like all great works of art, Bach's St Matthew Passion is not merely a slice of history to be looked at through the lens of the past, but something which lives and breathes, as relevant to us to day as it was to those in Bach's time, and Skidmore's interpretation was conceived with a 21st century audience in mind. The performance opened with the chorale prelude and chorale "Sei gegrüsset, Jesu gütig", written by contemporary composer Alec Roth as part of the Orgelbüchlein Project, a global composition project to fill the 118 gaps where the music has been lost in Bach's Orgelbüchlein (Little Organ Book) with new work. This sombre and contemplative piece was a fitting opening to the afternoon.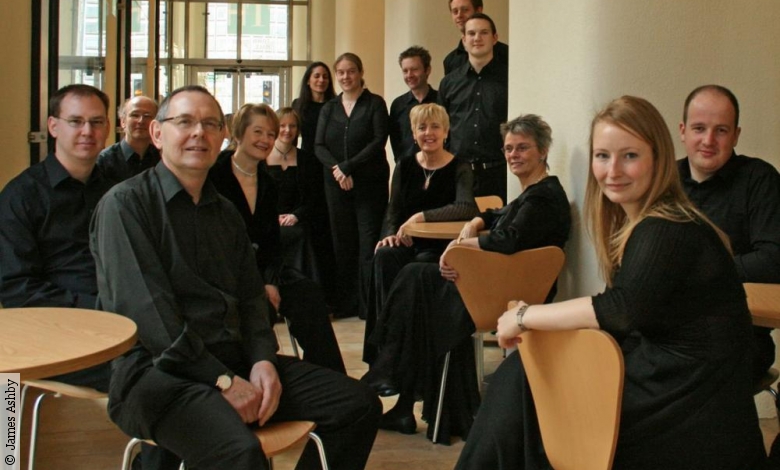 Jeremy Budd was an excellent evangelist as he drove the narrative. Singing from his spot in the choir (given the role, it would have been wholly for him to come to front each time he sang a solo, as the other soloists did) his voice carried through with sparkling clarity. Marcus Farnsworth as Jesus sang with a robust strength, and Greg Skidmore's Judas had a dark sonority deeply suited to the character. The alto aria "Erbame dich" was sung superbly by Martha McLorinen, who beautifully conveyed the deep sorrow of the text, and the solo violin passage which opens the aria was given a gorgeous fluidity from Orchestra 1 leader Lucy Russell.

Both orchestras - led respectively by Russell and Alison Bury - made a sumptuous sound, period instruments lending a rich warm, timbre. Skidmore's conducting, as with the performance as a whole, wasn't showy - but that doesn't mean there wasn't a lot going on. A closer look revealed each nuance of the music expertly teased out, and every musician on stage was right on the tip of his fingers. This was a powerful performance, which let the beauty of Bach's music and the anguish of Christ's passion be both heard and felt. To finish, Skidmore was conducting not just those on stage but in the audience too, as the performance finished with audience and performers singing Bach's arrangement of Johan Crüger's "Now thank we all our God". Having everyone join together in song is another nod to what would been the norm for performances in Bach's lifetime. Bringing the audience to their feet to sing at the end of a performance is also a great way to ensure a standing ovation from most of the hall. It was not wholly undeserved though, as this was indeed a splendid performance of a monumental work.
The beauty of Bach's music and the anguish of Christ's passion were both heard and felt
rating
Explore topics
Share this article