Stagg, Australian World Orchestra, Mehta, Edinburgh International Festival 2022 review - Antipodeans with a global sound |

reviews, news & interviews
Stagg, Australian World Orchestra, Mehta, Edinburgh International Festival 2022 review - Antipodeans with a global sound
Stagg, Australian World Orchestra, Mehta, Edinburgh International Festival 2022 review - Antipodeans with a global sound
One of the world's great veteran conductors still has what it takes
Zubin Mehta conducting the Australian World Orchestra in the Usher Hall
The Edinburgh International Festival is playing its part in the UK/Australia Season 2021-22 (no, me neither) by hosting this concert from the Australian World Orchestra. It's comprised of Australian musicians who play in orchestras across Europe and North America, as well as in Australia itself.
Consequently, it's as global as it's Australian, and you could sense that both in their choice of programme as well as the way they played.Their take on Dvořák's Seventh Symphony, for example, sounded decidedly Central European, with a lovely brightness to the strings but with a good sense of the music's drama in the first movement. It was tempered by some gorgeously sweet winds, and an overall sense of sunlit beauty in the slow movement, blessed with meltingly gorgeous horn playing.
They adopted a surprisingly big sound for the Scherzo, which felt weighty while retaining some elements of the dance, and the high-powered finale proved beyond doubt that conductor Zubin Mehta has still got it. He looks increasingly frail now, and shuffles slowly onto the podium with the aid of a stick (the ritual entrances and exits during the applause felt rather cruel in this context), but when he raises his baton he still courses with energy, and the sounds he evoked were terrific.
Choosing Webern's Passacaglia and Six Pieces for Orchestra was another way for the orchestra to identify itself with the cerebral culture of central Europe, rather than to assert an antipodean distance from it. And they made both works sound terrific, every section stepping brilliantly into the limelight and treating the music like a Concerto for Orchestra. That's the thing with the Second Viennese School: their works are rarely a hit with audiences, but little other music gives orchestral musicians such a chance to shine as individuals.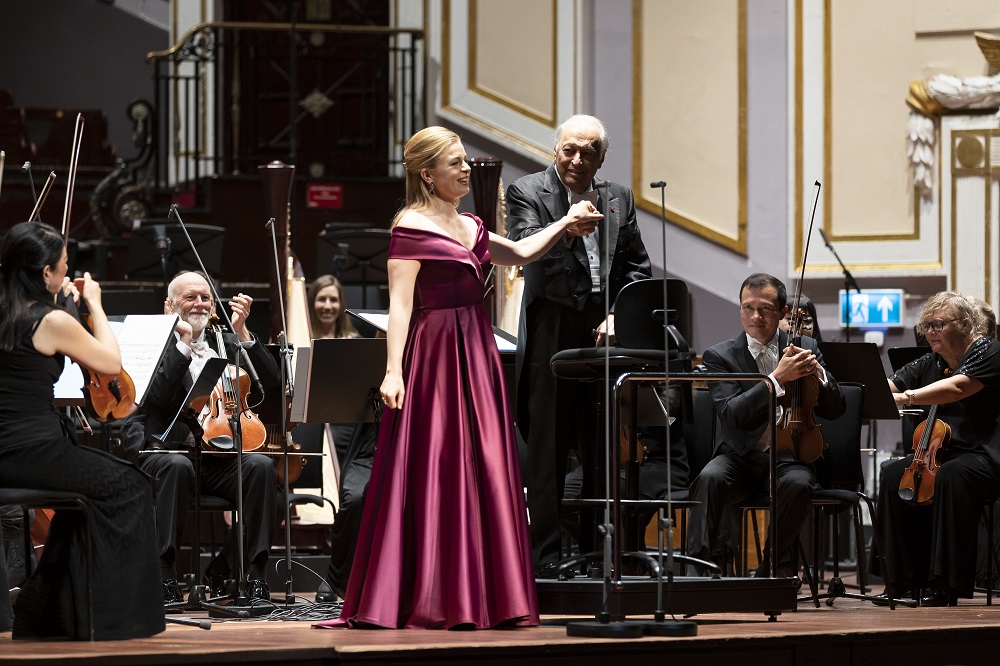 The real Australian spice in this programme came from Debussy's Ariettes Oubliées, sung by Australian soprano Siobhan Stagg (pictured above with Mehta and the orchestra) and orchestrated by none other than Brett Dean (who's also in town this weekend to play in the Queen's Hall). Dean chooses a small string component for his orchestration, but triple winds and four horns. That gives it a fairly luxurious feel, and I never once felt that it sounded like a blown-up piano part. Dean tries to tap into the much later world of Pelléas, and broadly succeeds. His realisation is excellent for the rippling rainscape of "Il pleure dans mon coeur" and the glittering frost of "Green", as well the whirling merry-go-round of "Cheveaux de bois".
Stagg's is a fairly small soprano and, interestingly, she seemed to keep here eyes riveted on Mehta throughout, even though she was singing from memory. However, if the balance of voice to players was a little out, then the orchestra certainly sounded as though they were enjoying playing the music.
The Australian World Orchestra, Mehta and Stagg perform at the BBC Proms on 23 August
The works of the Second Viennese School are rarely a hit with audiences, but little other music gives orchestral musicians such a chance to shine as individuals
rating
Explore topics
Share this article