Steven Osborne 50th Birthday Concert, Wigmore Hall online – perfect symmetries |

reviews, news & interviews
Steven Osborne 50th Birthday Concert, Wigmore Hall online – perfect symmetries
Steven Osborne 50th Birthday Concert, Wigmore Hall online – perfect symmetries
Teething sound problems transcended in an out-of-body Ravel Piano Trio
Alina ibragimova, Steven Osborne and Bjørg Lewis in Ravel's Piano Trio
Some pianists would take the chance of a birthday celebration to pioneer a solitary epic. Not the ever-collegial, unshowy, some would even say visionary Steven Osborne.
For this ultimately unforgettable
Wigmore Hall
concert, he's devised a programme of two Schubert and two
Ravel
masterpieces, trios from himself and four ladies encasing piano works duo and solo. It's all first rate, but technical weaknesses in the sound presentation mean it only all comes into proper focus in the second half of what remains, owing to the nature of the times, a relatively short event.
Why, you wonder, can't we better hear the wonderful Irish soprano Ailish Tynan, with Osborne's wife, Jean Johnson, as clarinettist and mesmerizing support from the birthday gent, in Schubert's The Shepherd on the Rock? It all comes across as recessed and low-level; you want to turn up the sound, but it's still quiet at the limits. In a fluid wonder of the composer's final year, the F minor Fantaisie, we're not getting enough bass resonance, though perhaps there isn't so much terror in the explosions or grandeur in the ever-widening perspectives from Osborne and Paul Lewis as there could be. Schubert composed the Fantaisie for four hands at one piano, but here there are two Steinway Grands side by side. Lewis is furthest from what would be the audience, so you expect him to take the lower part – on one keyboard, the pianist who controls the pedalling – but that comes from Osborne (the two pictured below).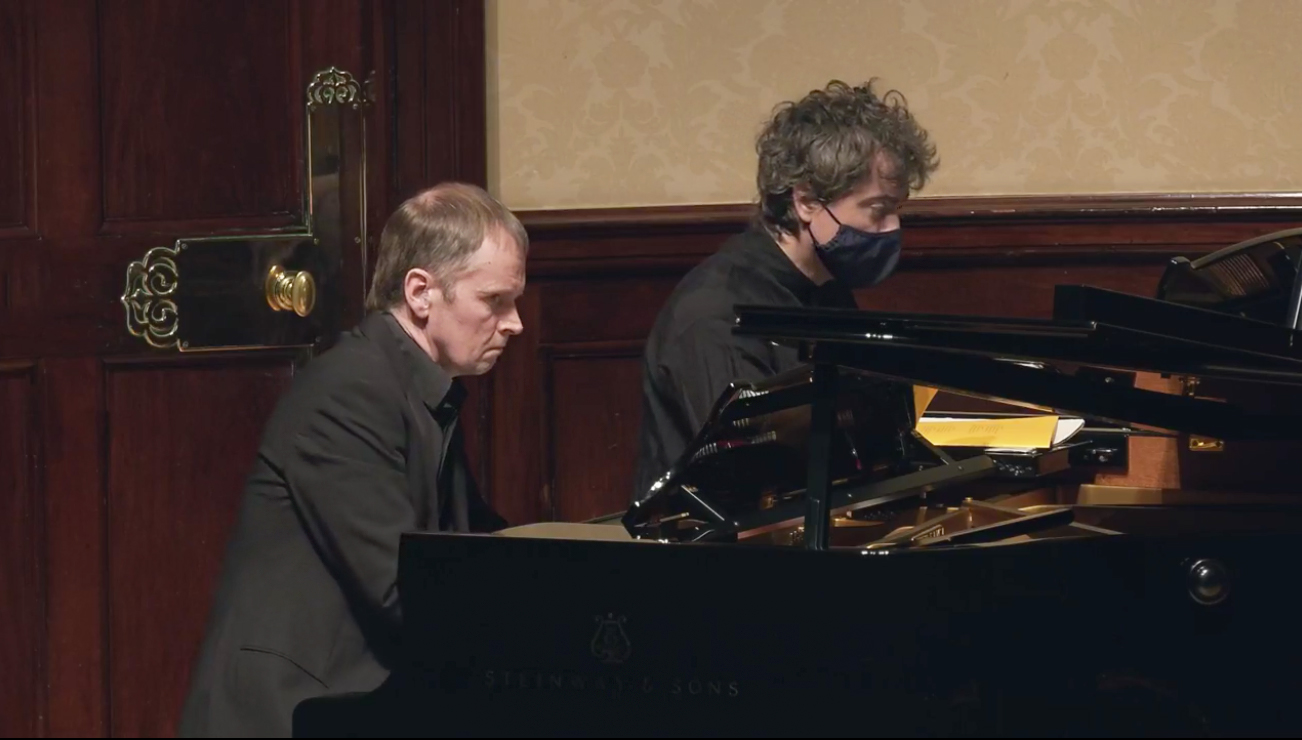 Before the Ravel, Osborne made a welcome short address to follow on from Catherine Bott's discreet commentary – more Wigmore presenters like her, please – in which he told us he'd first played in the Wigmore Hall as a 10 year old applying for a scholarship at St Mary's Music School, Edinburgh (which he continues to support), and was so taken aback by the resonance of the Steinway in that venue that he almost didn't continue his Mozart C minor sonata. Delicacy of perspective then came into its own with the rippling, tintinnabulating layers of the last of Ravel's Miroirs, "The Valley of Bells".
With more body for the sound of violin and cello in his soaring Piano Trio, one expected a work that would touch the ground at last; yet miracuously all the passion here, however fierce and engaging, remained other-worldly, as only Ravel and Mozart in the best interpretations can offer. Alina Ibragimova is a considerate, fine-tuned star who always gives cultured full measure; what a revelation it was to hear Paul Lewis's cellist wife Bjørg equal her for tonal beauty and a sense of total togetherness. And all the while Osborne kept it all airborne. Will we ever hear a more supernaturally beautiful, volatile and engaging performance of this masterpiece? I doubt it.
What a revelation it was to hear cellist Bjørg Lewis equal Ibragimova and Osborne in tonal beauty
rating
Explore topics
Share this article