Tectonics Rewind, BBCSSO review - new music festival revisits past gems |

reviews, news & interviews
Tectonics Rewind, BBCSSO review - new music festival revisits past gems
Tectonics Rewind, BBCSSO review - new music festival revisits past gems
Digital delights abound in this expertly curated online festival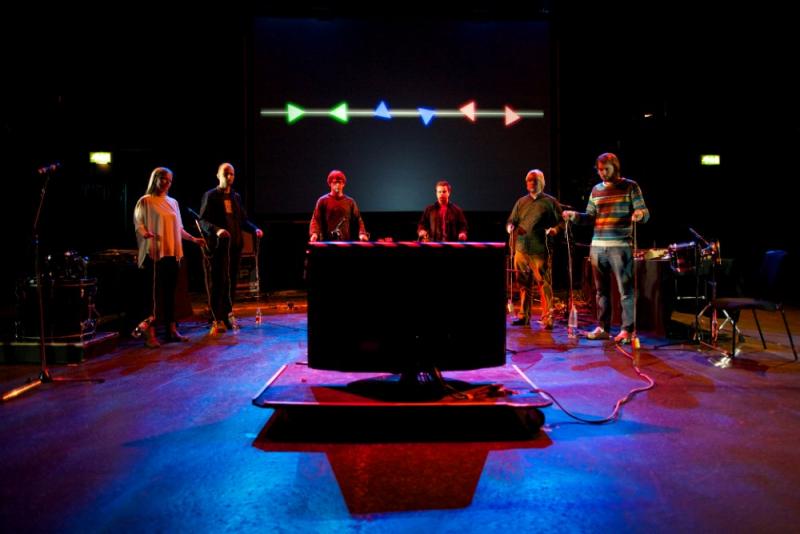 S.L.A.T.U.R. perform at Tectonics in 2014
As Covid-19 puts a halt to live events around the world, the BBC Scottish Symphony Orchestra has delivered its annual festival of new music, Tectonics, online, with a selection of recordings from past perf
ormances. Since everything from the past seven festivals has been recorded, curators Ilan Volkov and Alasdair Campbell had a vast musical smorgasboard to select from, although that was narrowed slightly by what files were readily available during lockdown.
The programme works like an actual live event, with a running order of videos made available throughout both days of the festival. Whilst of course you could sit and watch and listen to each recording as it's made available over each day, one of the beauties of presenting this festival digitally is that you can dip in and out of it, and take the time to digest, reflect on and revisit the music. While of course the experience of live music can never be emulated through the medium of recordings on a screen, there are aspects to this format that give the audience a different insight to the music.
The angles that can be seen of the artists are often quite different from the view you'd get in a busy concert hall. A close up of the dense oscillations in Bernard Parmigian's score of Outremer can be seen in the opening concert - a captivating performance by ondes Martenot player Nathalie Forget. There's also a short video available of Forget giving a demonstration of this fascinating instrument, giving the audience further insight into her performance. Close ups of the players are particularly interested in a festival of new music like this one, when many extended techniques are being employed, such as when the camera zooms in on harpist Rhodri Davies using two bows to play his instrument in the ephemeral layers of Eliane Radigue's OCCAM OCEAN series
Highlights of the programming are the orchestral concerts, featuring the full BBC Scottish Symphony Orchestra conducted by Volkov. They're split into bite-sized chunks, with each piece a separate recording, which makes watching/listening online a bit more manageable, but still giving you a concert's worth of music. Day One's concert opens with the unsettlingly beautiful Wilderness by American composer Linda Catlin Smith, recorded in 2017. Leader Laura Samuel's gorgeously clear violin solo is accompanied by almost impressionist sounding harp harmonies, and the full orchestra moves as one organism through Smith's calm yet bewitching score. Avant-garde jazz saxophone legend Roscoe Mitchell plays alongside flautist Gianni Trovalusci as a soloist with the orchestra in Mitchell's own composition Conversations, also filmed at 2017's festival. The virtuosity of each player seems to know no bounds, with Mitchell's highly charged, flurried playing moving at lightning speed.
Day Two's orchestral concert also features a jazz collaboration from 2017, with Australian jazz trio The Necks (pictured above). Improvising with the orchestra, the performance moves from a mood of ethereal stillness right through to one of rambunctious audacity. It's quite something seeing a full orchestra improvise, with no music on their stands, though Volkov guides the players expertly through the full 45 minute set. A couple of audio recordings on this concert's bill - also from 2014 - were particularly interesting. Cassandra Miller's Guide for 8 voices is a sort of cannon, based on a 1968 recording of the American folk singer Maria Muldair's singing the hymn "Guide me, O thou great Jehovah". Vocal ensemble EXAUDI performed the piece's swooping loops with clarity and precision, but also with a tender soulfulness. The late Japanese electronic composer Takehisa Kosuga was recorded giving an electronic improvisation set at the Old Fruitmarket. The different sounds he created and played with are quite fascinating, although it is a shame this is a solely audio recording.
Throughout the programme there are several "Meet the Artists" interviews with BBC Radio Three presenter Kate Molleson. These would usually happen in a busy room in Glasgow's City Halls, with audience questions, but having them presented in this way certainly means everyone can see and hear clearly, and it's interesting to hear artists discuss their performances sometimes several years after they were recorded for the festival.
One aspect of this digital festival which doesn't work quite so well is the installations. While the short videos of the creators showing and explaining their work are interesting, the effect of these pieces of art doesn't quite translate through a computer screen. While experiencing music via a digital platform will never replace witnessing it being performed live in a concert hall, it's one of the only ways many of us can connect with culture during the lockdown. The team behind Tectonics have produced an engaging and invigorating online programme, which truly allows the audience to explore and understand some astounding pieces of music.
There are aspects to this format that give the audience a different insight in to the music
rating
Share this article