Adam Riches Is The Guy Who , Drink, Shop & Do review - super-suave Lothario on the prowl |

reviews, news & interviews
Adam Riches Is The Guy Who..., Drink, Shop & Do review - super-suave Lothario on the prowl
Adam Riches Is The Guy Who..., Drink, Shop & Do review - super-suave Lothario on the prowl
Immersive show examines male-female engagement in the #MeToo era
Thursday, 07 February 2019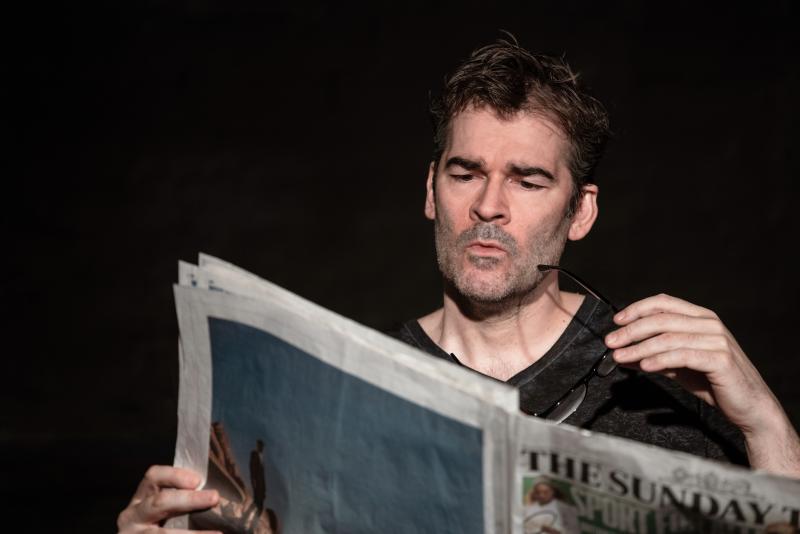 Adam Riches' latest character is so woke that he reads an actual physical paper
The first line of this show is "I'm the guy who you meet right after you come out of a long-term relationship." On the night I see The Guy Who..., Adam Riches has three tries with it before he meets his target, a woman who has been dumped by a long-standing boyfriend.
His character, whose name we never learn, is reading the Sunday papers – "the physical edition!" – with reading glasses placed artistically in his mouth as he ponders what he has just read, while we take our seats in this funky bar in King's Cross. He's super woke, super cool and super suave. But he's also super dangerous.
He's a pick-up artist, a man with abundant charm but no soul who knows only too well the new rules of engagement between the sexes. He slips a mention of the #MeToo movement into the conversation so of course he's a feminist – yet he never asks the woman's name, just for her mobile number. Of course he cares about animals/the environment/insert your favourite cause here, but will his large donation to it be publicised? No? Well, no donation, sorry.
He's not just charming to the woman he wants to take home tonight; this guy wants to make love to the room – men, women, straight, gay, single and coupled. Although he doesn't want to hem in the couples by his language – they're two individuals, yeah, and we should respect that.
There are moments when some of the people who respond to his questioning are not giving Riches what he wants, but when he hits comedy gold he knows how to mine it, and either way he is superb at improvisation. When the seam runs thin, Riches' prepared material kicks in, and the show's narrative is pushed along.
Riches involves us all in bonding games, some of them daft, but others that push us out of our comfort zones as he moves among the tables and searches his prey. This is not a show for the faint-hearted, or even those who don't like smiling at their neighbour, so it's best to go with the flow and appear to be neither waving nor drowning.
Slowly but surely, Riches ramps up The Guy Who...'s phoney appreciation for women until the point comes for him to go in for the kill, and suddenly the comedy has some serious intent. We become uncomfortable as we witness where his faux charm always leads – his desperate need to chalk up another win.
Riches has an unerring ear for hackery and the more vacuous end of self-help culture, but the male-female dynamic is a mightily fine line to tread. His actorly skills and genuine niceness, though, pull it off and there are many laugh-out-loud gags in the hour.
Adam Riches Is The Guy Who...is at Drink, Shop & Do, London N1 until 14 February; Adam Riches Is The Lone Dueller is at Soho Theatre, London W1 11-16 March