theartsdesk Q&A: Comedian Ben Elton |

reviews, news & interviews
theartsdesk Q&A: Comedian Ben Elton
theartsdesk Q&A: Comedian Ben Elton
The writer/director of books, sitcom and musical theatre returns to stand-up
Saturday, 09 October 2010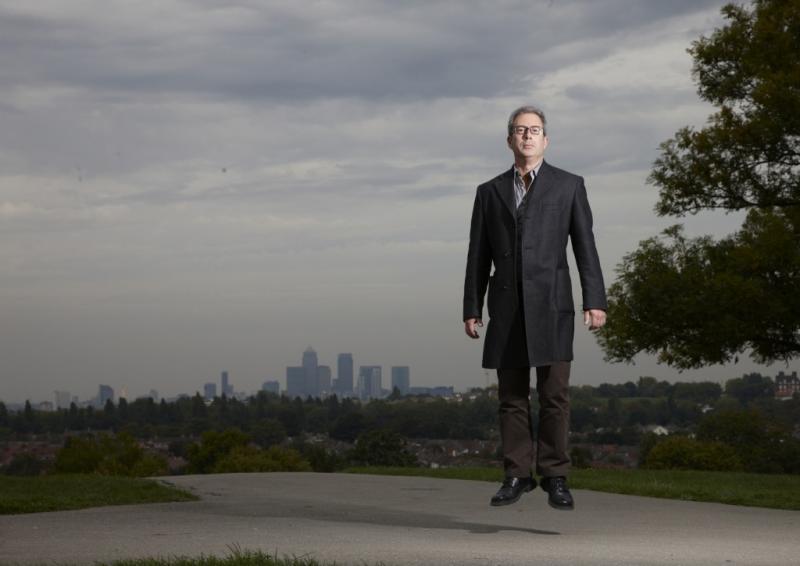 Ben Elton: 'Making people laugh is not easy'
Ten years ago Ben Elton (b 1959) would have needed no introduction. When still very young he became the mouth of a bolshy new generation of alternative comedians, as they were then known. Saturday Live - later Friday Night Live - was consciously modelled on the American template, and seemed very cutting edge. In fact all its alumni soon migrated to the mainstream: Stephen Fry and Hugh Laurie, freshly down from Cambridge, played Jeeves and Wooster.
Harry Enfield became the face of BBC One sketch comedy. And what of Elton? His career went centrifugal.
He co-wrote two game-changing sitcoms - The Young Ones and several incarnations of "the Blackadder", as he calls it. He has written novels - 13 so far, from Stark (1989) to Meltdown (2009). Of his several West End plays, Popcorn (1996) won an Olivier. He wrote and directed his own film, a comedy about the difficulty of conceiving called Maybe Baby (2000). And of course he entered the world of the stage musical. First there was his collaboration with Andrew Lloyd Webber on The Beautiful Game (2000), which ambitiously sought to make music out of both football and the Troubles. Since then there have been two jukebox shows: We Will Rock You (2002), which has been performed all over the world and is still running at the Dominion Theatre in London; and Tonight's the Night (2003), based on the songbook of Rod Stewart.
Meanwhile he pursued a career as a stand-up with an ancillary showcase on the BBC - The Man from Auntie and The Ben Elton Show. But that side of Elton has not been seen much lately. The perception, that his fortunes were inextricable from those of the Tory party he used to lambast, is one he hotly contests. He is about to step back in front of both a live and a sofa audience as part of Dave's One Night Stand, a new series on the TV channel Dave in which comedians go home to perform to a friendly local crowd. Elton's odyssey takes him back to Catford. As he turns yet another corner, he talks to theartsdesk.
JASPER REES: What brought on this return to stand-up?
BEN ELTON: Well, they asked me. I loved stand-up. I did my first gig in February, 1981. I haven't done it on the television in a very long time and it was very nice of Dave to ask me. I also quite like the format. I thought it would be fun to go back to Catford and do a gig at the Broadway. I thought that's a nice thing to do. So really for no better reason than that. I think stand-up is a terrific art form, I always have done. It's a great medium for ideas, and as a writer I've always enjoyed the very different freedom it gives you. When you're writing a novel you're pretty much in other people's minds but when you're doing stand-up you're in your own mind so you can please yourself. So yeah, it's always something I've done. I've never felt I went away from stand-up. I'm just very fortunate that I have a lot of things that I do and I enjoy all of them but stand-up is very much a part of it.
When did you last stand up?
You pop up and do a bit of charity here and there, five minutes here, five minutes there, but the last time I did full tilt was touring in 2005 into 2006. So about four-and-a-half years. But I did do a full tour and did the full two-and-a-half hours on stage and did about 80 gigs. It's actually not that long ago. It's nearly five years, which makes the Catford gig slightly daunting, although this'll only be an hour. It's not like The Ben Elton Show. We've got another couple of turns on. But I haven't done it on telly as a proper stand-up since 1998 so that's a lot longer.
What brought an end to your TV career as a stand-up?
Well, at first as I was doing other things. I was doing The Ben Elton Show, cunningly titled, as we like to say, because nobody understood The Man from Auntie, even then. I thought it was a great idea but most people... It's funny now, the idea of the BBC as an auntie with people swearing at old men on phone lines and things. I directed a movie, Maybe Baby, and I started to do We Will Rock You, which I ended up having to do much more work on than I thought I was going to do because I ended up directing it. And I had novels and I had children. It was a lot better to be at home. I wrote more novels, started doing them every year as opposed to every other year, so I just went in a different direction, but I never for a moment thought I'd stop doing it.
Watch the Maybe Baby trailer:
You never really knew how well known you were and I certainly wasn't hip because right from the start I was getting quite a lot of negative comment in the media
It turns out I might not have thought I'd stopped it but other people did because around about 2005 when I was doing that tour, 2006, I kind of went back to the BBC and said, "Well, I'd love to do another Man from Auntie sort of thing," and they went "No," which is absolutely fair enough. I have no argument with that. The world doesn't owe you a living. So actually at that point I don't think I could have got the gig if I'd wanted. What I did get a lot of was the panel-show stuff. They are fun but it's not really for me because they're mainly about put-downs and, believe it or not, I like to celebrate when I'm onstage. I know people think I'm terribly angry and terribly critical but it was always a passion, not an anger. And as much as I enjoy watching some of those shows – a good episode of I've Got News is a joy – I've never wanted to be on it myself. So I guess half because of me and half because of the people running the channels at the time I kind of probably couldn't have got a gig even if I'd wanted one. But Dave phoned up and I thought, yeah, I'd like to do that. I wasn't desperately touting myself around. I just fancied the gig.
Steve Coogan started his production company Baby Cow out of knowledge that he couldn't be at the cutting edge forever. Have you always been aware that you wouldn't always be hip?
Oh yeah. But I was never hip when I was hip. I was far more well known and popular than I understood at the time. In those days there wasn't the same environment. The Young Ones was a massive hit. We sold God knows how many books but the tour was a universities tour. Now it would be a week at the 02. A hit of the scale of The Young Ones would do 100,000 tickets. That just wasn't there in those days. So you never really knew how well known you were and I certainly wasn't hip because right from the start I was getting quite a lot of negative comment in the media. For every person saying "Nice one, Ben" there was someone else saying, "Gor, fuckin' 'ell, I saw what they wrote about you in the Guardian." So I never went through a period going "I da man." And so I never went through a period thinking, when will I not be da man?
I could have made a great deal more money. I never did any of the adverts and certainly the big money on DVDs and touring was not there when I was around
But then I don't really think about my career. It's interesting what Steve says. But I'm the only person in Britain who, I believe, doesn't have their own production company. The bloke who drove me in today had a production company. I've never been interested in the business side. I've never been a producer. I don't invest, I don't produce. I like to encourage young talent. When I was on Saturday Live I was at every rehearsal. You talk to comics from those days, it's nice they still remember I tried very hard to create an environment which was enthusiastic and was supportive for people who hadn't been on the telly before. That's why I quite like what Michael McIntyre does, because he's enthusiastic. It's nice to see someone who is happy to bring on another act and happy to be a part of showbiz.
When you make that much money it's easy to be generous.
Don't be cynical. He might be happy anyway. So no, I never had any sense of my longevity.
Footballers of a certain generation bemoan the fact that they earned much less in their day than footballers now. Is the same true of top comedians, now doing the 02? Do you wish you had been able to capitalise on your fame in the same way?
I think those footballers have got a real point. You're talking about superstars who are now probably having trouble paying the rent and are looking after their knees. It must be very difficult for somebody from the Fifties or Sixties. It would be utterly churlish of me. Clearly I've been very, very successful. I could have made a great deal more money. I never did any of the adverts and certainly the big money on DVDs and touring was not there when I was around. The Blackadder sold a million DVDs but our deal was nothing. So there's no doubt about it, there is a lot of money that can be made in the modern environment that I couldn't.
Ben Elton plays Kendal Mintcake as Scumbag College take on Footlights College Oxbridge in University Challenge:
But on the other hand I've certainly done perfectly well and had a fantastically secure and comfortable career and, above all, had outlets that I never would have dreamt of being able to get as a writer. My fame allowed me to get a publishing deal which allowed me to become a novelist. So honestly it would be insane of me to have regrets. Obviously I like to reach a wide audience so the way stand-up has gone, that's attractive, but funnily enough for my generation the arena thing was always thought of as a bit of a sell-out even though it wasn't available. I'm not saying anyone's selling out, believe me.
I am well aware of the theory that I am supposed to have worn sackcloth and ashes and had Stalin tattooed on my forehead but for me, above all, to thine own self be true
It was more about rock bands in our time. It was like, "I saw them when they played Bradford City Hall but now I've got to go to Earls Court and they're a dot in the background." For me I've never played an arena gig and I certainly couldn't sell one because I'm not hip in that way, because it's a young person's game, it's young people who are buying those tickets. My personal experience of going to arenas is I don't like them. I'd rather not. I saw Madonna at Wembley and I thought it was just a completely soulless, pointless exercise. I got the very good chance to see Prince in a small club and it was probably the greatest show I've ever seen. But obviously not everyone can get into a small club so I don't know what the answer is. But I know I wouldn't go to an arena to see a comedian and if by any chance I was asked to play an arena I suppose I would, just out of interest, but it's very different from what I do. I mean playing a theatre is a great feeling; it's a lovely feeling of communication. The Catford Broadway is 1000 seats or something. That's lovely. I don't really know what the answer is but all I do know is the option was not there in terms of ticket sales or DVD/video sales in my day. On the other hand, in those days comics got a lot more for their adverts. But I didn't do those either. I've never done it for the money and I think my career proves that.
Ben Elton on Saturday Live:
In the 1980s was selling out an anxiety of yours?
I wish I hadn't used that phrase. We were talking about rock bands more and I mean I am well aware of the theory that I am supposed to have worn sackcloth and ashes and had Stalin tattooed on my forehead but for me, above all, to thine own self be true. I write exactly what I want to write, I say what I want to say and I live the way I live. And I believe I can answer to my conscience very, very easily on it. It never ever occurred to me that pursuing my dream as an entertainer and using the passions that fuelled me as a writer – my interest in society... I might write a routine about the environment; I might write a routine about not getting an erection when you go with a girl for the first time – I write what I feel like writing at the moment I'm doing it. It's always a doodle for me. It's always an improvisation. So no, I've never thought about that kind of question because I don't think about myself. I'm not an introspective person. So no, it didn't worry me. Oh my God, I'm playing the big theatre. Have I sold out? I always wanted to play a big theatre. Any artist who tells you, "My dream is to play a half empty pub," they're crazy.
If somebody said to you at any point in your life you'll get the chance to write a musical for Queen, wouldn't you be interested at any point?
You've been playing big gigs in a different kind of way for the last few years in the form of We Will Rock You. Then you did a Rod Stewart musical which did not last as long.
It ran a year. It was all right. Rock You is a big part of my life. I direct it all over the world and I love it. I love musical theatre.
You're playing to big theatres there.
It's still a theatre. It's not an arena. It's a 2300-seat theatre, not an 8000-seat arena. It's not full. It wasn't full then. You've always been able to get a ticket to We Will Rock You. It's just a great thing that thunders on. It's normally full on a Friday and Saturday, but you can always get a ticket. We were on the booths the first day. We are a word-of-mouth show. As I think is well known we didn't get an awful lot of help from the media so it's about people just thinking, oh I quite fancy that, I heard somebody saw it and enjoyed it and they go along and tell their mates. And I still work on it.
If you'd been told in 1982 that you would be working on a show with members of Queen that celebrated their songbook, can you put your hand on your heart and say you wouldn't have been surprised?
Well, I'd have been surprised that I should be so lucky, but if you mean surprised that I should let myself go in that direction, what a ridiculous ...of course, I can put my hand on my heart. I've loved rock'n'roll since the day I was born. I played the Artful Dodger. If somebody said to you at any point in your life, you'll get the chance to write a musical for Queen, wouldn't you be interested at any point?
We Will Rock You is a real comedy, and making people laugh is not easy
I'm asking you though.
Well, yeah, I would have been very surprised – my goodness – that I would get into that position where people would respect me sufficiently to entrust their work to me. I would have been very surprised. But if you're saying, would I have thought that the Ben who was doing a routine about not really liking the fact that all the mines were being closed...? No I would have thought, how fantastic. I do love musical theatre. I've always loved it. But I also love rock'n'roll and I prefer Grease to Anything Goes by a very long way. Now I know every theatre critic in the country will think that that condemns me to a philistinism that means I should be at the bottom of hell. For me my pop music is not Cole Porter. My pop music is the likes of Queen and Rod. Cole Porter was pop music and so are Queen. I would have been absolutely thrilled and I still am thrilled. I got an incredible opportunity and I worked very, very hard to justify the faith that was put in me and I think the audiences appreciate that hard work because they love the characters, they love the story and they love the comedy, which I continue to finesse to this day. You won't find a creative team in the whole of musical theatre that are still working on their show eight years later. They make it, it happens in London or it happens in New York and then there is a thing called the bible and from that point on a group of associates reproduce that original production worldwide. That's fine, but that's not how we work.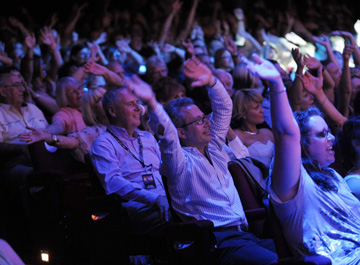 Why did you want to carry on with it?
Because I love it (pictured right: Elton participates in "Radio Ga Ga" with the audience at Birmingham Hippodrome), and I can't bear the idea that it isn't good. And comedy is very hard. We Will Rock You is a real comedy, and making people laugh is not easy, making them laugh properly. Just as Dolly Parton said, "It takes a lot of money to make a woman look this cheap," it actually takes a lot of skill and thinking to make a joke look easy. And to make the writer disappear and make it look almost as if the actors are making it up. I'm just very, very committed to my work as are Brian [May] and Roger [Taylor]. Every single person who has ever played the lead roles in Rock You or been in the band have been auditioned by Brian and Roger. Now that is completely unheard of. Do you think Trevor Nunn goes to every production of Starlight Express? Do you think Hal Prince visits every Phantom of the Opera? Of course not. They only did one show once. And that's how it goes. And that's OK. I've got no argument with that. But I just can't do that.
Mini-documentary on the opening of We Will Rock You:
What do you mean by "I can't bear that it's not good"?
Well, because I believe I need to be there to make that comedy work. I have great associates but in the long run I think I know more about comic timing. I work in the foreign languages with them, with the translators. Real comedy is just like singing a rock song. Nobody's trying to sing like Freddy [Mercury] so there's no one way to sing a rock song. There is kind of one way to sing Phantom. It's more formal and stylised. I'm not saying it doesn't require enormous talent and passion, and every artist is different. But they are required basically to sing in a very similar manner. That's not the case with what we do. And nor with the band either. We're looking for the rock bones of the individuals because they all bring different talent. And we need people who can sing "Champions" and "Bohemian Rhapsody" but can also dance and I need them to be able to act, because I co-wrote the Blackadder. That's why Queen asked me to do this show. So I'm looking for real comic timing. In the previews I had literally been in the building a week at that point. That's why I've been working on it ever since. It was a car crash. I'm not going to go into it and I really don't want to be quoted on it, I have no wish to criticise other people, but I took over at that point and from that point I started at the dress rehearsal, took one look and said, "We have to do something."
I know that the reviews were very, very bad and I do not believe that they deserved to be that bad
So the reviews were not a reflection of your work.
Well, they were because they just commented on what an utter bunch of shits me and Queen were. I don't read reviews but "I don't like Queen and I've never liked Ben Elton." Let's not talk about it.
Let's move on. What is it about people in my profession who persist, in your perception, in saying, "I don't like Ben Elton"?
I know that the reviews were very, very bad and I do not believe that they deserved to be that bad. Even at that point the show was terrific and audiences really enjoyed the fact that it could be condemned as genuinely worthless – I mean we were actually in the news; the front page of The Stage, "the worst reviews ever" – I didn't read them because they would have hurt too much. I worked really hard and care a lot and I think of all the actors, how painful this morning must have been after all their dreams. We were told we'd close in weeks etc, etc. But look, I can't comment. I write my stuff, other people write their stuff. I think if you are in the public eye you've got to expect to elicit a reaction and that's all there is to it. I mean I really don't want to get involved in second guessing why. I have had some good reviews - of course. Some of my work has been well reviewed and some of it has been very poorly reviewed. All I can say is that I always believed in what I was doing when I was doing it and I never once put before the public anything that I didn't think was great, or else why would I have done it? It may not have been great, but in the case of We Will Rock You it is amazing that we're still discussing those extraordinary reviews. The reason I know about it is every time We Will Rock You comes up it comes up: eight years later, and the phrase is always "Now you've been a great success despite the fact that you didn't please the critics," as if somehow their opinion still has a kind of value and we've kind of got to explain how it came about. And yet for me clearly on this occasion those opinions which are still valuable as their opinions clearly are not relevant to We Will Rock You because eight years later crowds of people are having a wonderful time and enjoying their evening so that's really all I can say. We give very good value for money. It took about four years to recoup. It's not designed as anything other than an exercise in trying to create a great entertainment.
Thatcher was a brilliantly successful leader, she pursued her agenda, she was never a hypocrite, she said what she wanted to do and she did it
Let's really change the subject, back to the 1980s when Mrs Thatcher was in the subsoil of the culture.
She loomed large.
You talk about your passion rather than your anger. Was the other thing about her that she was just a great source of jokes?
Well, do you know, I can't answer. I used to say this ad nauseam. I used to do two hours onstage. If I did 10 minutes on socio-political subjects I'd be amazed. Obviously on Saturday Live I used to open with three or four minutes of topicals on the telly. Live gear written live on the day. Now the Eighties obviously was a deeply divided decade, politics was genuinely interesting, Thatcher was a colossal figure and society was changing before our very eyes. Now any comedian, particularly a young comedian, who didn't take a view on live television and make art out of that, comic art, would have been crazy. But I was at the time writing The Young Ones, the Blackadder, I was doing endless routines about the last bit of milk in the student fridge and trying to make myself sick after I'd drunk too much. People said it forever in 1990 when Thatcher went. "Oh, what you gonna talk about now?" And I'd say, "Well, perhaps you'd like to read a few of my novels or look at the Blackadder." All I can tell you is she was as much a part of my life as she was a part of yours and as a comedian that informed on some of my work. And when you've got riots on the street and an entire industry imploding and police officers being shipped 600 miles to make sure it happened, if you're on live television you bloody well ought to be talking about that.
The final scene in Blackadder Goes Forth:
You were therefore identified with Labour. When they got into power, a different kind of story emerged from the one you would have necessarily hoped for. Would New Labour have provided as much material for the older you as Thatcher did?
Not quite as much because politics was just never as interesting again. Obviously Thatcher was a brilliantly successful leader, she pursued her agenda, she was never a hypocrite, she said what she wanted to do and she did it. And by the time she'd finished the whole centre ground of British politics had moved to the right and that was the ground that Blair occupied. So obviously there was less. But Blair had already been in power for a year when I did The Ben Elton Show and if you go and look at the tapes you'll find I had a great deal to say about it, because I was a comedian and I was looking at my society. But even then it was still only five per cent of the material because most of what I write about is about the rest of life, trying to get through the day. But of course I did. I did loads of it. You might like to read Meltdown. It's the last novel I wrote, and it's set over that period. It's basically set between 1993 and the financial implosion and then you'll see that I have a lot to say. But it's ridiculous to ask, "If you'd been operating during the time of Stanley Baldwin, would you have had as much to say?" Well, he's obviously not quite as interesting a figure.
I happen to enjoy Andrew's music. I find it astonishing that critics can find it so easy to dismiss the pleasures of millions as clearly contemptible
I would submit that it's not ridiculous to ask it. It's legitimate to ask it.
No it is legit. That was too much. I shouldn't have said ridiculous. But what I'm saying is, is it a legitimate question. I hope you'll accept that is a legitimate answer to say that Thatcher, the miners, Kinnock – this was really vibrant ground and any artist working at that time was affected by it. It affected music, it affected visual arts, it affected everything. Blair and Cameron/Iain Duncan-Smith/Hague was not as interesting because they were all actually occupying a much smaller area of politics. I knew the difference between Kinnock and Thatcher. It's far less clear what the difference between Cameron and whichever Miliband wins will be [this interview was conducted before Ed Miliband became Labour leader]. So that's a legitimate answer, do you not think? But nonetheless I did take the piss.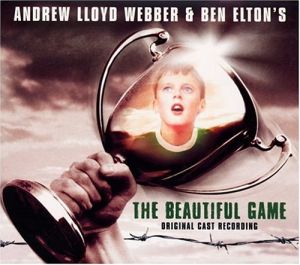 Did you ever in the 1980s do a joke about Andrew Lloyd Webber?
I thought it was mean when Richard [Curtis] did and I had this out with him. We wrote a script, we wrote a review for Rowan and there was a line, "Andrew Lloyd Webber's latest rearrangement of Mendelssohn's greatest hits." Which was based on "I Don't Know How to Love Him". He always put his hand up and said he's subconsciously taken a line from Mendelssohn. And I said to Richard, "That's bloody easy. I mean, come on." Because I did Joseph when I was at school. I have always been a fan. So no, as far as I know, no. I mean I may have done. He was almost second only to Thatcher. He really was a huge figure, much more then than now. But when I worked with Andrew I worked with what for me was the greatest man of popular theatre working, and certainly in musical theatre. I didn't work with someone who was identified with the Tory party. I mean I knew he was. What I'm saying is the reason I was interested – I got a call from Andrew saying, "Would you like to write a contemporary story for musical theatre, something with edge? I'd like to work with you." I said, "You want to work with me?" He said, "Yes, I really would." And I was thrilled and I still am thrilled because I love theatre, I love musical theatre. I happen to enjoy Andrew's music. I find it astonishing that critics can find it so easy to dismiss the pleasures of millions as clearly contemptible. I'm not talking about Love Never Dies. I'm talking about then. Andrew has had 30 years of people telling him he can't write a song. If I refused to work with every interesting artist because they might have different politics to me, I would be as big a wanker as quite a lot of people seem to think I am. Fortunately I know I'm not.
Everything I do is because I feel like doing it. Andrew rang up. That sounded great. He wanted to do something about Ireland and the situation. History is my obsession. Anybody asked by Andrew Lloyd Webber to write a musical about the genesis of a terrorist... My God, when we wrote that in 2000 - you go and have a look at the script and think about it in the context of today. I thought Andrew should be complimented for coming to me and I thought I should be applauded for agreeing. I thought this is great: two disparate artists clearly doing quite well in their professions, of interest, decide to work together to surprise people and do something really unique. The first time Andrew did a totally original story, his first non-sung-through musical. Normally he does these kinds of opera-style things. This had scenes and songs. He totally broke his own mould and I thought that was really good and interesting and I thought healthy in society. But clearly most people said, how dare you work with Andrew Lloyd Webber? They wouldn't say that now he's TV's Mr Light Entertainment.
What are you going to talk about in your stand-up show?
Oh I don't know. Here we go. Catford. Dave TV and what a stupid name it is. Political news. Kids in politics. Genesis and creationism. IKEA. A little bit about Iraq but really it's about the fact that men can't find anything. It's a great joke. Why did they never find those weapons? Well, Hans Blix and his team were all men. Everybody knows men can't find anything. They should have sent my mother-in-law. She'd have fucking found it, no worries at all. She can find anything she wants. My belief is she hides it - she's making herself indispensable. She hides my stuff and then she finds it again so I can never put her in a home because I'll never know where my glasses are. Intelligent design. New faiths. Faith taking over from traditional religions but star signs are surely even bigger bullshit than Genesis was. Tattoos. Cosmetic surgery. At least the Queen's grown old gracefully. If you're going to have a head of state I'd rather have her than anyone else. Because let's face it, you're going to trust her. Let's face it, if you were at a discotheque with all the heads of state of the world going out for a night clubbing, who would you trust with your handbag when you went for a piss? The Queen of course, now think about that. Shouting and swearing. Growing old. My eyebrows are going pubic. I used to do routines about oral sex, getting pubes stuck in the back of your neck. Now the only time I'm going to get a thick black hair caught in the back of my throat is when I suck one out of my nose when I'm snoring. That might be a bit unpleasant, wouldn't it?
I wish I hadn't sworn quite as much onstage but I never swore on telly and it's interesting that you can now
Are you growing old gracefully, Ben?
I think the most important thing is to be respectful of other people, treat other people as you'd wish to be treated and wish your family to be greeted. That's how I've always liked society. I like a full bus. I think it's great to travel on a well-used bit of transport. I don't really like anyone sat too close, but I like to see a nice full bus. I think I've always been polite to people. I have always tried to be honest, onstage and offstage. And I think I live a fairly decent life in the way I run things so I don't think I'm any more or less graceful than I was when I was 22. I wish I hadn't sworn quite as much onstage but I never swore on telly and it's interesting that you can now. I've got this interesting thing. If I do swear on my Dave routine it'll be the first time I ever did. So yeah I think I lead a fairly... I don't know what graceful means.
You mentioned it in your list.
Oh the Queen? I was talking about cosmetic surgery. I think the obsession with looking young is deeply, deeply worrying. And I will be saying – it's interesting, this obsession with tits. You know now they're growing tits. Because of the possible rejection of breast implants they now grow breast implants in a laboratory so that a woman can have her own breast tissue. Isn't that marvellous? The world's starving. What do we do? Grow a crop of tits. You know. So there's comedy in everything.
This is like the Today programme. "And later today Ben Elton will be saying..."
Well, you asked me. I've been thinking about my material. So I happen to have it at my fingertips.
Ben Elton hosts Dave's One Night Stand on Dave at 10pm on 10 October and no doubt frequently repeated thereafter
Find Ben Elton on Amazon
We Will Rock You at the Dominion Theatre until further notice
I know people think I'm terribly angry and terribly critical but it was always a passion, not an anger
Explore topics
Share this article