Line of Duty, BBC Two |

reviews, news & interviews
Line of Duty, BBC Two
Line of Duty, BBC Two
Fuzz opera in which bureaucracy and box-ticking replace thief-taking
DCI Gates (Lennie James, left) with sidekicks Cottan (Craig Parkinson) and Morton (Neil Morrissey)
Those quaint old TV shows in which we were invited to support and admire the police unreservedly have long been overtaken by real-life events. Now evolution has brought us to Line of Duty, a series that presents the police as a failing bureaucracy hamstrung by paperwork and political correctness.
From what one gathers of how our contemporary rozzers operate - inviting you to report crimes by email, for instance, because police stations are only open some of the time, or arresting victims instead of perpetrators - this may be unpleasantly close to reality.
Perhaps writer Jed Mercurio picked up a few extra tips by watching the BBC in action, with its preposterous thickets of regulations about compliance and heath and safety. In any event, he hasn't been too bothered about nuance and subtlety. The opening scene of this first episode depicted a tense raid by anti-terrorist police on a flat supposedly housing a jihadist bomb-maker, but as DS Steve Arnott (Martin Compston) was on the point of ordering his lads into action, he received a terse radio message insisting that he had to complete his risk assessment paperwork.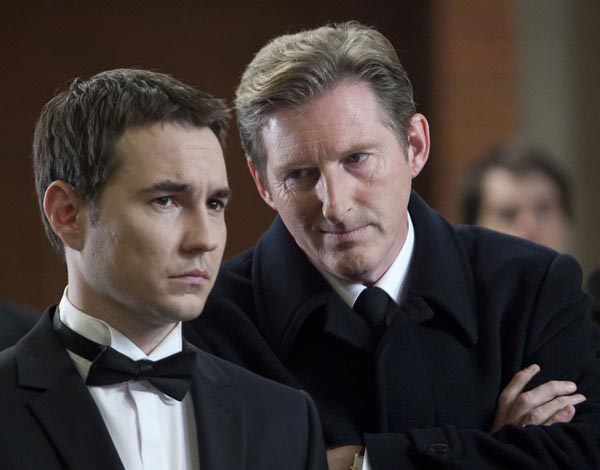 This sort of thing obviously wasn't helping to sharpen the effectiveness of his squad, who proceeded to burst into the wrong flat and kill an innocent man holding a baby. They were promptly ordered by a senior officer to concoct bogus statements claiming that the victim acted aggressively and they had no option but to shoot him.
But that was just the preamble. Arnott was moved sideways as a result of this... what shall we call it... misunderstanding, and now finds himself under the mirthless auspices of Superintendent Hastings (Adrian Dunbar, pictured above with Compston) in the anti-corruption unit AC-12. Hastings is obsessed with proving that feted super-cop DCI Tony Gates (Lennie James) is fiddling the statistics and bending the rules to make himself look like an over-achiever. Among other things, he's supposedly guilty of "laddering", which means you find somebody who's committed a crime and then load an additional heap of offences onto the charge sheet. Moreover, in modern policing there's no such thing as a free breakfast, as Gates discovers when he's accused of having eaten one.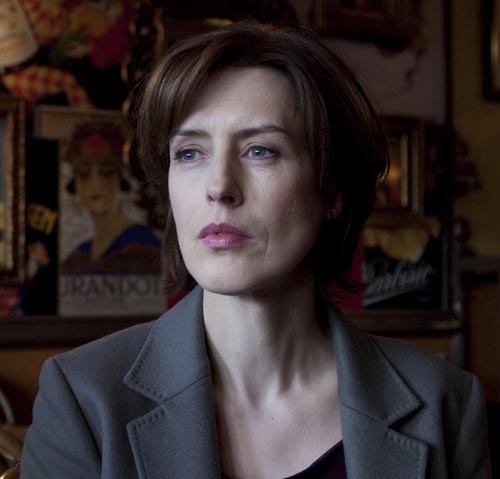 It all contributes to a portrait of the police force as a paranoid, cynical and humourless place, where any signs of excellence are sabotaged by back-stabbing sneaks as they claw their way up the greasy pole of career advancement. Rather like the old Soviet Union, box-ticking is the route to the top, rather than ability (look no further than Gates's repulsive pair of smirking sidekicks, messrs Cottan and Morton). Actual crime-fighting barely figures on the list of priorities, and there's a lot of clumsy incidental stuff about cops feigning "empathy" for crime victims or spouting brain-dead jargon like "downprocess" and "gender balance".
Gates, who initially you might have mistaken for the "hero" of the piece, is obviously into all sorts of off-piste activities, even if they may not be the ones Hastings suspects him of. He's being dragged into extremely murky waters through his extra-marital relationship with Jackie Laverty (Gina McKee, pictured above), who has apparently killed a man in a hit-and-run accident and has ever-so-subtly persuaded Gates to cover it up for her. Snag is, you wouldn't care much if the entire cast was wiped out in a gigantic explosion.