Blithe Spirit, Harold Pinter Theatre review - an amusing, if dated, revival of the Coward classic |

reviews, news & interviews
Blithe Spirit, Harold Pinter Theatre review - an amusing, if dated, revival of the Coward classic
Blithe Spirit, Harold Pinter Theatre review - an amusing, if dated, revival of the Coward classic
Jennifer Saunders delivers a fine turn as the celebrated Madame Arcati
Wednesday, 22 September 2021
Jennifer Saunders as Madame Arcati and Lisa Dillon as Ruth Condomine
We're in an agreeable drawing room with an author, Charles Condomine, who is looking forward to having a bit of fun with a local spiritualist, Madame Arcati, whom he has invited over for an evening séance.
But once a conversation with his wife, Ruth, debating the relative attractiveness of his deceased first wife, Elvira, cracks like a shot from Chekhov's gun, trouble is as sure to come as the spirits themselves.
Richard Eyre's revival of Noël Coward's crowd-pleasing comedy fetches up at the Harold Pinter Theatre having haunted the Theatre Royal Bath and the Duke of York's Theatre and summoning audiences as effectively as Madame Arcati summons those who have 'passed over'. That could be a cue to turn to social psychology and draw parallels with 80 years ago when the play was a smash hit and today - wartime and Covid times both seeing death stalk the land. But its return is probably more to do with the casting of - cliché though it is - national treasure Jennifer Saunders, as the medium who never does things by halves and is here licensed to go as far over the top as she dare.
The star does not disappoint her fans, channeling plenty of Ab Fab's physical comedy, running through some fart jokes for old times' sake and never allowing anyone to forget for one moment that it's Jennifer Saunders up there. Sure, it's a broad comic turn rather than an acting performance, but it would be churlish in the extreme to be sniffy - not least because the part is written less as a dramatic role and more as a chance to wind the eccentricity up to 11.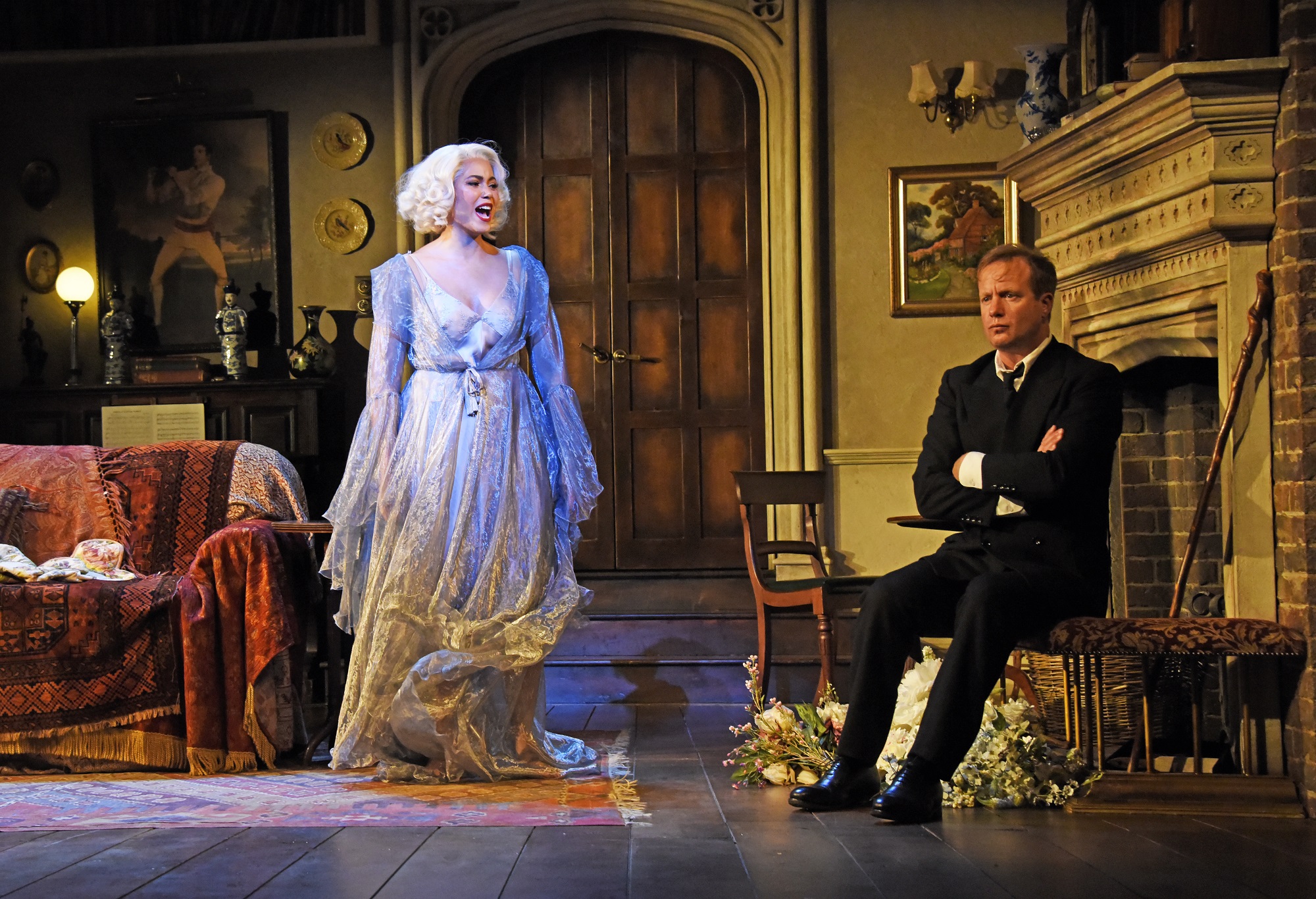 She gets good support from Geoffrey Streatfeild (pictured above right), whose self-regard and look had me thinking of David Cameron, and Lisa Dillon as Ruth, who is pretty much usurped when Elvira (Madeleine Mantock, smouldering with coquettish teases, pictured above left) materialises to catch Charles's eye, and plenty more. Rose Wardlaw, on her West End debut, also has a lot of fun with Edith, the hyperactive maid, to whom there is rather more than anyone suspects.
For all the technically efficient theatricality, there's no getting away from the dated atmosphere that hangs over the play like a shroud. Charles is a little too pleased to have two wives fighting over him, failing to see the appalling position in which the blameless Ruth finds herself and barely showing any interest in what has happened to Elvira during seven years in the afterlife. The temptress (Elvira) and the mother substitute (Ruth) fit rather too neatly into those categories, the women defined by their roles in a man's life rather than through their own emotions and thoughts. There's a more interesting adaptation to be made that fleshes out the women and removes industrial quantities of smarm from Charles, sufficient to bring him into the 21st century.
But Saunders gets her laughs, the rest of the cast get a zinger or two each and even the somewhat overpowering set gets its moment in the sun. So, unlike Elvira's return to the mortal plane, this play's revival is, on balance, a good thing for everyone involved.