Blithe Spirit review - cloth-eared Coward |

reviews, news & interviews
Blithe Spirit review - cloth-eared Coward
Blithe Spirit review - cloth-eared Coward
Judi Dench tries, but Coward adaptation still tanks
Mirthless Madame: Judi Dench in 'Blithe Spirit'
Noel Coward's 1941 comedy was one of the theatrical casualties of the first lockdown last March in a Richard Eyre-directed West End revival that aimed to mine the pain beneath this play's abundance of bons mots.
And now as if to pick up the baton, along comes a film remake of the same source from the director, Edward Hall, whose father, Sir Peter Hall, was Eyre's predecessor running the National Theatre.
Hall senior once directed a fizzing West End revival of Coward's Hay Fever starring Judi Dench, but lightning hasn't struck twice, at least in the transfer from stage to screen this time out. A delicate piece at the best of times, Coward's deathlessly intriguing comedy about death has been turned into a manic and vulgar charade, what few grace notes it possesses fielded by Dench who cuts a surprisingly sombre presence in what is usually the play's most madcap role. Cinéastes will retreat to the 1945 film version starring Margaret Rutherford in Dench's role, while newcomers to this author may rightly wonder why all the fuss.
Dench plays Madame Arcati, the spiritualist who ends up disrupting the marriage of the blocked screenwriter Charles (Dan Stevens, with whom Hall junior presumably worked on Downton Abbey) and his second wife Ruth (Isla Fisher). One night during a seance, Arcati manages to summon from the dead Charles's first wife, Elvira, who in this version is played by Leslie Mann as a nasty sex kitten in the manner of a Glenn Close-style bunny boiler; the diaphanous vixen of Coward's play has been coarsened beyond repair.
The text itself is rife with the usual fear of intimacy (and, it has to be said, of women) that courses throughout Coward, but none of that registers amidst the attempts of Hall and no fewer than three screenwriters to open up the play. Not only do we meet more family members and household staff than are offered by Coward (alongside a cameo appearance from none other than a gossip-hungry Hedda Hopper, if you please), but the emphasis is on a lumbering physical comedy at complete odds with the Master's caustic wit. Stevens (pictured above with Mann), in particular, looks bug-eyed from the start, and is asked to retain that exaggerated posture throughout.
I suspect Coward himself would wince at the furore generated here over Charles's problems in the bedroom, a priapic deficiency that is promptly corrected by the arrival of Mann's vaguely proto-feminist Elvira, who expresses an affection for the odd Negroni or two. When not revitalising her onetime husband between the sheets, this saucer-eyed harridan seems hellbent on murdering him, much to the dismay of Fisher's perpetually outraged Ruth who, as in the play, mistakenly assumes that language directed by Charles towards the (invisible to all but her former husband) Elvira is actually aimed at Ruth herself.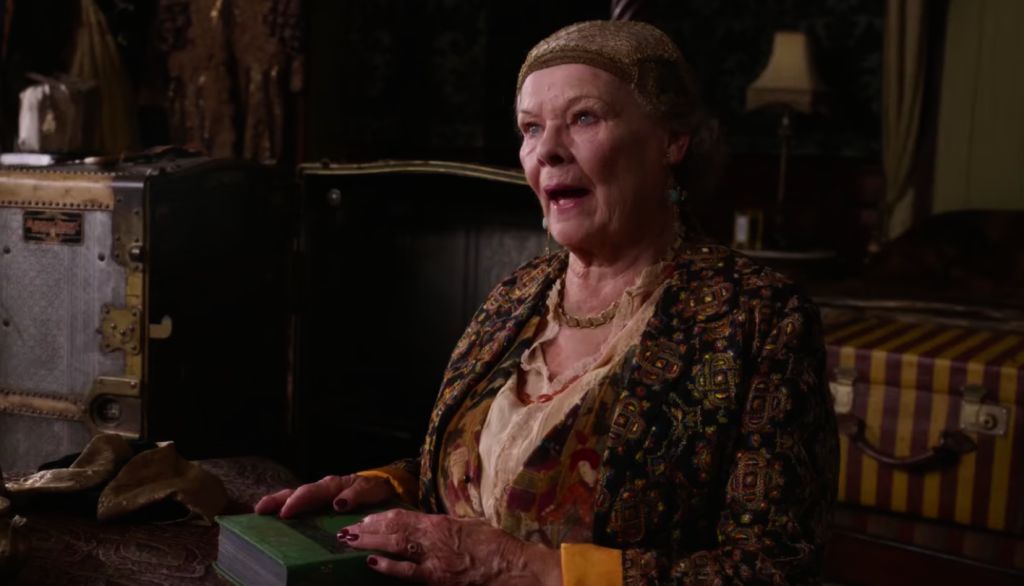 A subsidiary role, Arcati is the play's dominant figure of fun, most gloriously so in the London and Broadway revivals of late that cast Angela Lansbury in that role. Taking on a part that one assumes she ought at some point to have done onstage, Dench counters expectation by playing Arcati not as a daffy bike-riding eccentric. Instead, Arcati has been reconceived as a cat-loving widow in mourning for a husband killed in combat, who (spoiler ahead!) appears just in time to allow a cameo appearance by Tam Williams, a frequent collaborator with Hall in his own varied stage career. Dench fields this shift in perspective with her customary elan but she, too, gets one physical pratfall too many, not least for an acting legend of her advanced and illustrious years.
A muted Arcati only serves to expose the gathering hysteria around her, as ramped up in a final reel in which Elvira devolves into a simpering psychotic and Charles gets sectioned. (I kid you not.) The locations are lovely, as one might expect from these Downton alumni, and it's good to see Frank Matcham's beautiful Richmond Theatre utilised onscreen. But after a while, Stevens's default expression of disbelief may well be yours as well, anything blithe long ago sacrificed on the altar of the brazen,