Barry Adamson: Up Above the City, Down Beneath the Stars review - the post-punk colossus spills his guts in a raw style |

reviews, news & interviews
Barry Adamson: Up Above the City, Down Beneath the Stars review - the post-punk colossus spills his guts in a raw style
Barry Adamson: Up Above the City, Down Beneath the Stars review - the post-punk colossus spills his guts in a raw style
The tale of a Manchester childhood, Magazine, the Bad Seeds and surviving heroin
Friday, 24 September 2021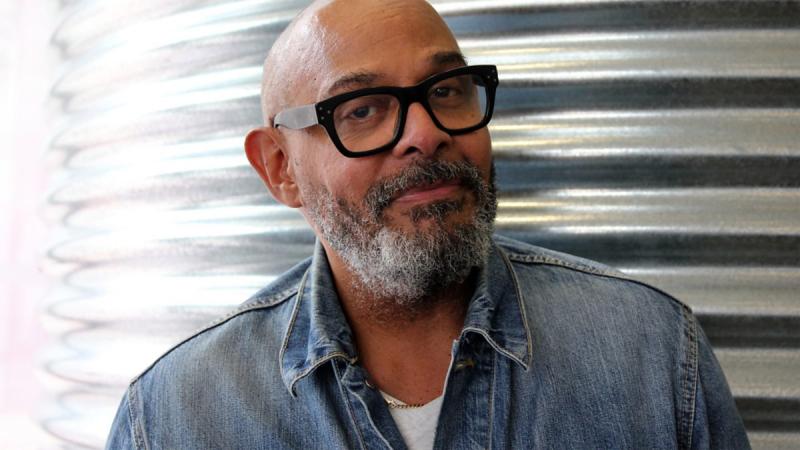 Barry Adamson: Mr Moss Side Gory
For those not familiar with the murkier corners of British rock music history, Barry Adamson was a significant player in creating the post-punk sound of the late 1970s and early 1980s.
More musical and nuanced than the primitive punk sound of the Sex Pistols and those who coalesced in their wake, post-punk brought in a broader raft of influences from dub reggae, German motorik sounds and the art school glam rock of Roxy Music and David Bowie. Here Adamson rose to prominence with his bass guitar in such scene titans as Magazine, the Birthday Party and original incarnation of Nick Cave and the Bad Seeds. However, he also fell victim to heroin addiction – an illness that plagued him for ten years.
Up Above the City, Down Beneath the Stars is Adamson's autobiography of growing up in a mixed-race family in Manchester's Moss Side and Hulme, of joining Howard Devoto's band Magazine, seemingly weeks after picking up a bass guitar for the first time and with no real musical training, helping Nick Cave to lay down his early Gothic punk blues sound and of falling victim to drug addiction, before finally cleaning himself up.
It's a story that falls into two clear parts: his childhood in 60s and 70s Manchester – which is presented in a literary equivalent of a series of short back and white newsreels – discovering punk rock and his subsequent musical career – which heralds an altogether more dayglo writing style. The first half of the book takes some perseverance with its short tales involving school friends, his elder sister and his clearly doting parents. He is born with both his arms and legs dislocated, due a medical condition called Dyschondroplasia and maybe it is due to this or because he is very much the baby of the family, being nine years younger than his only sibling, but throughout his childhood, things just happen to him with precious little explanation, and he is left to make sense of them afterwards.
One day his parents and sisters take him on an unannounced trip to a hospital, where he eventually wakes up in a full body cast, as part of the treatment to correct his damaged legs. Later on, he comes home from school to find his dad being yelled at and slapped about by both his mum and sister, seemingly due to a sexual mis-step with a mate's wife. Young Barry rarely sees things coming and while reflecting on these events, Old Barry rarely puts them into a cohesive narrative, but leaves them hanging. Similarly, on a family day trip to a wet Morcombe, the Adamsons end up in a cinema, watching Goldfinger. The seven-year-old Barry's "little life is changed for ever" but, if the reader didn't know that the theme tune was eventually covered by Magazine or that Adamson's later solo career would be significantly influenced by John Barry's musical style, it would be difficult to know why.
Once the teenage Barry discovers punk rock, however, the writing style changes significantly, as Adamson lays out his musical successes and personal mishaps under a bright spotlight. He buys Buzzcocks' "Spiral Scratch" record from Paul Morley in a Stockport record shop. His mate Dave Hughes gives him a bass guitar and in no time at all he has joined one of the leading bands of the post-punk scene, just as it is forming. Soon the rock'n'roll lifestyle beckons and he's knocking back amphetamine pills, jumping between recording studios and tours and between the sheets with numerous women, including the singer's then girlfriend.
He is introduced to heroin and soon his behaviour metamorphizes from that of naughty young tyke to selfish monster. He becomes a father and marries his girlfriend, all between regular disappearing acts to score and shoot up, before mother and baby flee to her parents in Australia. He falls in with Nick Cave and briefly ponders the Jamaican part of his heritage, which has largely been ignored up to this point and then he is pulled up short by the deaths of his sister, mother and father, which happen in quick succession during his late 20s. It's not quite enough to persuade him to put down the needle but begins the process and after considerably more drama, Barry finally accepts that it's time to wise up.
At this point, the book comes to rather a juddering halt, as Adamson embarks on a new career path as respected solo artist and film score composer, but there is scant reflection, nor hints of any ongoing relationship with his daughter, Christina. Maybe this cliff-hanger is a set up for a second book, but even more than with Up Above the City Down Beneath the Stars, it'll be unlikely to attract readers who don't know huge swathes of the story already.
Barry Adamson: Up Above the City, Down Beneath the Stars (Omnibus Press, £20)
He's knocking back pills, jumping between studios and tours and between the sheets with numerous women, including the singer's then girlfriend
rating
Explore topics
Share this article