South Pacific, Sadler's Wells review - strong singing in Daniel Evans's fast-paced production |

reviews, news & interviews
South Pacific, Sadler's Wells review - strong singing in Daniel Evans's fast-paced production
South Pacific, Sadler's Wells review - strong singing in Daniel Evans's fast-paced production
After a hard-hitting 'Oklahoma!', the latest Rodgers & Hammerstein revival stays on the sunnier side
'It's one memorable melody after another'
How old is Emile de Becque? Perhaps because my first Emile was the 1958 film version's Rossano Brazzi, my vision of the lonely French plantation owner in the South Pacific during the Second World War has been coloured by that casting: a visibly greying, slightly stiff man with correct manners who conforms to the vague description "middle-aged".
Brazzi was actually only 42 when the film was released; another great Emile, Broadway's Paolo Szot, was nudging 40 when he started playing the role. So why does Julian Ovenden, 45, seem almost overly youthful as Emile in Daniel Evans's Chichester production, now playing at Sadler's Wells? Perhaps because Ovenden is irrepressibly youthful? Certainly, the moment when he teases Nellie with a bottle of shampoo, pouring some of it into her hand and making her rub his chest with it, is not a standard move in this piece and made me wonder if it was going to go Magic Mike on us.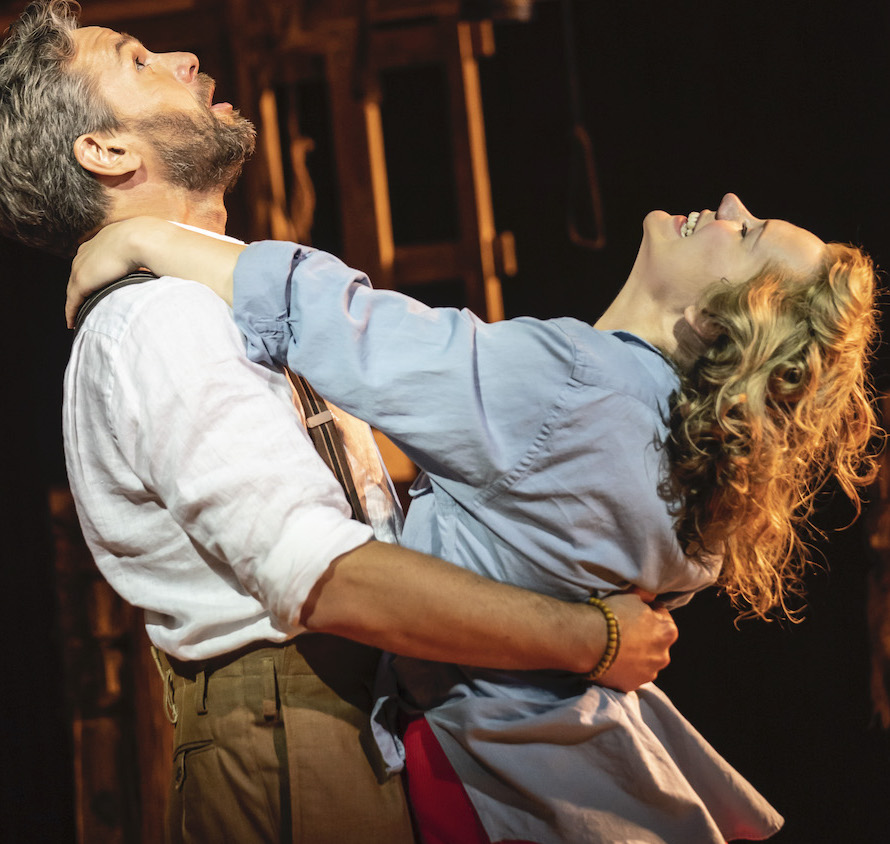 Of course not: overall it's a reverent, intelligent staging, as befits this Rodgers & Hammerstein Pulitzer winner. Where the fault line runs, perhaps, is in the casting of Ensign Nellie Forbush, with whom Emile falls in love. She should seem a clear couple of decades younger than him – hence his worry that if they had children, he would die long before them and she would need to look after them alone. Gina Beck's Nellie is perky and sassy, and she has the vocal heft for the role – almost too much con belto at climactic points – but I didn't believe she was a green army nurse in her twenties from Little Rock, Arkansas (pictured above, Julian Ovenden and Gina Beck). Is this niggle that important? Not so much, in fact, as the rest of this production is pretty model.
Evans has opted for a nifty staging using very simple means (set and costumes by Peter McKintosh). Sets are simply wheeled on and off – Luther's ramshackle laundromat, the nurses' makeshift showers, the stage for the entertainment committee's Thanksgiving show – so that scenes can almost overlap. This makes the first half fair whizz along, almost too breathlessly at times, leaving no pauses for reactions and thought-gathering, on- and offstage, though things usefully calm down after the interval.
What almost recedes from view in the harum-scarum opening scenes is the elephant in the room, racial prejudice, though it will rear up in key scenes later – in Nellie's deep-fried segregationist tendencies; in the casual sexism of the US Seabees, who treat the Tonkinese as sexy playthings; but also in Lieutenant Cable, who realises this Princeton boy can never marry his young Tonkinese lover. But he is no Pinkerton, exploiting his Butterfly, and the prejudice he despises in himself is despatched brilliantly by Rob Houchen in the sardonic "You've Got to Be Carefully Taught".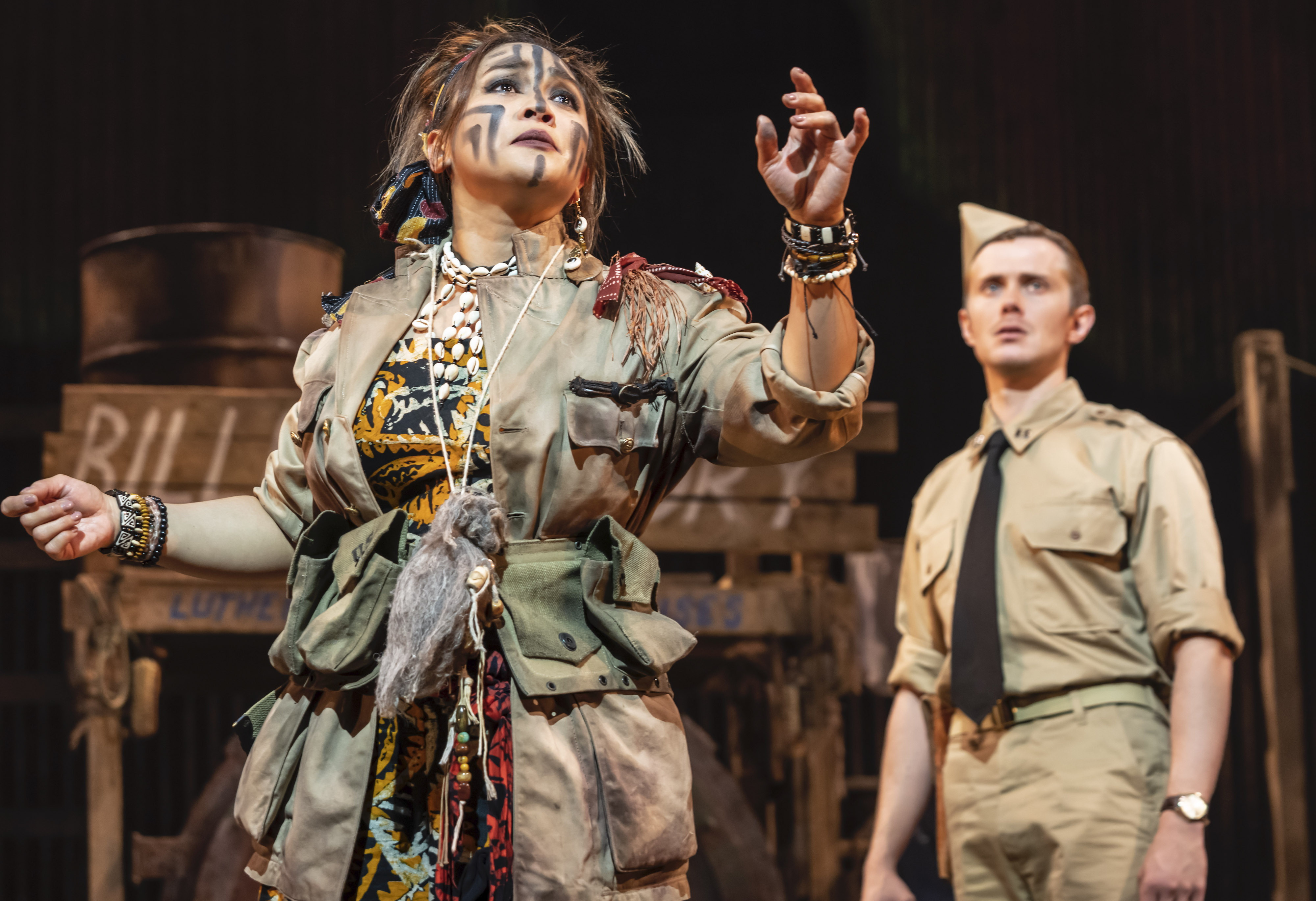 This is a youthful, sunny war zone, though. Even Luther Billis, the Seabees' resident entrepreneur, runs his gang of price-gougers like a jolly scout troop. As Billis, Douggie McMeekin brings an amiable goofiness to a role that can leave a sour aftertaste. His cohort are suitably gifted at dancing and clowning, notably Antoine Murray-Straughan, a livewire Stewpot. Bloody Mary, too, seems more mellow than usual, and younger, though there is no reason to believe the character is more than 40. The youthfulness inevitably comes through in the voice of Joanna Ampil, slightly at odds with Bloody Mary's crabby, tortured-English dialogue (pictured above, Joanna Ampil and Rob Houchen).
It's left to the senior officers to add a dash of seriousness to the mix – there is a war going on nearby, after all, as we eventually see when Cable and Emile go off on their spying mission. The officers, though, have a whiff of Sgt Bilko's long-suffering commanders, quietly comic in their way, as when Captain "Ironbelly" Brackett (David Birrell) secretly buys one of Bloody Mary's overpriced grass skirts to send to a lady friend back home.
The Thanksgiving show here is predictably exuberant, executed with verve by the excellent chorines in hilarious tutus made of tropical leaves and Billis in de rigueur shell bra. Ann Yee, the choreographer, has used elements of popular styles of the time, so that the dance numbers seem a natural fit for the characters, not just for the actor-dancers. In a contrasting vein, especially lovely are the balletic routines for Liat (Sera Maehara), the daughter of Bloody Mary with whom Cable falls in love, which open and close the show.
The reason for buying a ticket, though, is the piece itself, arguably R&H's greatest (I duck as I say that). It's one memorable melody after another, with impeccably crafted lyrics and a proper grown-up story. If you want to be bewitched by the unlikely romance between Emile and Nellie, attempted across cultural boundaries, not just age ones, you might not be quite as wowed as you hoped to be. But if you want to hear a great score delivered by almost operatic leads and strong support, then this is the show for you. Ovenden's "This Nearly Was Mine" rightly brought the house down.
As the entrepreneurial Luther Billis, Douggie McMeekin brings an amiable goofiness to a role that can leave a sour aftertaste
rating
Explore topics
Share this article