The Rhinegold, English National Opera review - tacky, edgy, brilliant |

reviews, news & interviews
The Rhinegold, English National Opera review - tacky, edgy, brilliant
The Rhinegold, English National Opera review - tacky, edgy, brilliant
Richard Jones back on form for Wagner's 'Ring' curtainraiser after a misfiring 'Valkyrie'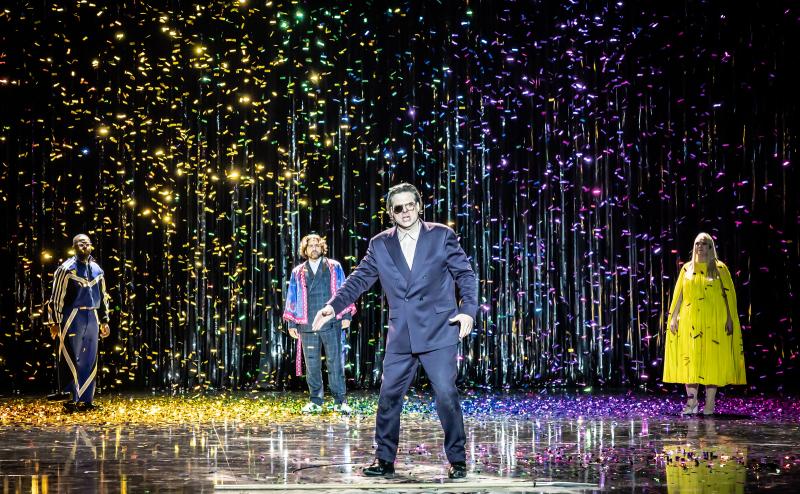 The hopes of John Relyea's Wotan dashed as the other gods (Blake Denson's Donner, Julian Hubbard's Froh and Madeleine Shaw's Fricka) celebrate Valhalla's inauguration
All that glitters, titular treasure included, is dangerous childsplay in Richard Jones's third UK staging of what Wagner called the "preliminary evening" to the three main operas of The Ring of the Nibelung. It's nothing like the previous two, for the Royal and Scottish Operas, in some ways disconcertingly minimal and occasionally ugly to look at. Yet everything adds up and unlike the cast for his Valkyrie, this team has the perfect mix of vocal and acting gold.
If there's a snag, it comes early: Martyn Brabbins simply lets Wagner's music for the Rhine and its Daughters drift along without sufficient theatrical vividness, making it hard work for a fine trio (Eleanor Dennis, Katie Stevenson and Idunnu Münch, pictured below, former and present ENO Harewood/Jerwood Young Artists/Singers along with three others in this Rhinegold line-up). Once we hit the heights, everything properly flows, and the playing of the ENO orchestra is first-rate; there's just the sensation that Brabbins is more of a symphonic conductor than one fine-tuned to music-theatre. (One big question remains: why were the company's Music and Artistic Directors totally silent media-wise during the latest crisis?)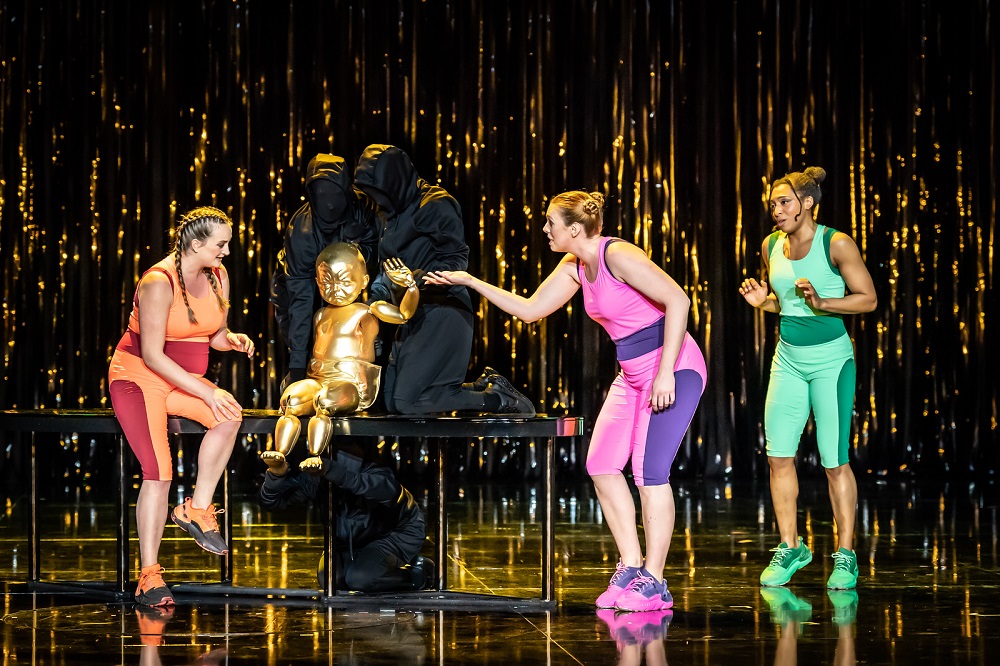 Still, Jones is fine-tuned to the changes above the E flat major bass in the minimalist Prelude – not least in unleashing figures which rush around as the strings start their wave-patterns, later puppeteers for a golden baby. And before that he states a familiar intent of metamorphoses in folk crossing the stage from left to right: prelapsarian, naked man dragging a pine branch, followed by loinclothed successor with the stripped down version, clothed and dragging a log, finally Wotan with the spear fashioned from the environmental rape of the World Ash.
Time and ageing are seminal in these traversals: the gods grow old before our very eyes once goddess of youth and beauty Freia has been taken from them; later we have it confirmed that the three dark-haired girls anxious about Wotan's and Loge's descent to Nibelheim are the Norn daughters of Erda, the ultimate ancient fount of apparent wisdom – all three are seen with her in front of the drop-cloth before Erda delivers her warning to Wotan to give up the ring (end of her scene pictured below). This is the most emotional moment of the evening in an opera which tends to the schematic, Christine Rice luxury casting indeed. It starts with a slap and continues with a violent kiss, both pertinent but startling.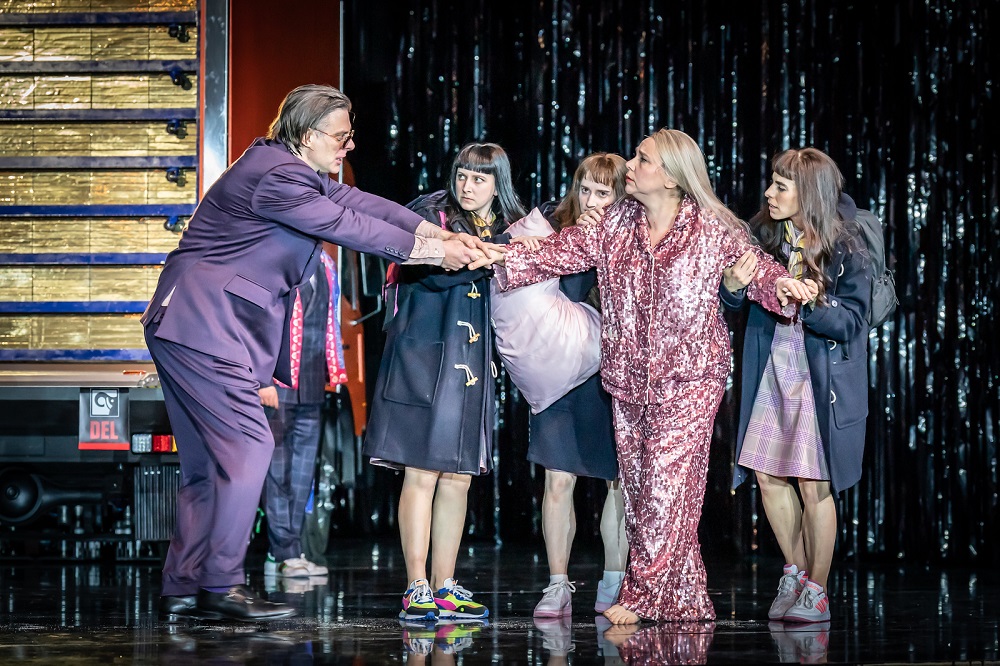 Jones also makes the most of the only figure in the entire re-created myth of love versus power to show any tenderness, the giant Fasolt. Not only are Simon Bailey's noble tones in marked contrast to the bass/baseness of James Creswell's Fafner; he also offers a girlish, weepy Freia – Katie Lowe, bafflingly costumed – the only chance of happiness. As she and the giants return to Valhalla (pictured below), he's exchanged his working man's clothes for a respectable suit, and clearly she's not happy about being reunited with her heartless, feeble divine siblings. The curse's first victim is duly mourned by the woman he might have offered some chance of human warmth.
Strong if unloving feelings are so well projected by the similar-yet-opposite wielders of power. Leigh Melrose's Alberich changes horrifyingly from a gormless, long-haired youth to a wild capitalist with limitless reserves of energetic malice. That helps to carry his curse; though he's a baritone without the requisite bass depth of tone, he's a superlative singer-actor. John Relyea is a Wotan of world-class vocal and dramatic quality, naturally authoritative, plausibly devastated as soon as Erda and the Norns offer him only handfuls of sand.
The real motivator of Alberich's capture, demigod Loge, gets an interesting characterisation: Frederick Ballentine (pictured below with Melrose), tireless of tenor voice if with no Lieder-singerish inflections, is all smiling face of Buddha, heart of scorpion; the lime-green gloves help to highlight the action, which is mostly in the hands. To say that this proves a more rewarding role for him than the James Stewart part in Jake Heggie's operatic travesty of It's a Wonderful Life is an understatement.
The other true gods - Madeleine Shaw's Fricka, Julian Hubbard's Froh and Blake Denson's Donner - are fixed in single attitudes, but sustain them well. So many complex issues in the text are clearly realised by hearing the opera sung in English, though John Deathridge's often ill-fitting translation remains clunky, if less so than in the unhappy Valkyrie, perhaps because there's more room for jokiness here.
Strong ideas come thick and fast from Nibelheim onwards, belying the apparent naivety of Stewart Laing's designs, well articulated by Adam Silverman's lighting changes. The factory forging the gold bars we see in simple, clever video work by Akhila Krishnan is both mythic and contemporary. Its workers, all blue-shorted as Alberich once was, look like a community group at work – amazingly, it's the ENO Chorus, who only have to scream and not sing – and John Findon's Mime, cast against type, is riveting, too (the Nibelheim factory pictured below).
The scene where Mime is beaten up by multiple tarnhelm-wearing Alberichs is duly shocking, even if he lives to tell the right tale to the visitors from above. Jones has fun with the transformations into reptile and amphibian – caught in Alberich's own glass vessel, which merits a big laugh – and the stacking up of gold against Freia in the giants' truck is clever, too, though as usual the idea that Fasolt can still see her hair and eyes can't be taken literally.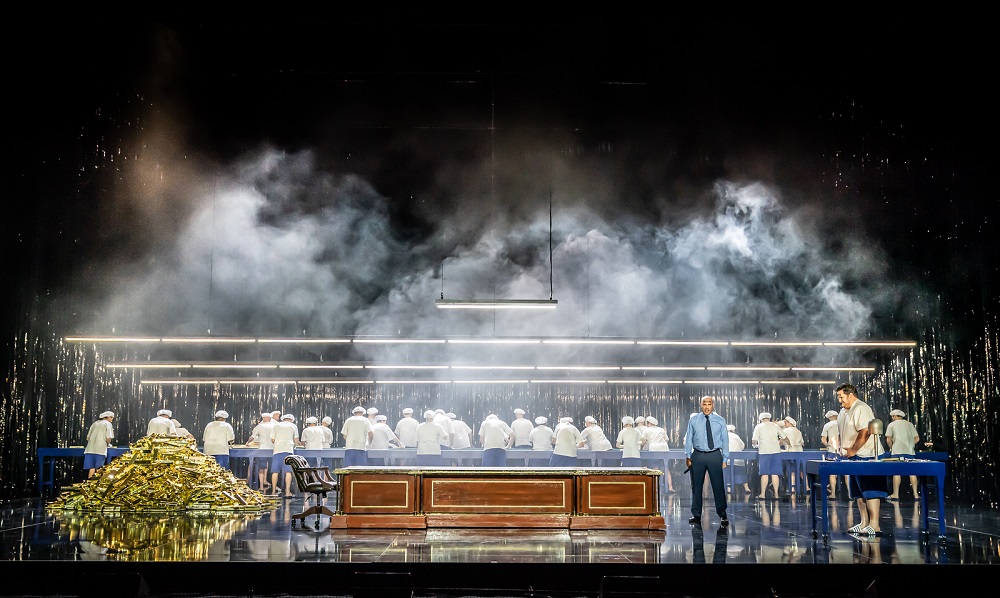 Nor can the gods when they affect to hear the Rhinedaughters singing in the auditorium as the voices resound from backstage. No matter; the "rainbow bridge" is brilliantly done, making us complicit big kids oohing and aahing at the pretty but shallow effect, and Valhalla itself, a steel box where Wotan has to lower the shutters against the aqueous protesters battering on the windows and a fire extinguisher is there to protect against Loge's threat to burn the gods down, makes a chilling curtain: tinsel no more. How this ties in with the different settings we got in Jones's Valkyrie and the rest may sadly never be resolved; like his Ring for Scottish Opera, this one looks as if it may not get beyond its second opera. After the first staging in the series, I'd have said, possibly no loss; but now I want to see so much more.