Alcina, Royal Opera review - sharp stage magic, mist over the pit |

reviews, news & interviews
Alcina, Royal Opera review - sharp stage magic, mist over the pit
Alcina, Royal Opera review - sharp stage magic, mist over the pit
Soprano Lisette Oropesa and director Richard Jones hold Handel's sensuous torch aloft
Wednesday, 09 November 2022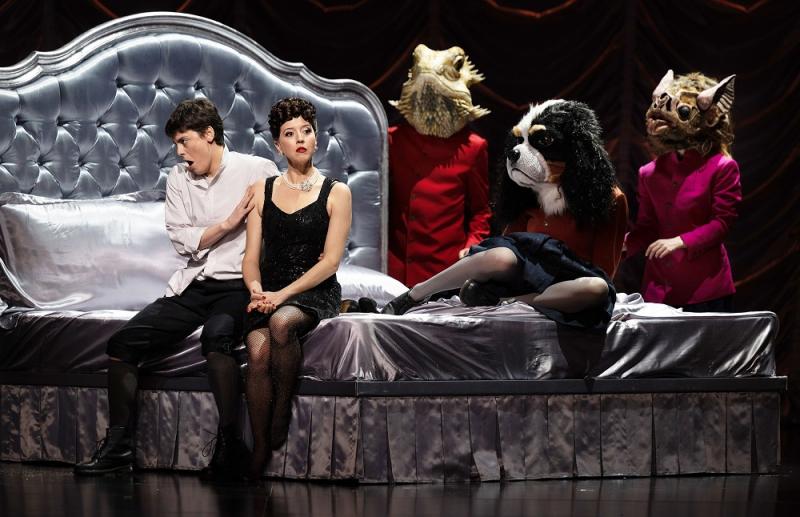 Emily D'Angelo as Ruggiero, Lisette Oropesa as Alcina and three animal-headed courtiers
Handel's audiences must have taken a very long time to settle – at least an act, to judge from the mostly inconsequential music of Alcina's first hour. Lovely: we're on an enchanted isle where puritanical people have been transformed into animal-headed courtiers, and a love-imbroglio merits only a "so what?" Richard Jones and his singers keep it lively and focused, but the bounce needed from Christian Curnyn and the Royal Opera House Orchestra doesn't come.
Eventually the charm of the personalities and the consistency of the staging win over, but it does show how much a conductor's pacing matters (and probably how the bite of authentic instruments helps Handel, though Mackerras used to simulate it well enough. Possibly, too, a seat in the Royal Opera's stalls circle beneath the overhang dulls the sound). Despite the succession of solo arias, many feeling too long with their middle sections and da capo repeats with ornamentations, this is an ensemble production, with the team of birds and beasts very often calling the tune, and unofficial ballet routines, in the brilliant Sarah Fahie's quirky choreography, and Jones using Antony McDonald's gorgeously malleable designs to keep the action flowing throughout the set pieces. Oh, those animal heads! Personal favourites? The mandrill and the King Charles spaniel.
Against all odds, sorcerer Alcina and her "love, love, nothing but love" motto form the dramatic and sympathetic focus through an astonishingly varied backbone of five arias: no staging can succeed without a consummate artist in the title role. Lisette Oropesa voice has that infallible ping and reach from the start, as she wields her brand perfume (pictured above, with Mary Bevan's Morgana left and Rupert Charlesworth's Oronte second from right) – Jones's clever representation of the "magic urn" which must eventually be broken if her power is to end. The director's demands for dramatic intensity are all met, from slinky prankster to near-demented love-reject. The emotional highlights – "Ah! mio cor" and "Ombre pallide" in Act Two – hit surprisingly hard. There's trademark Jones unease as the puritanical cult from which lover Ruggiero comes threatens to gain the upper hand, and it looks as if we're in for a dour curtain with the magic-wielders nowhere in sight; but then there's an outrageously funny final gag (no spoiler) which shows the director at his most playful.
Lustrous mezzo Emily d'Angelo doesn't quite rise to the unique impressions she made as Mozart's Sesto and Handel's Serse – a few pitch problems might be related to the uncertain support from the pit – but the sublime farewell to "green meadows, pleasant woods" is certainly affecting, backed up by the retreat of the onstage greenery. And there's no better example of how dance, drama and vocal pyrotechnics work hand in glove in this production than Ruggiero's big showpiece, "Sta nell'ircana" (pictured below).
Its witty but slightly threatening ballet balances the disciplined high jinks around Morgana's "Tornami a vagheggiar" at the end of Act One. There's a curious gauziness about Mary Bevan's upper register which momentarily distracts from the colour-artistry of her singing – tough to be second soprano when Oropesa rules the roost – but she's such a meaningful performer, and "Credete all mio'dolore", her suddenly serious-sensuous number with wonderful cello obbligato at the beginning of Act 3, is a real highlight, seduction balanced by the post-coital bliss of Oronte's next number. His three arias make demands beyond the Handelian norm for tenor, and Rupert Charlesworth energises them all.
The Puritans inevitably sound dour by comparison, but Varduhi Abrahamyan as Bradamante and Jose Coca Loza as bass power-wielder Atlante fulfil the demands in style. The real scene-stealer is young Malaki M Bayoh (pictured below); Handel keeps plaintive Oberto's arias short as the boy looks for his lost dad – the composer had a treble he wanted to showcase, though not overmuch – but the third especially makes some demands. I was not interested in whatever kerfuffle was going on with a clearly mentally unwell member of the audience during the second aria, too much highlighted on social media; the lad's a star, and deserves every plaudit (the role will be taken in three of the performances by Rafael Flutter)..
I'll not hide the fact that by personal disposition I'd rather have been at another first night, Irish National Opera's for Rossini's Guillaume Tell in Dublin – a triumph, I'm told – but by the end of another long evening, Handelians and others must have felt as well fed by this culinary opera as Ruggiero is, in the production, by Alcina's strawberries. It just needs a kick in the pit.