La clemenza di Tito, Royal Opera review - light and dark in near-perfect balance |

reviews, news & interviews
La clemenza di Tito, Royal Opera review - light and dark in near-perfect balance
La clemenza di Tito, Royal Opera review - light and dark in near-perfect balance
Mozart's hard-to-pace, musically masterful coronation opera has the right team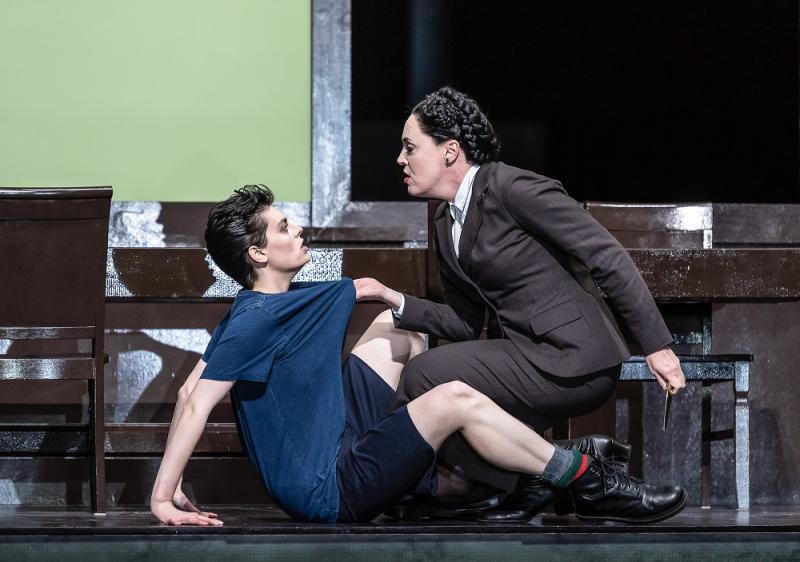 Emily D'Angelo as Sesto in thrall to Nicole Chevalier's dominatrix Vitellia
It looked as if the Royal Opera might be trying to keep its distance with the first new production since lockdown.
After all,
Mozart'
s last opera – only the Overture and March of the Priests in
The Magic Flute
remained to be composed in the fatal year of 1791 after the 18 days spent working on
Tito
– seems to have been fairly minimally staged for Emperor Leopold II's Prague coronation as King of Bohemia. When the composer's widow Constanze revived the work after his death, it was as a series of concert performances (with Beethoven playing a Mozart concerto between the acts on at least one evening).
Never expect Richard Jones, though, to do anything by half, even if he knows the virtue of economy. This was a fully-realised drama using a superb, mostly young, cast – only half the names were familiar to me – with intensely dramatic but never over-urged conducting from Mark Wigglesworth to match. The excited applause and cheers for the tuning-up turned out to be well justified: the Royal Opera Orchestra gleamed and sympathised wherever it could, the pace kept things going in this dramatically fitful slimming-down of the opera seria form better than a newcomer might realise, and although Mozart doesn't colour the score as elaborately as in the three operas with libretti by Lorenzo da Ponte, or in The Magic Flute, his telling highlights really paid off, above all in the supremely nuanced playing of the basset clarinet obbligato in the great aria "Parto, parto" (extended lower range, also used in the original version of the Clarinet Concerto written for the same soloist, Anton Stadler. Last night's artist, and the basset horn soloist in Vitellia's Act Two aria - maybe one and the same - need a credit on the e-list of performers and production team provided).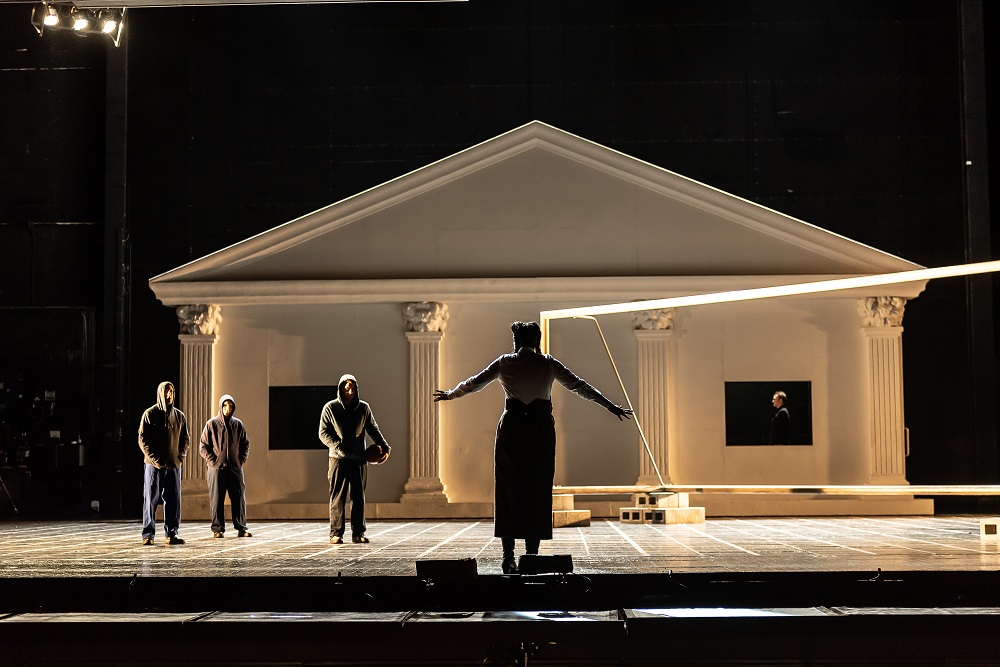 Plotwise, it's both simple and complicated. Emperor Titus's close friend Sextus joins a conspiracy against him because Vitellia, deprived of what she sees as her right to rule, twists him round her little finger. Sextus strikes down the wrong man and is caught. Will his ruler be merciful? The hint is in the title: this is no thriller. The complicated bit is the back history: Titus looks as if he's about to marry the foreigner ("barbara", Vitellia calls her) Berenice, forefronted in other operas but outlined in a quick bit of recitative. He sends her packing. Jones clarifies this beautifully: Berenice is an elegant Japanese woman (Fumi Kaneko), excoriated in stencilled racist graffiti on the drop-curtain, her unhappy departure played out in the double-room of the state apartments. Her garland passes first to the very plucky girl Servilia and then – too late to avert the crisis – to Vitellia.
Everything, as always with Jones, is beautifully interwoven or echoed. Vitellia rips the garland to shreds and turns it into a chain for the hands in her last aria. "Non piu di fiori" ("No longer will Hymen descend to weave pretty chains of flowers" – so that's it! Pictured above: Nicole Chevalier's Vitellia prepares to meet her fate). The state rooms are burnt out in Act Two after the senate fire; order and symmetry are destroyed, a perfect background for the tense confrontation between stricken emperor and former friend. The goalkeeper's fear of the penalty seems about to be realised when the goal playfully utilised in the sprightly Overture becomes a gibbet. Ultz's set is sparely perfect and superbly lit by Adam Silverman: classicism easily skewed. Only the smoke machine for the Act One finale is uncharacteristically overdone.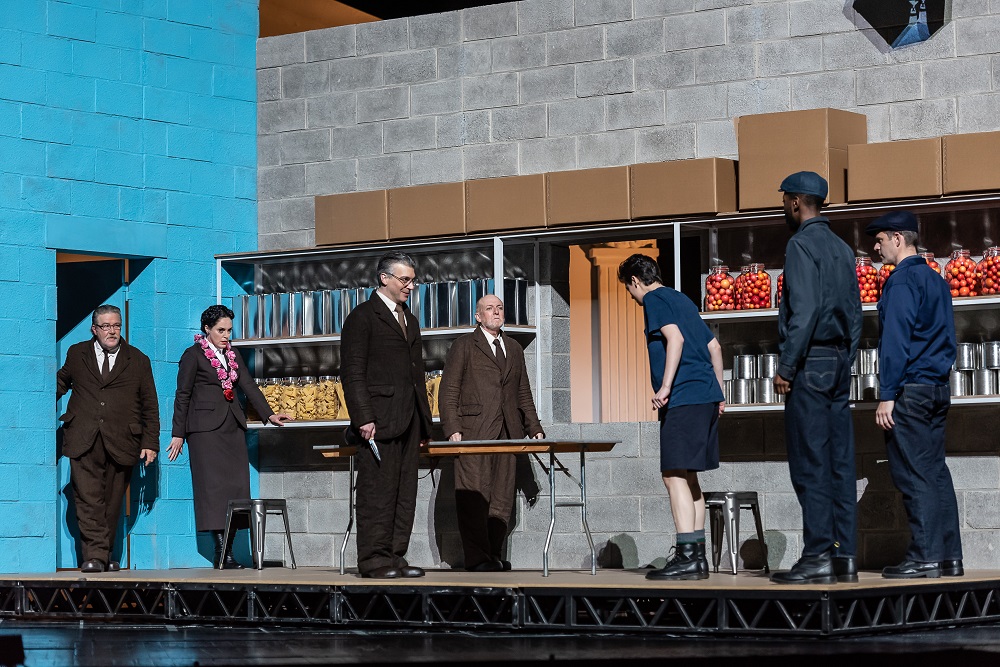 Focused energy streams from the six soloists, and the extra actors – functionary Publio (Joshua Bloom, effectively aged, a bit stiff in the first of the Act Two trios) has two more old men to keep him company, politburo-ish folk straight out of the grey world of filmmaker Roy Andersson (pictured above apprehending Sesto); their dead hands on Tito are contrasted with the youth, hoodie conspirators included. Most crucially, the singing is glorious and meaningful from the five principals. Mozart lavished the best music on his castrato Sesto and prima donna Vitellia. You wonder at first if Emily D'Angelo, every inch the mixed-up teenager, and Nicole Chevalier, a dominatrix with a knife in one of her boots, less silky seducer than teacher-figure to Sesto in a queasy relationship, will hone big voices to give us Mozartian style, but they do, in portrayals of bewildering vocal richness.
Chevalier flames out the top notes, both where Mozart asks her to and in one stonking ornamentation, and holds focus throughout; only the nervous finger-acting in her final scene is overdone – Jones could pare this down – but so eerily does Wigglesworth colour the slower section of the aria, so well does Chevalier compliment him, that it's a small fault. D'Angelo has an impetuous fire equally matched by Angela Brower as his loyal friend Annio (they could swap roles in alternate performances and the results would surely be as good). But she also scales down to heart-in-mouth pianissimos for her plea to Tito, and Edgaras Montvidas matches her for tension.
It's a shame Mozart doesn't mark their confrontation with full-orchestral recitative, but the agonising silences between phrases make up for that (pictured above: Montvidas's Tito and D'Angelo's Sesto in happier times, Act One). Montvidas only briefly has problems with the runs of his last, determined aria, but I doubt if the perfect Mozart tenor would go flat out to characterise a nervy, sometimes needy leader as vividly as this. Christina Gansch makes more of Servilia than just a sweet foil to Vitellia; Jones rightly notes that she's courageous, fearless, and that gives us a characterisation to match the rest.
This isn't an absolutely perfect Clemenza – that I have yet to see – but it comes a lot closer to the essence than so many heavy-handed predecessors. If you want to see how the work can get stuck in earnestness and messaging, try the Peter Sellars production, available on YouTube, laboriousness compounded by extreme conducting from the erratically brilliant Teodor Currentzis. Constancy in variety, and even a light touch at times, are what we need; Jones, Wigglesworth and their fine team deliver incredibly well on those counts. And of course it was so good to be back in the Royal Opera auditorium after more than a year, though the house needs to fine-tune its peripheral marshalling of the crowds. Don't miss the livestream – it will be worth every penny.
Focused energy streams from the six soloists, and the extra actors
rating
Explore topics
Share this article