Bolshoi storms continue with loss of chief exec |

reviews, news & interviews
Bolshoi storms continue with loss of chief exec
Bolshoi storms continue with loss of chief exec
On eve of London tour with ballet director blinded, star sacked - now top man replaced
New curtain, old pattern: The Bolshoi's front curtain in its controversial refurbishment
Just a fortnight before Russia's great Bolshoi Ballet lands in London for its splendid summer tour, it has now added a lost chief executive to its tally of a blinded ballet director, an arrested dancer, and a sacked star.
Just a fortnight before Russia's great Bolshoi Ballet lands in London for its splendid summer tour, it has now added a lost chief executive to its tally of a blinded ballet director, an arrested dancer, and a sacked star.
The Russian press reports that today its general director for 13 years, Anatoly Iksanov (picture below, Izvestia), has resigned and will be replaced by the veteran chief of the neighbouring, but smaller, Moscow company, the Stanislavsky Theatre. It caps a horrendous six months, but may well signal a new determination by the Russian government to sort out the mayhem.
Iksanov's position has been looking increasingly frail under the barrage of hostility and PR generated via Nikolai Tsiskaridze, the star dancer who wanted Iksanov's job, and who left the theatre last weekend after his contract expired, unrenewed by Iksanov. The general director has been wounded by the scandals surrounding the Bolshoi Theatre refurbishment, and the fall-out from the acid attack on ballet director Sergei Filin has exposed vicious infighting in the theatre that dates back years. The enmity between Tsiskaridze and Iksanov was the most prominent, rawly exposed soon after the Filin attack in January when Iksanov accused Tsiskaridze of fostering a vindictive atmosphere in the theatre.
However, Iksanov retains strong support within the Culture Ministry and is moving to a government job.
His willingness to adopt more liberal attitudes towards marketing culture and artistic horizons has been controversial but has successfully broken with the Bolshoi's Soviet past to make the risky, artistically dissident appointments that offered the company a 21st-century glory future, as opposed to a retreat into a narrow nationalist past. Iksanov's quarrels with some of the Bolshoi's more arrogant dancers appeared a recognition of less hubris, more open-minded receptivity that the best developments in ballet art were happening outside Russia, no matter how much that bruised certain egos. But characters like Tsiskaridze and the prima ballerina Svetlana Zakharova, who last week walked out of the premiere of John Cranko's Onegin because the production team would not make her first cast, represent time-honoured Bolshoi traditions of hierarchy that sit uneasily with today's choreographer/company-led values in world ballet.
All the same, it's likely that the prominently publicised financial irregularities in the Bolshoi refurbishment carry more weight with Russian politicians who care little for ballet's artistic health. As I wrote last spring, the government was unlikely to watch the mayhem at the Bolshoi going on without check. Lawsuits are continuing with contractors on the massive job, which ended three years after plan and costing several times higher than budgeted. Links with Russian mafia have been reported by the media.
The Mariinsky Theatre director Valery Gergiev - who it's said was a major candidate to succeed Iksanov - recently opined that behind the Filin attack lay murky criminal activities connected to the Bolshoi box office. Today's news reports allege that Gergiev failed to land Iksanov's job because he wanted to combine the Bolshoi and Mariinsky in one super-beat, which turned out to be just too much of a throwback to Imperial dictatorship for the Culture Ministry to swallow. At the Mariinsky the dancers have been fighting against Gergiev to update payment structures hatched in Soviet times.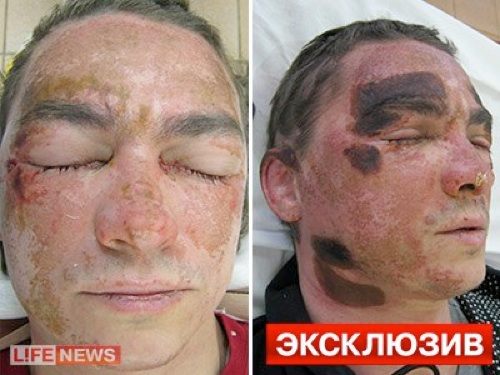 There are expected to be still more painful debates about the Bolshoi's internal financial arrangements when the Filin suspect, Pavel Dmitrichenko, comes to trial. Filin has undergone almost 20 operations on his eyes in a German specialist clinic, using stem cell techniques amongst others (pictures left, Life-News), but as yet the news is that he remains virtually blinded by the attack. Dmitrichenko's supporters - including Tsiskaridze - have been claiming that the severity of Filin's injuries has been faked to penalise Dmitrichenko for his activities in the dancers' union.
Meanwhile, London is about to be regaled with all the various protagonists of this virtually incredible Grand Guignol. The Bolshoi Ballet is just over two weeks away from its prestigious London summer tour, now without its familiar chief executive, as well as with its ballet director crippled, its star dancer Tsiskaridze sacked, and its company manager fired. Tsiskaridze is due to perform in London next week with the Russian Ballet Seasons at the London Coliseum. And to add to the piquancy, the Stanislavsky Ballet is in London this week, fielding the star attraction of the former Royal Ballet renegade Sergei Polunin (who by now is old news).
The leading Moscow newspaper Izvestia reports that Iksanov's replacement as general director will be the Stanislavsky Theatre chief executive Vladimir Urin - which could be seen as strengthening the injured ballet director Sergei Filin's position, as he went to the Bolshoi from the Stanislavsky. However ITAR-TASS press agency reported last night that there were other candidates still in the frame, Gergiev, former Bolshoi star Vladimir Vasiliev, the former Culture Minister Mikhail Shvydkoi and the chairman of the Bolshoi Trustees executive, Alexander Budberg.
Though last November some prominent cultural figures signed a petition to President Putin asking for Iksanov to be replaced by dancer Tsiskaridze as CEO, it has not been reported that Tsiskaridze was considered a candidate this time.
The loss first of Tsiskaridze, then Iksanov, might - however - be a chess move; a trade of two key pieces on the board in order to achieve a stronger position. It's notable that Iksanov's successor is already in place, which implies that discussions have been going on behind the scenes for quite a while. Iksanov, though he still has a year and a half on his current contract, has weathered 13 years at the helm of the Bolshoi, and may simply have decided he'd had enough. At the press conference today, he sat beside the Culture Minister when the changes were announced, smiled, and said, "Thank you, Bolshoi."