Fidelio, English National Opera |

reviews, news & interviews
Fidelio, English National Opera
Fidelio, English National Opera
Out goes drama, in comes psychotherapy as Calixto Bieito rearranges Beethoven
Thursday, 26 September 2013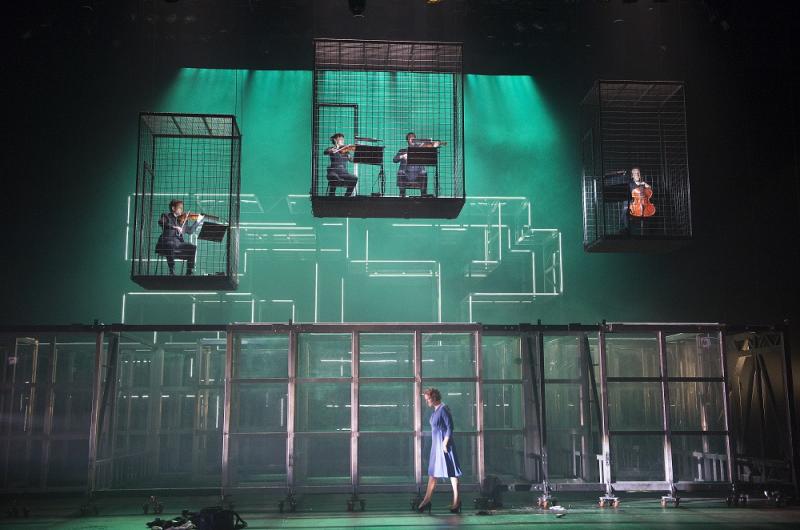 Stringing along: Emma Bell and the Heath Quartet
The first words we hear don't belong to Fidelio at all. The first music does, but not at all where you expect to find it. If you've read your programme (and who does before the show begins?) you'll find a poem entitled "Labyrinth" by Jorge Luis Borges from a collection In Praise of Darkness. So there's the thinking behind the amazing image we see before us (designer Rebecca Ringst) - a neon-edged framework of shifting metallic chambers, a vertical maze with no apparent way in or way out. And then Edward Gardner throws down the first sepulchral chord of Beethoven's Leonore No 3 Overture (sometimes interpolated between the last two scenes of the opera) and shadowy figures start emerging from the pit where the music has begun its slow ascent from darkness to light.
Calixto Bieito, as we've seen from his previous shows at English National Opera, knows how to put an audience on the back foot. His nose for theatre, his desire to confound expectations, can be thrilling - and as the longest of the four overtures Beethoven wrote for his only opera is in effect a symphonic synthesis of the whole piece, a premonition, if you like, of the narrative to come, Bieito is immediately introducing a psychological element into the proceedings and creating "a prison of the mind", an abstract theatrical treatise on the whole issue of personal and political freedom.
What a match of vocal heroics ENO achieved here
So as Beethoven's music works itself into a frenzy of activity, Florestan - the prisoner in us all - is all but bouncing off the imaginary walls of his cell in a kind of Martha Graham-esque excess of physical anguish, and those of us who know the opera are reminding ourselves that there was a very good reason why Beethoven and his librettists left him and his plight to the imagination until the second act.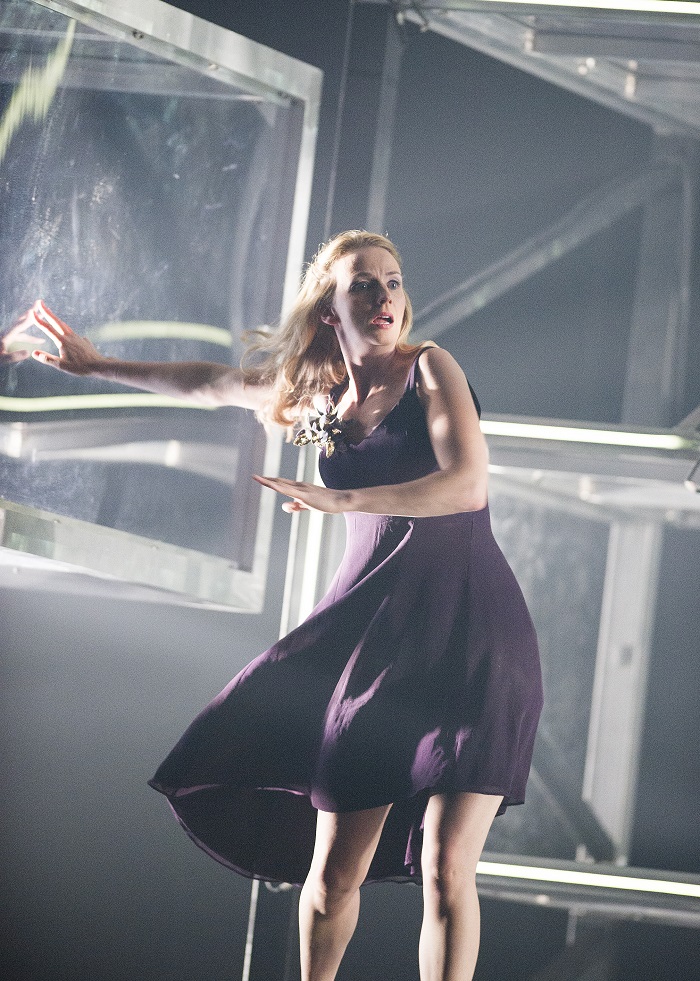 But Bieito has ditched the libretto, the spoken dialogue (problematic though it can be), and replaced it with odd snatches of poetry which make little sense to the uninitiated and only muddy the waters for us all. Out goes the domestic drama at the heart of the opera (and I do believe it's there for a reason) and in comes the psychotherapy. And yet there is a sense in which Beethoven's musical numbers are all you need, so complete are they in conveying the emotional import of the piece. For instance, when the infatuated Marzelline (the radiant Sarah Tynan, pictured right) first sees Fidelio (Stuart Skelton) - the disguised Leonore - their eyes lock over the balmy string chords which introduce the sublime act one quartet, which expresses everyone's feelings in barely five minutes. Who needs the dialogue or the poetry? Well, maybe those who've never seen the opera before.
There are other instances of dramatic abbreviation and conflation in Bieito's staging: the villainous Don Pizarro (Philip Horst) delivers his furious aria with his arm around Leonore's neck and a knife at her throat - the shape of things to come, though again he's taking liberties with the text. But it does intensify her great aria which now follows almost immediately - and Emma Bell sings that magnificently and in it shows us precisely who she is. Bell has the requisite mezzo colour for the role but also the big heroic top, and I have heard few who so successfully negotiate the virile runs and tricky switches of register through such exemplary breath control.
And what a match of vocal heroics ENO achieved here with Stuart Skelton's Florestan. He made the aria feel and sound so eminently singable with the hallucinatory vision of Leonore beautifully shaded. The ensuing reunion with Emma Bell (pictured left with Skelton) brought fireworks of joy and one phrase from Beethoven and Bell which spelled out his name in total adoration. But then came the most startling coup of the evening, with Bieito interpolating part of the searching third movement of Beethoven's String Quartet Op 132 between the last two scenes where the Leonore No 3 Overture sometimes sits. As Florestan and Leonore take the first tentative steps towards rediscovering intimacy (or not) after their traumatic separation, heavenly music sounds from above and the members of the Heath Quartet are lowered from above in cages. You can imprison but not silence these individual voices who meld as one.
Bieito's reading of the jubilant final scene is cynical, to say the least, with the prisoners' saviour, the minister Don Fernando (Roland Wood), portrayed as an 18th-century pantomime fop who dispenses justice with a marker pen, inscribing the word "FREE" on each prisoner's name tag. I won't reveal Bieito's most shocking tactic, arriving as it does like a sick joke, but suffice to say that Edward Gardner and the ENO Chorus sweep all aside with the most hair-raising presto to the opera's syncopated finish.
An evening of hits and misses, then - puzzling, provocative, occasionally startling. Ultimately one has to ask whether or not Beethoven has been hijacked to serve Bieito's purpose. There's no easy answer to that.
Subscribe to theartsdesk.com
Thank you for continuing to read our work on theartsdesk.com. For unlimited access to every article in its entirety, including our archive of more than 10,000 pieces, we're asking for £3.95 per month or £30 per year. We feel it's a very good deal, and hope you do too.
To take an annual subscription now simply click here.
And if you're looking for that extra gift for a friend or family member, why not treat them to a theartsdesk.com gift subscription?