The Cunning Little Vixen, Garsington Opera |

reviews, news & interviews
The Cunning Little Vixen, Garsington Opera
The Cunning Little Vixen, Garsington Opera
Human yearning trumps animal cutesiness in Daniel Slater's thoughtful Janáček
Vulpine romance: Victoria Simmonds's Fox courts Claire Booth's Vixen
Rolling hills with beech-rich woods sloping upwards from a wide valley: the Wormsley Estate has more than a little in common with glorious Hukvaldy in Moravia, where Janáček was born and ended his life, and where in old age he once again saw "his" vixen. With an admirable independence of mind that seriously underrated director Daniel Slater has gone against the grain inside the fabulous pavilion where Garsington's operas now resound. Instead of extending the natural scene, Robert Innes Hopkins's simple but original designs paper the walls of the inn where most of the action takes place with leaf patterns, opening out to laddered, stylised forest, and Slater sheds animal cutesiness in favour of the human predicament.
Our vixen is a foxy and enigmatic young woman who comes and sits at one of the bar-room tables. Is the protagonist Forester whose dream ends the opera attracted to her animal nature? Is there love at stake? It's kept vague, but the bigger picture is a fine clarification of an issue Janáček, with typical whimsicality, introduces at rather a late stage in the drama – Vixen Sharpears' identification, in the minds of three disillusioned older men, with the adored Terynka who ends up getting a fox muff from the poacher Harašta. The scene where Priest, Schoolmaster and Forester slide around a winter landscape in hapless pursuit of the ideal usually comes across as an incoherent mess but thanks to the way it's played, with the vixen coolly amused by the follies of the opposite sex, it works impressively. It also makes a convincing end for a first half which, for once, comes to a halt at the right place (rather than the vixen's wedding, which leaves less than half an hour of drama after supper, as at Glyndebourne).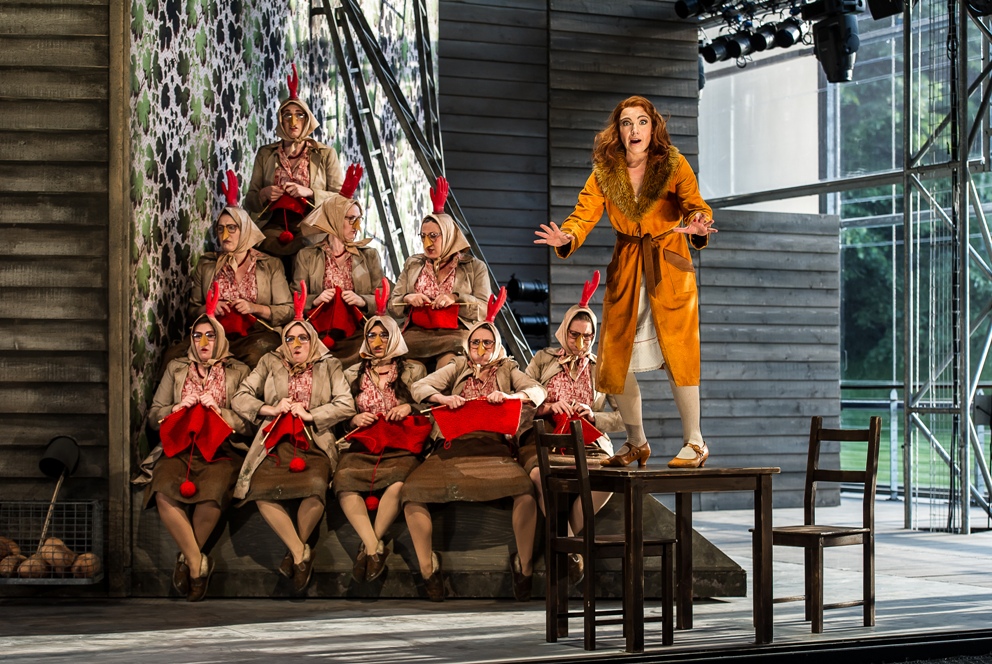 All focus, then, is on the vixen and her one-time captor. Gone are the dragonfly ballets and the visual equivalents of the music's forest murmurs, which leaves the stage a bit empty at the beginning and end, depending very much on whether the two leads and their dance doubles can carry it. Claire Booth is a riveting revelation in the title role, her spirited Czech inflections ringing out at every turn. We can't take our eyes off her captivating personage from the minute she sits down wistfully in the first scene. As she explodes into life, her tongue-in-cheek feminism goes vivaciously hand in glove with killer instincts.
The victory over rampant rooster and his knitting harem of hens (pictured above) has all the comedy it needs, but rightly nature raw in tooth and claw turns nasty when Sharpears sets about Harašta before he shoots her (Booth with Joshua Bloom's Harašta pictured below), a bloodying well in tune with the sexual ferment of Slater's male-female confrontations. That only underlines the tenderness of the big love scene with Fox Golden Mane (Victoria Simmonds, as compellingly man-like as the other cross-dressing animal roles in Hopkins's superlative costume designs), the vulnerability of Booth's vixen in love as touching as it should be. The offspring in woolly hats, barkers' dozen perhaps, are enchanting, but it's only in the forest nuptials that Slater allows the stage to be anything like as busy as Melly Still's rather cluttered Glyndebourne vision.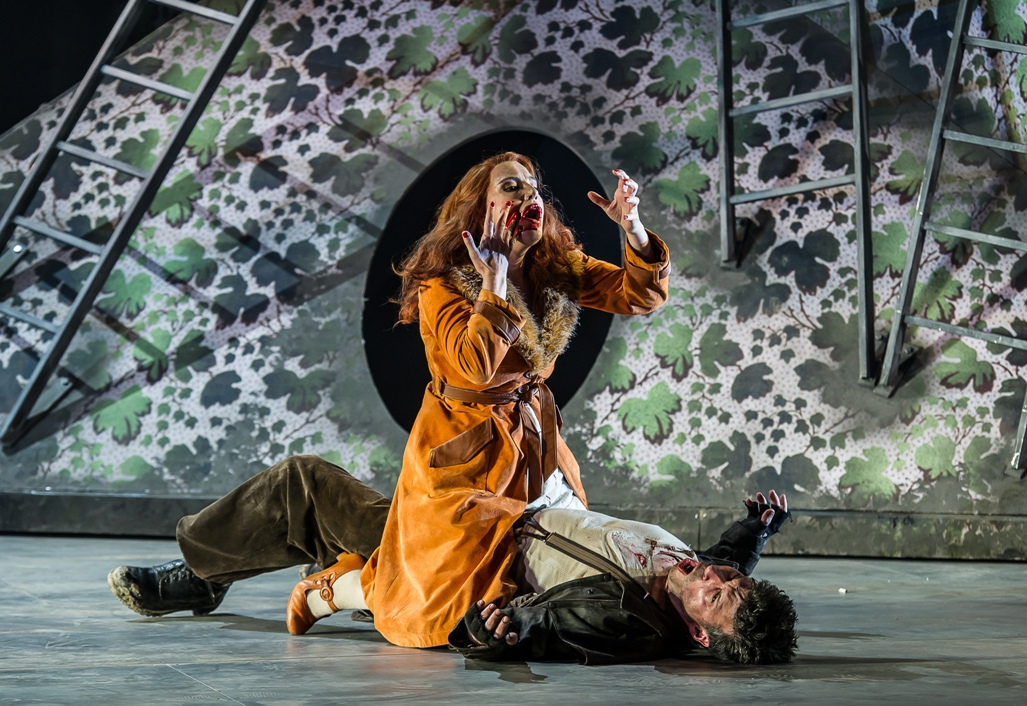 Parallel to the happy natural love story are the dream pas de deux of a superb dance duo, Chiara Vinci and Jamie Higgins (pictured below), fluent and sensuous in Maxine Braham's spare but lovely choreography. A handful of the interludes are slightly mistimed, like the climax of the vixen's turning into a young woman, and the final scene doesn't quite come off, though again the restraint is admirable.
The problem here is that the stalwart Grant Doyle is perhaps too young and not charismatic enough to convince us of the wisdom of older age which we need to see in the Forester's enlightenment, his understanding of the natural order of things. The Forester's cronies, Henry Waddington's Priest and Timothy Robinson's Schoolmaster, are too much between two ages to suggest the disillusioned sense of having missed any chance at happiness. And this, after all, was old man Janáček's most important thrust.
All three sing well, but need to realize that you don't have to force your projection in this admirable acoustic, where the voices can always be heard over the largest orchestra yet engaged at Garsington. Draw them in rather than push out could be the lesson here. The playing under Garry Walker's expert thrust is mostly first-rate, and I don't suppose the premature horn entry or later the vanishing trumpet which nearly sabotaged the endgame will happen in future performances. That penetrating oboe sound rising from the shallow pit turned out to be none other than the superb Melinda Maxwell's, and the limited number of strings makes for mostly pellucid textures with woodwind nature-noises clearer than I've ever heard them.
Admirable, too, is Walker's drive with the short-lived human ecstasy burst of the second-act scene change between inn and forest landscape, one of the great melodies Janáček presents and then discards. Funny people, those Garsington punters: I could end with a catalogue of weird remarks about lack of tunes, incomprehensibility and so on as we exited. But since I was treading air through the beautiful, lantern-lit sweep of landscape, I'll leave you with my own thoughts of country-house opera done at a very high level indeed.
As Claire Booth's Vixen Sharpears explodes into life, her tongue-in-cheek feminism goes vivaciously hand in glove with killer instincts
rating
Share this article
Subscribe to theartsdesk.com
Thank you for continuing to read our work on theartsdesk.com. For unlimited access to every article in its entirety, including our archive of more than 10,000 pieces, we're asking for £3.95 per month or £30 per year. We feel it's a very good deal, and hope you do too.
To take an annual subscription now simply click here.
And if you're looking for that extra gift for a friend or family member, why not treat them to a theartsdesk.com gift subscription?