Prom 19: BBC Singers, Royal Liverpool Philharmonic Orchestra, Petrenko |

reviews, news & interviews
Prom 19: BBC Singers, Royal Liverpool Philharmonic Orchestra, Petrenko
Prom 19: BBC Singers, Royal Liverpool Philharmonic Orchestra, Petrenko
Masterly festive Strauss and elegiac Elgar, predictably second-league Four Last Songs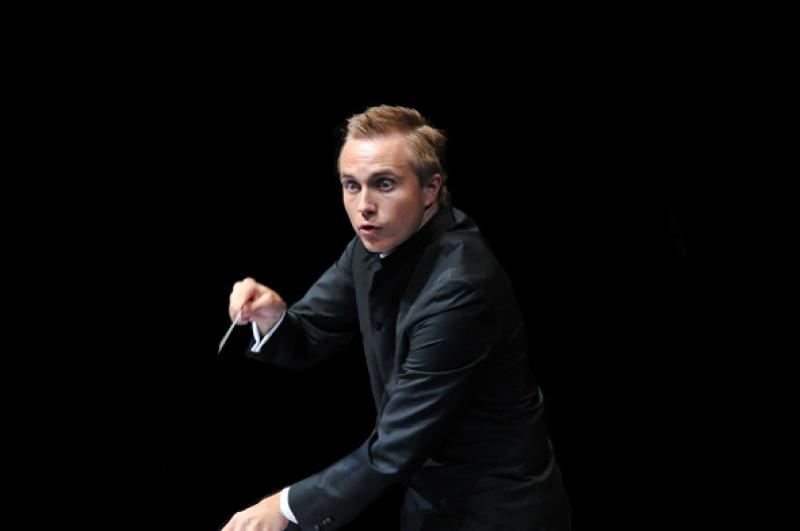 Vasily Petrenko at the 2010 Proms
A monstrous celebration prefaced by thunderous organ chords is always going to be more the Albert Hall's kind of thing than a comic opera viewed through the wrong end of the telescope. So Strauss's Festival Prelude kicked off a first half of 150th birthday celebrations in more appropriate style than last week's Der Rosenkavalier. Unfortunately what it ushered in worked less well up to the interval; but then there was Elgar's Second Symphony to redeem all with heart and soul, the best possible visiting card for a golden-age Royal Liverpool Philharmonic Orchestra under Vasily Petrenko.
You could argue that Elgar's second masterpiece in the genre takes its opening cue, like his earlier In the South, from the panache of Strauss's Don Juan. But the intimations of mortality which only briefly flit across the countenance of the great lover undermine any bullish optimism here. Monday's anniversary of the outbreak of World War One is to be marked by another prophetic and lamentatory symphony, Mahler's Ninth, but this giant of 1910-11 is no less appropriate: after all, didn't David Pownell in his play Elgar's Rondo take the juggernaut of doom which explodes in the composer's most bizarre and frightening movement as a prophecy of troops marching to their death?
Perversely what one really needs in all this choral opulence are a straighter sound and a purer approachThat ingredient of nostalgia turning sour was underlined with flexible mastery by Petrenko from the very moment that the opening cavalcade turns unstable, slows and sighs – paving the way for what Elgar called a "malign influence" in a "summer garden at night" at the shadowy heart of the first movement. Ghosts indeed, but – as in Neil Bartlett's genius production of Britten's Owen Wingrave at Snape, soon to be seen at the Edinburgh Festival – ghosts of the future. Petrenko understands the distant gleam in pianissimo strings as well as the ultimate interpreters of the past, Boult and Barbirolli, but he also knows how to master the headlong flights, the aching climaxes of the funeral march – the second rightly overwhelming and resonating through to an atmospheric coda – and the demonic fireworks of the never quite playful scherzo.
Best of all was his handling of the tricky finale, mostly placid if tuneful celebration of Edwardian optimism after the discombobulation of the preceding nightmare (a shame not to have the optional organ pedal to balance the instrument's more thunderous role in the opening Strauss). He gave special emphasis to the minor-key cavalcade at the end of the development, reminding us that the context for Elgar's "pomp and circumstance" is actually Othello's farewell to its glories – and the sunset-glow coda could not have been more touching, winning the right silence from a previously restless audience.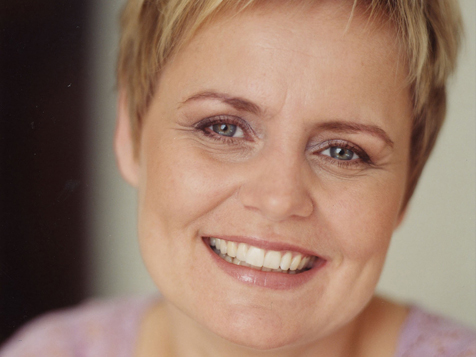 Strauss's Four Last Songs should have had a similar effect. But though Petrenko kept the first two songs translucent – the last pair had too many indulgences – there was no chance that soprano Inger Dam-Jensen (pictured right by Isak Hoffmeyer) could rise to the challenge. I could have told you that long ago, but it's worrying how much under-the-note singing and fraying now mars what should be long lines taken with way too many breaths (what, four in the difficult phrase that lays summer to rest in "September"?) Just as she seemed to be gaining more confidence with the text in "Beim schlafengehen", co-ordination with Petrenko and the players went to pot. This is festival Strauss, so none but the top interpreters of this elusive desert-island work should have been called upon: where were Anja Harteros, Anne Schwanewilms, Renée Fleming, Christine Brewer, let alone younger singers surely up to the mark like Sophie Bevan or Sarah-Jane Brandon?
No fresh soprano capped the line in the difficult Deutsche Motette for unaccompanied chorus and four soloists, either: Suzanne Shakespeare's presence was too metally, and that went for the BBC Singers, too. Perversely what one really needs in all this opulence are a straighter sound and a purer approach: I couldn't help wondering what the choristers of Les Arts Florissants, so radiant in Rameau on Tuesday, might have made of this. One passage worked – the standout way Strauss sets Rückert's "O zeig mir" – and its quiet epilogue finally settled, but up to then there were too many vagaries of pitch and vibrato. No matter, now it's all over: I'm going to listen again on the iPlayer to the splendid absurdities of the Festival Prelude and the psychological acuteness of the Elgar. Don't miss the great Mark Wigglesworth's interpretation of its predecessor, the First Symphony, next Wednesday.
Due for broadcast on BBC Four this Sunday, 3 August, at 7pm
Overleaf: watch Petrenko and the RLPO play the slow movement of Elgar's Second Symphony at this Prom
Petrenko knows how to handle the headlong flights, the aching climaxes of the funeral march and the never quite playful scherzo's demonic fireworks
rating
Share this article
Subscribe to theartsdesk.com
Thank you for continuing to read our work on theartsdesk.com. For unlimited access to every article in its entirety, including our archive of more than 10,000 pieces, we're asking for £3.95 per month or £30 per year. We feel it's a very good deal, and hope you do too.
To take an annual subscription now simply click here.
And if you're looking for that extra gift for a friend or family member, why not treat them to a theartsdesk.com gift subscription?