Masterchef, BBC One |

reviews, news & interviews
Masterchef, BBC One
Masterchef, BBC One
The format has changed but the presenters haven't, thank the Lord
Wednesday, 16 February 2011
Gregg Wallace and John Torode haven't yet tired of shouting at each other
There is little danger of our nation wasting away for the lack of culinary-themed televisual roughage: hairy bikers, domestic goddesses, campaigning wide boys, chicken-liberating poshos, alpha-male bully boys, Michelin-starred French fusspots. Channel hopping some nights feels more like flicking through the world's least coherent cook book.
But it's Masterchef – and its inevitable D-list-led Celebrity offshoot – that has become the firm favourite of the armchair gourmand. It's not fine dining by any stretch of the imagination but it's reliable and terribly moreish. Part contrived reality telly, part talent show, part old-fashioned Reithian guide to self-improvement, the seemingly endless quest to find Britain's best amateur cook is now a central pillar of the Beeb's mainstream primetime architecture.

Messing with a winning formula is always risky, but Masterchef has undergone what I suppose we have to call a makeover. It's not quite as radical as the overhaul which turned the cosy Sunday afternoon serenity of the original Nineties version – in which Loyd Grossman "deliberated, cogitated and digested" us all towards slumber – into the brassy "Gone Large" version which returned in 2005, but it was still a rather uncomfortable X Factor-isation, and one apparently presaged by - shudder - the Australian edition of the show.
The format may have been tweaked but, contrary to much current discourse, the BBC isn't peopled by complete idiots. Masterchef is still presented by Gregg Wallace and John Torode, two men who seemingly will never tire of telling each other what they (and we) already know – "John, we have to make a decision about who stays and who goes" - in VERY LOUD VOICES INDEED.
Australian chef and restaurateur Torode (pictured on the left with Wallace on the right) is the head of the operation: cool, restrained, eyes like a poker shark. His sidekick Wallace, a Peckham-born greengrocer-turned-food-critic and a man rapidly winning the race to become the first human egg, is the heart – and the stomach. When he liked a dish last night (usually something oozing cream and sugar) it seemed to press some invisible internal button that made his eyes pop and his mouth say things like "a bowl of cosy sweetness". He's great value.
The revamp seems to have done for Wallace's pleasingly ludicrous catchphrase – "Cooking DOESN'T get TOUGHER than THIS!" – but here's hoping his opening battle cry of "Let's get fatter!" will catch on. The pair's comedy mugging, hearty handshakes and blatantly contrived shows of emotion were all new shticks, but I rather liked the fact that instead of the X Factor-style golden ticket successful candidates left clutching a humble white Masterchef apron.
But for all that, last night was a tad busy and disorientating for loyalists. Aside from a vast shiny new kitchen, the new format involved conveyor-belt auditions and, in the most blatant nod to Cowell and co, the presence of family and friends in the wings offering moral support. In practise this involved snuffling about how much winning the show would mean to their loved ones even as one of their better halves was turning an innocent trifle into what looked like a child's well-used paint palette. The partner of American Japanophile Tim had clearly read the script and opted for full-blown hysteria when he sauntered through the door wearing his magic apron like a soldier's tabard, but otherwise the emotion was confined to a bit of hugging and some minor waterworks conducted over the hostess trolley.
One lady told Torode she was "experimental at home with my husband", which raised the temperature a few notches
Trooping in clutching their own casserole dishes and favoured slotted spoons like holy relics, these aspiring masterchefs were tasked with creating a signature dish in 45 minutes. At the climax each one moved into a rather papal looking inner sanctum to plate up in front of the judges, perched imperiously on stools, prize aprons glistening seductively just out of reach. Just 20 cooks will be put into the final. Last night we saw 11 make the cut. Nine went sailing through, while four split the pair's vote and were held, entirely gratuitously, in limbo. This entailed returning to the kitchen the following day to take part in a kind of culinary penalty shoot out, although it felt suspiciously like one of those TV versions of "tomorrow" which required them all to be back at the hob within the hour, only wearing fresh clothes.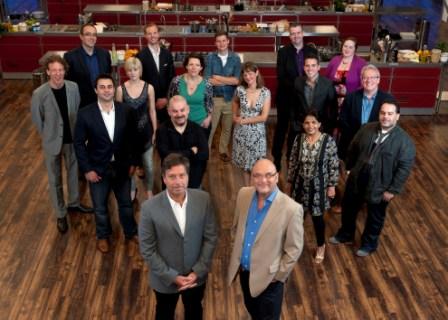 So much for all the new tricks. Masterchef is still all about the human drama - the sweat, the shaky hands, the mock-cocky boasts. The fun for the viewer is picking a favourite contestant (pictured left, previous winners with Torode and Wallace) and a hate figure and sticking with them through trials featuring underdone lamb, brick-like soufflé and watery velouté.
We're barely on the complimentray bread and olives yet, but carpenter James – neck tattoo and all – looked like a gift from the TV gods. "If my jus goes Pete Tong then I'm in trouble." he growled, before revealing that his dream was to build his own restaurant. Perfect. As it happens his jus was a little on the Tong side but he was gifted enough to plough through. "Get in there!" he yelled. File under: one to watch.
I wasn't so keen on Peter. "I don't want to be part of the final 20, I want to be part of the final one," he smarmed as his family held some kind of vigil outside. Peter's cod wasn't properly cooked but his goose almost was; he was sent into limbo but eventually squeaked through, as did the lady who told Torode she was "experimental at home with my husband", which raised the temperature a few notches.

There was lots of "passion" and ego ("My sister is a trained chef but I cook better than she does," sniffed one successful candidate; we shall see) but very little actual cooking. This was a messy palette-cleanser of an opening episode, all about separating the whites from the yolks. There will be another one tonight, manufactured on identical lines, before we really get down to business.

All going to plan, in a couple of weeks the chosen few, having been thoroughly filleted by Messrs Shouty and Aussie, will be sent on some ludicrous, budget-busting overseas mission. Perhaps it will involve them hurtling over the top of Victoria Falls in a kayak on strict instruction to debone and pan fry a sea bass before they reach the bottom. Then we'll see whether or not Masterchef has really lost its mad, manic, ruthlessly manipulative soul. Looking at the wild glint in Wallace's eye, I rather think not.
Here's hoping Wallace's opening battle cry of "Let's get fatter!" will catch on
Share this article