The Syndicate, BBC One |

reviews, news & interviews
The Syndicate, BBC One
The Syndicate, BBC One
Kay Mellor's latest instalment of her cautionary tale delivers a little differently
Stairs and graces: money sees the rise of the workers begin…
A third series for Kay Mellor's rags-to-riches series can herald few real surprises. We know, roughly speaking, what we'll be getting: a cautionary tale – be careful what you wish for – populated by warm, well-drawn and big-hearted characters who are believably flawed and hiding secrets of the sort that fill the time and mouths of garden fence gossips across the country. That, and the reliable, solid ensemble cast that Mellor's track record (Band of Gold, Fat Friends, In the Club) can command.
What we might not have been expecting (had we managed to avoid the pre-transmission press) was for the millionaire's milieu to be a crumbling, modern-day Downton. Our hosts are Lord Hazelwood (played with weary entitlement and rich humanity by Anthony Andrews), his wife, the starched-tight and stretched-thin Lady Hazelwood (Alice Krige), and her wayward son Spencer Cavendish (Sam Phillips), who displays the more usual trappings of his class – namely misplaced confidence and a sneer that's practically begging to be slapped to the floor.
There was an easy authority to both script and performances that felt rather well placed
Although the fading opulence of the surroundings, dulled by damp and cracked by cold, seem outside Mellor's comfort zone, there was an easy authority to both script and performances that all felt rather well placed. If there was one complaint, it was that the battle lines above stairs seemed too cleanly drawn. Lord Hazelwood was a put-upon poster boy for modern landed gentry, showing a concern for his staff that was appealingly paternal, while his hatchet-faced wife and her pompous progeny sold off the family silver behind his back. Still, it's only episode one and there are stalls to be set out.
Meanwhile downstairs, tensions were similarly high but, tellingly, everyone was pulling together rather than pulling each other apart – for now at least. Elizabeth Berrington was superb as heavily pregnant cleaner Dawn. Her day was close to derailing from the start, but she managed to keep on track (up to a point) with a good-natured, resigned pragmatism that underpinned a comfortable, naturalistic and entirely believable performance. Melanie Hill made for a compelling present-day Mrs Patmore, all flustered bluster and exasperation in the kitchen, while her daughter, Sarah (Cara Theobold), made the Crawley connection even stronger due to the face she shares with Downton kitchen maid Ivy.
There were more familiar features out in the garden in the form of Lenny Henry's high-functioning Asperger's maths genius, Godfrey (pictured below). In fact, he's so instantly recognisable that his admirable performance was undermined slightly by my mind repeatedly double-taking and going, "Wow, that's Lenny Henry. He's really good at this, isn't he?" I've watched the second episode and am pleased to report this impulse has, over time, died down while Henry continues to inhabit his character with quiet, understated conviction. Similarly, it will take a while for Richard Rankin's gamekeeper Sean to come into his own – the interest in him being limited, for the time being, to hints of a past he'd like to keep buried.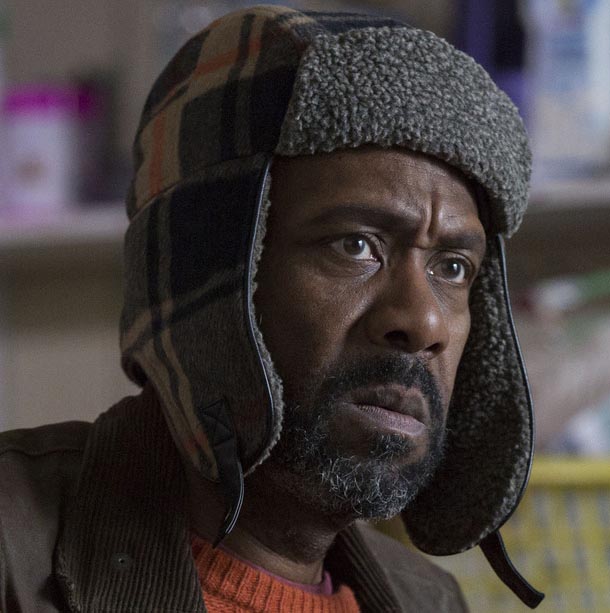 The story built to the twin peaks of the inevitable lottery win and a missing girl (Dawn's daughter, Amy). The disappearance is set to provide a clear arc for the whole series and will be the convenient conduit up which our characters' emotions are forced. While this particular passage of play may have lacked subtlety, opting instead to keep the "Do you see? Do you see? DO YOU SEE?" hammer blows raining down as we cut to Berrington looking occasionally caught up in the euphoria, then increasingly broken and distracted, it was a brutally effective delivery of the series mantra that money can't buy happiness. Unless, of course, it turns out that a ransom is about to be issued, in which case money will prove fairly fundamental.
There were some minor misfires along the way: the visiting Americans looking to drive 18 holes through England's heritage felt stereotypical and thin, while Godfrey, although some kind of human calculator, can't seem to grasp the notion of random sequences. Despite this, however, the third series still feels like it has something to say and is doing so in a language we can all understand.