Peter Bowker on making 'The A Word' |

reviews, news & interviews
Peter Bowker on making 'The A Word'
Peter Bowker on making 'The A Word'
Exploring the writer-producer's approach to autism in his new BBC One drama series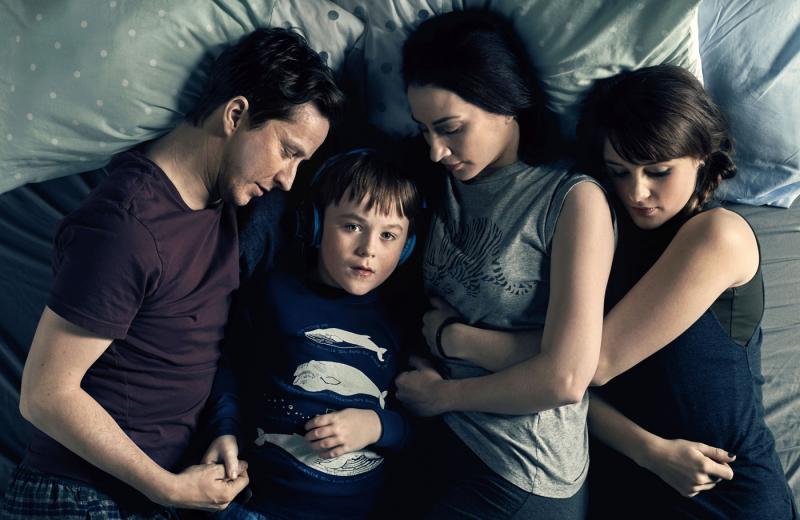 The Hughes family: Paul (Lee Ingleby), Joe (Max Vento), Alison (Morven Christie) and Rebecca (Molly Wright)
Films, TV and books about autism often send me down memory lane; my older brother Timothy was one of the first children in the UK to be diagnosed with autism in the early 1960s, and I've kept a wary eye on how autism is portrayed ever since I can remember. But I wasn't expecting the new BBC One drama, The A Word, to inspire a wave of nostalgia for Peter Perrett and The Only Ones, last seen at some grungy punk venue back in the late Seventies.
The first episode of The A Word opens with a wonderful shot of a little boy (Max Vento, pictured below) stolidly marching along a hilly country road in the Lake District, headphones clamped to his ears, listening to "Another Girl, Another Planet". It's just the first song in a punk soundtrack (including Mekons, Julian Cope, Arctic Monkeys, Pulp) that both punctuates the drama and acts as an integral narrative element. Joe is five, and lives with his doting family. He loves his iPod and plays the same songs on it over and over again – often rewinding and playing the exact same musical phrase and singing along. It's the back catalogue of his dad Paul (played by Lee Ingleby) that is literally ringing in Joe's ears and it's given them a strong bond, so his dad is happy to indulge the little boy's obsession.
Joe uses his music to keep everything the same and to provide a barrier between him and a confusing, overwhelming world. The fact that Joe was late to talk, has quirky obsessive rituals and is barely aware of other children hasn't yet rung alarm bells with his family. Everyone's a bit too busy to notice. Paul and mum Alison (Morven Christie) are building a gastropub to tempt the Cumbrian tourist trade hiking through their picturesque corner of the Lakes. As well as little Joe, they are also dealing with Rebecca (Molly Wright), Alison's bolshy teenage daughter from a previous marriage. Meanwhile, Alison's brother Eddie (Greg McHugh) has failed in his own business and moved back to live next door with his wife Nicola (Vinette Robinson), a trainee GP who is met with general suspicion because she recently had an affair. Added to the mix is the family's patriarch, the tactless, recently widowed Maurice (Christopher Eccleston) who treats everyone in his family (no matter how adult) as if they are still irritatingly disappointing children.
Writing this synopsis and character descriptions makes The A Word sound soapy, as if it's a reworking of Dallas with a conflicted, ambitious multi-generational family sharing not a vast Texan ranch but a series of Cumbrian cottages. But there's infinitely more humour, insight and imaginative casting here than was ever seen at Southfork.
The A Word is a reworking of a hit Israeli drama series of the same name, but it's been significantly repurposed to convey a British perspective with advice on scripts taken from the National Autistic Society and clinical experts. In addition, several of the creative team either have family members on the autism spectrum, or have close connections to children and adults with learning disabilities.The result is a subtle, nuanced portrait of how an autism diagnosis can affect a family, and how problems with communication and expressing emotions rest not just with Joe.
Credit for The A Word's humour and accuracy rests largely with its writer/executive producer Peter Bowker (pictured above). A multi-award winning veteran of serial TV drama (Viva Blackpool, Occupation, From Here to There), his most recent credit was for the sly, multi-layered Capital. But here he is far away from urban satire, instead drawing on his northern roots and the 12 years he spent as a teacher working in a learning disability hospital before he became a writer.
Asking a six-year-old boy to act a convincing autistic meltdown for the cameras would have been unethical
It's a seam of experience that he's mined before. Bowker made the impressive Flesh and Blood back in 2002, where Christopher Eccleston played an adopted adult going in search of his birth parents and struggling with his shocked reaction when he finds that they both have learning disabilities. In 2014 Bowker's 90-minute original drama Marvellous won a BAFTA. It centred on Neil Baldwin, who has learning disabilities and became a mascot for Keele University and a key part of Stoke City Football club.
Actor Toby Jones played Neil Baldwin, but the real man was integrated ingeniously into the drama. Bowker aims to cast people with learning disabilities in his work wherever possible: there's a small but key role in The A Word for an actor with Down's Syndrome (Leon Harrop), and an autistic teenager (Joseph Shepherd) in the second episode plays a brief but impressive part.
However, when it came to casting the central child character Joe, Bowker and director Peter Cattaneo decided it would be unethical to cast a child who really was on the autism spectrum. An autistic child as young as five would be struggling enough with social imagination and communication without being asked to pretend that the actors around him were his parents, or deal with the unpredictability and sensory demands of a film set.
Max Vento, who plays Joe, was six at the time of filming (Vento pictured below with Christopher Eccleston and Morven Christie). He was chosen from hundreds of audition tapes because of his otherworldly air of calm composure. In real life, he's a resilient boy from a large family and is not on the autism spectrum.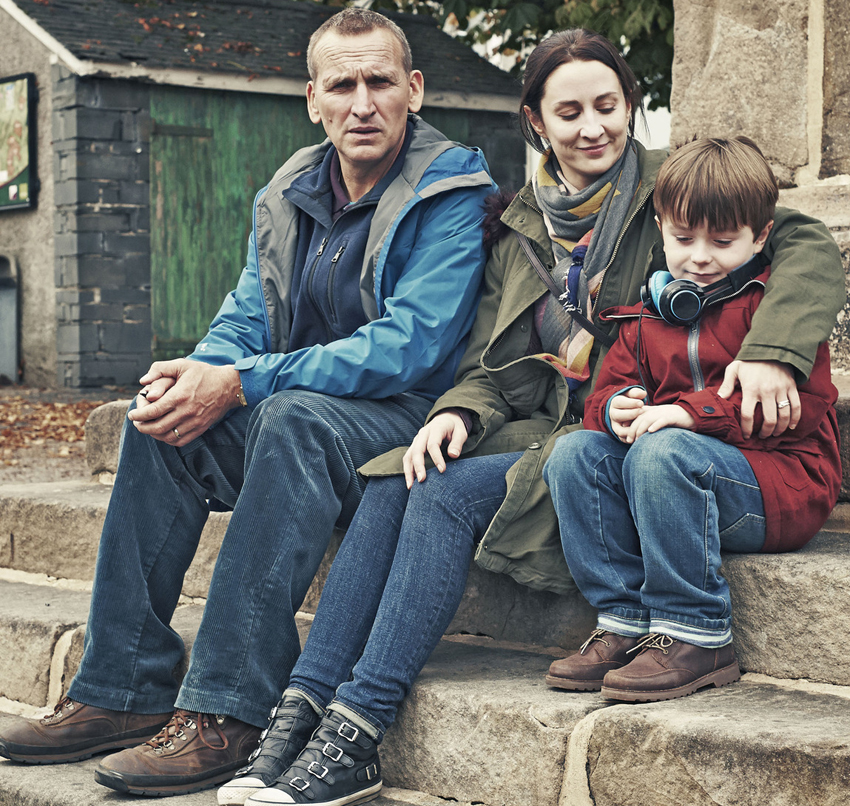 When the idea came along to remake the original Israeli series for a British audience, Peter Bowker pushed it hard. "I'd always wanted to do something on autism, having met so many children and adults at different points along the spectrum in my teaching days and having kept up with some of them too. You get much closer to the families as a teacher when the child's got special needs – you see how much they're hoping you can change things for their child, the pressure they're under. Sometimes there's an over-investment of hope in you as a teacher, and you fear that you can't deliver that much change in a child."
Bowker is fascinated by families that look perfect, but aren't, and the rifts that develop between even the most solid of couples when they become parents. Having children changes their identities forever and sets new challenges to their relationship with everyone around them. "I'm always drawn to the myth of the perfect family, the pressure to keep up appearances, and I always want to write characters who have an inability to express profound emotions."
Bowker is keen to stress that The A Word is a drama about one individual family and one child with autism; Joe should not be seen as some sort of Autistic Everychild. There will be viewers who won't see quiet, easy-going Joe as a reflection of their own experience of autism, where children (and adults) can often be overwhelmed, resulting in distressing behaviour. But asking a six-year-old boy to act a convincing autistic meltdown for the cameras would have been unethical, and perhaps also too hard for an audience to take at 9pm on BBC One. As Bowker says: "This family have it easier than lots of families with ASD, and there should be dramas about that too, but I hope if The A Word is a success, it will open up a conversation and we can get the whole spectrum on screen."