Album Special: Radiohead - A Moon Shaped Pool
Album Special: Radiohead - A Moon Shaped Pool
Our resident frothing Radiohead-phobe is forced to attend their new album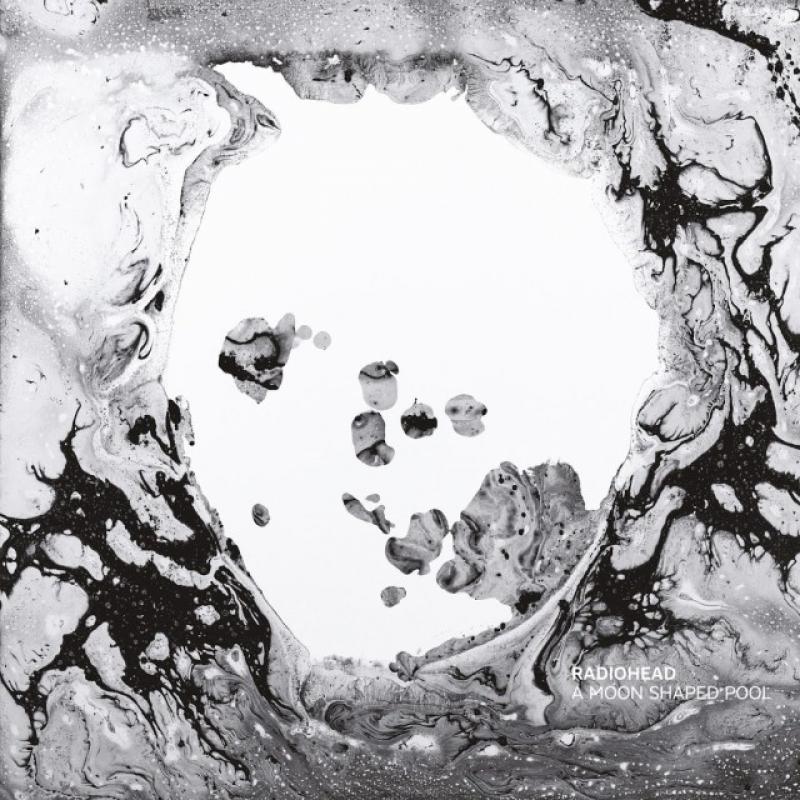 Some grey blobs
In the whole of Britain there are only seven music journalists who are officially designated, card-carrying "Non-Fans of Radiohead". In 2007 three of them were banished by the National Council of Music Writers to a small Crofting community in Caithness where they write occasional apologetic blogs for their anti-Yorke-ist stance. I know one of the other guys. He has a very hard time of it.
When he didn't care about the recent, internet-breaking video for "Burn the Witch", his colleagues locked him in a broom cupboard with
Kid A
playing endlessly on a loop. He told me he welcomed this development. "I so want to understand this phenomenon," he pleaded in a cracked voice. "I just want everyone to like me again."
And then there's me. I saw from the first – well, after that false start where they were pretending to be Nirvana – that Radiohead were a prog rock band. And I am old enough, just, to know we give such creatures no quarter. The Ramones did not grind themselves mortally into the ground on the spit-n'sawdust gig circuit so the world could eulogise Jonny Greenwood's avant-garde Emerson, Lake & Palmer. And I have milked it. I was once commissioned by a broadsheet to explain why Radiohead suck. So there's that. But there are also those times when you're down the pub and everyone's on about Radiohead's 1997 Glastonbury set as if it were the second coming of the Stooges or an early Nineties rave. Jaysus! They do it to themselves, they do, and I can only watch.
And now this, the unexpected appearance – well, just like Beyoncé and James Blake in the same fortnight – of a new album, Radiohead's ninth. And theartsdesk have asked me to listen to it. In truth, they gaffer-taped me to a chair, and now, under duress, my thoughts are demanded. So if you're expecting a sensible review, fuck off elsewhere. I heard the Guardian's one is magnificent. The only way I can begin to do this, given I find even OK Computer about as welcome as piles, is to assess it as if I'd never heard them before. Let's pretend they're a new band, that A Moon Shaped Pool has popped anonymously through the letterbox and must be judged blind alongside Jack Garratt, Meghan Trainor and Jessy Lanza.
First off, there's quite a bit of modernist mood music, with strings galore, typified by "Glass Eyes" (which is basically a noodle). So that accounts for a song-free chunk of the album. It's hard to resist the building threat of opener "Burn the Witch", with its Bernard Herrmann stabs, but, as ever, Thom Yorke's voice remains an acquired taste. Just because half the world now imitates him, it doesn't make his keening whine any more likeable. He's at his best on tracks such as the groovy, forward-thrusting "The Numbers", until he blows it with an operatic climax. He almost gets away with it again on the spaced-out slowie "Tinker Tailor Soldier Sailor Rich Man Poor Man Beggar Man Thief", which is like a passable cut from a late-period Orbital album that blossoms midway through into a cinematic string concerto. I have to admit that one's OK. Oh dear. As is "Present Tense", a beautiful song, a sci-fi easy listening shuffle with a delicious internal melody.
So there are moments. Another one is "Decks Dart", which has a slow-funk pulse that throbs its way into the consciousness, assisted by a lush piano motif. Fortunately for my desire to remain an unconvinced zealot, there's also enough chaff, experimental wafting and twitching, from the slightly sinister "Daydreaming" to the closing balladry of "True Love Waits". I suspect the latter will be one many people think is "just gorgeous". But I don't. A Moon Shaped Pool may have two or three moments, I confess, but Radiohead are still the most critically overrated band since the Smiths.
Just because half the world now imitates him, it doesn't make his keening whine any more likeable
rating
Share this article