Radiohead: Lost in Space |

reviews, news & interviews
Radiohead: Lost in Space
Radiohead: Lost in Space
What happens when a band with an exquisitely intimate sound play a cavernous sports stadium in New Jersey?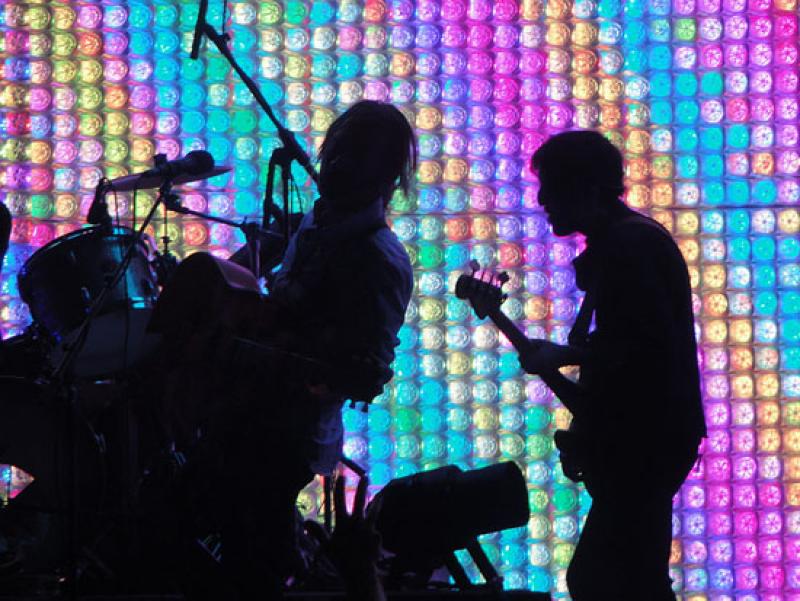 Thom Yorke and Colin Greenwood in Newark: like 'looking at a hologram through the wrong end of a telescope'
Opened in 2007, the Prudential Center in Newark, 16 miles from Manhattan, is a cavernous indoors sports arena, the home of ice hockey's New Jersey Devils and basketball's Seton Hall Pirates and, temporarily, the New York Liberty. The arena's capacity for concerts is 19,500 – perhaps 2,000 can stand on the floor in front of the stage, the remainder must take their seats in the tiers that rise and rise to a stratosphere that removes them, emotionally and spiritually, from the show below.
If you're up so high and also at the opposite end from the stage or stuck in a far corner you might think you're looking at a hologram through the wrong end of a telescope instead of a flesh-and-blood performance. For the kind of textured anti-rock Radiohead makes these days, it's a mausoleum.
I suspect the optimum venue for it is the iPod, not the sports stadium
From such a (disad)vantage point I saw the band perform the second of its two shows on the American The King of Limbs tour. The six minuscule men on stage 300 yards away had no faces or – beyond Thom Yorke's herky-jerky dancing and genial remarks – discernible presence. The bald domes of Phil Selway and fellow drummer Clive Deamer, who's augmenting him on tour, did provide nodal points under the kinetic light show, but you couldn't remotely see what the towering guitarist Ed O'Brien, bassist Colin Greenwood, standing between the drummers, and Jonny Greenwood with his electronic battery on Yorke's left flank were up to. The five smallish black-and-white television screens high above the stage and those that hung directly over the group and constantly shifted position offered elliptical shots of faces and hands, but the effect was more distracting than revealing.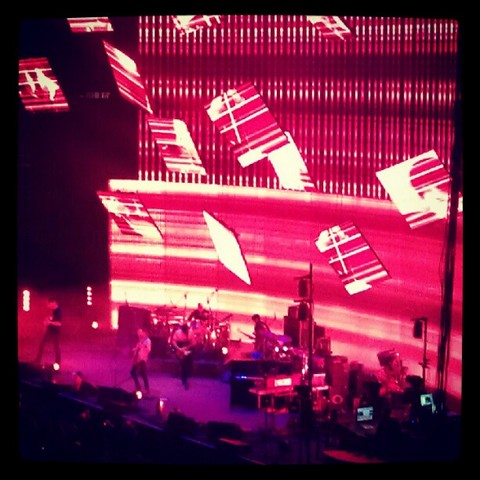 The question arises: is it better to see a beloved band under any circumstances and be grateful that you can – Radiohead tickets are notoriously hard to come by in the States – or to stay at home and avoid the frustration of being unable to connect with music that can scale heights of sublimity? The experience fell short, and though I had myriad Radiohead tunes in my head the next day I suspect that was from playing the CDs rather than from attending the show. The miserable sods only played "Paranoid Android" from OK Computer and yet I had "Airbag" and "Lucky," both of which they've played on other shows on this tour, on my inner shuffle.
The problem with Radiohead doing stadium shows, of course, is that although tunes like "Bodysnatchers" and "The National System", both played here, are rousingly aggressive, most of the songs they favour, taken as they are from Kid A through The King of Limbs, are interior. Yorke seemingly sings them to himself or to the ether, even if the nominal addressee is a lover or some other pariah. The gurgling beats and indigo melodies behind his increasingly opaque lyrics make for an ambient sound that is as effulgent as it is exquisite, enhanced as it is by his falsetto. Much of it is danceable, all of it is intimate, and I suspect the optimum venue for it is the iPod, not the sports stadium.
Having said that, "Pyramid Song", "How to Disappear Completely", and "Reckoner" – Yorke keening angelically on the latter – came across surprisingly well in this gargantuan atmosphere-less room, as did the new numbers "Staircase" and "The Daily Mail," both of which have tension absent from the low-octane The King of Limbs. "The Daily Mail," lumbering forward on some doleful piano chords, built dramatically to a sustained climax, not unlike "Karma Police." "Staircase" is quietly propulsive, almost groovy, but it's hard to tell if the key line – "Let me take control" – is comforting or menacing.
'Fuck it,' said Thom Yorke, stomping off the stage
As always, "How to Disappear Completely" has a special resonance when played in the New York area. Although it comes from Kid A which predated 9/11 by nearly a year, its title and some of its lyrics – "I'm not here/This isn't happening…In a little while I'll gone" – never fail to strike me with their mood of eerie foreboding. The first of the seven songs they played in two encores, it was the mournful highlight of the evening.
Overall, it was the right set in the wrong place (to coin a phrase). Sometimes things got a little rough, a little human. The last song of the set proper was "Idiotheque," jauntily played until Jonny, who seemed to be struggling with it throughout, lost the thread. "Fuck it," said Yorke, stomping off the stage. Four songs later, he apparently forgot some of the lyrics of "Paranoid Android" and apologised. Nobody's perfect. It had been a long day, he said. In fact, it had been a hard day's night, especially up in the gods at the back of the hall.
Below: fan video of "How to Disappear Completely"
Overall, it was the right set in the wrong place
Share this article
Subscribe to theartsdesk.com
Thank you for continuing to read our work on theartsdesk.com. For unlimited access to every article in its entirety, including our archive of more than 10,000 pieces, we're asking for £3.95 per month or £30 per year. We feel it's a very good deal, and hope you do too.
To take an annual subscription now simply click here.
And if you're looking for that extra gift for a friend or family member, why not treat them to a theartsdesk.com gift subscription?