Prisoners' Wives, BBC One |

reviews, news & interviews
Prisoners' Wives, BBC One
Prisoners' Wives, BBC One
Sisters do it for themselves in an uneven prison drama with a difference
Wednesday, 08 February 2012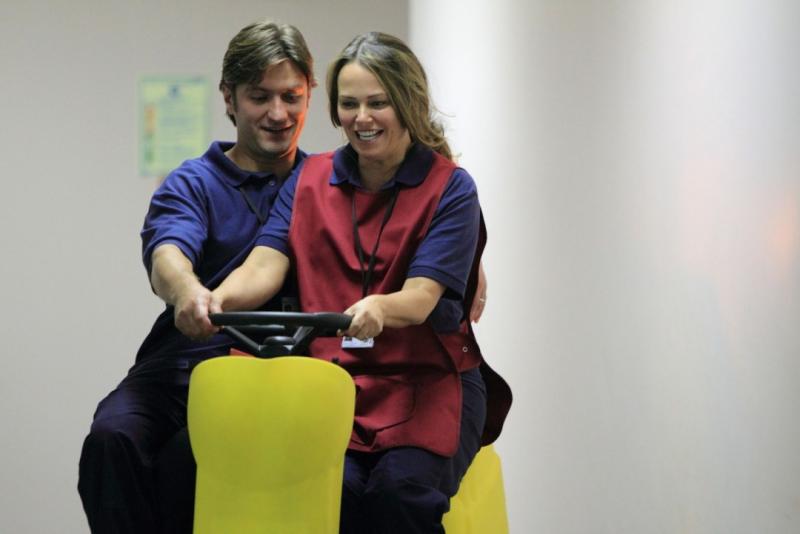 Prisoner's wife escapes: Aleksandar Mikic and Polly Walker
Prisoners' Wives belongs in a hoary tradition of television drama which finds women doing it for themselves. The men are always otherwise engaged, being either dead or useless or, in the case of Prisoners' Wives, as it implies on the tin. In the old days such dramas were usually written by one of Lucy Gannon or Lynda La Plante or Kay Mellor, but here the broad brushstrokes are applied by Julie Gearey.
On the evidence so far, each episode concentrates on one of the four main female characters while keeping an eye on the stories of the other three. In the opener we shared the ordeal of young pregnant Gemma (Emma Rigby) as she went through security – jewellery removed, hair frisked – into the Yorkshire jail for the first time where her husband had been remanded on suspicion of murder. By last night she was a hardened veteran, finding and getting the murder weapon, while it was the turn of Franny's cushy life to implode.
Each has her own complex relationship with the business of deceit, or of self-deception
Her husband Paul (Iain Glen, somehow even nastier than he was in Downton Abbey) is doing a long stretch for drug dealing but still keeping up with the payments on the plush detached home where he houses his wife and over-entitled teenage children. Last week Franny (Polly Walker) did a Sharon Stone to tide her husband over for another week. This week the money ran out, the bailiffs arrived but she landed on her feet, put her big hair in a ponytail and secured a night job washing hospital floors.
Meanwhile, there's Lou (Natalie Gavin), a young mother on the game whose boyfriend has taken the rap for a crime she committed so that mother will not be parted from her son, a sweet little boy who is being fed a pack of lies about prison visits to keep him from the truth. Then there is Harriet (Pippa Haywood). Last week she didn't even make it out of her car but this week for the first time managed to visit her son (Adam Gillen), who under a huge mop of ginger curls is incubating a satanic grudge against his apparently blameless mother.
So it's a drama about the dramatic but rarely dramatised lives of the mothers and children, girlfriends and wives of men in jail. Each has her own complex relationship with the business of deceit, or of self-deception. Haywood is profoundly touching as a mother who can't connect with her son, while Rigby (pictured right) weeps believable tears as an innocent terrified by the new world she's been plunged into. But the tone is too flexible. Last night's script didn't quite have the oomph to put Franny through the ringer. All brass in the first episode, here she took the confiscation of her creature comforts a little too blithely on the chin, striking up a swift flirtation with a charming co-worker which, featuring a romantic ballet of motorised hospital floor-cleaners, bordered on the risible (main picture). The writing's pursuit of light relief from the grimness often seemed to have wandered in from another department altogether. Somewhere inside Prisoners' Wives there is a riveting drama about isolation and female self-reliance itching to get out, but it feels as if there have been too many prison visits from box-ticking script consultants. It should have done more time in solitary.