Salmon Fishing in the Yemen |

reviews, news & interviews
Salmon Fishing in the Yemen
Salmon Fishing in the Yemen
Yet another popular novel gets the Hallström treatment. Who cares?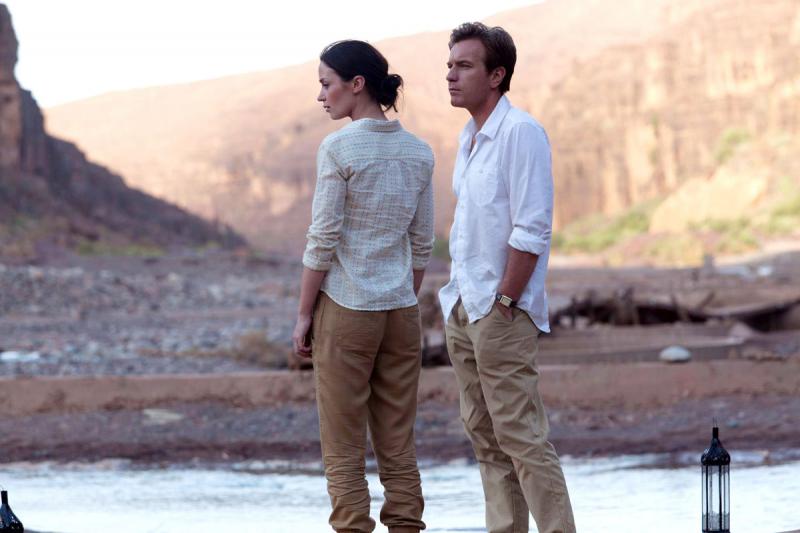 Come fly with them: Emily Blunt and Ewan McGregor in 'Salmon Fishing in the Yemen'
Getting on for three decades ago Lasse Hallström was introduced to audiences outside his native Sweden with My Life As a Dog. An emotionally continent, directorially restrained picture of the pains and pleasures of a rural childhood, it was Hallström's ticket to Hollywood.
What's Eating Gilbert Grape
, featuring a coltish young Leonardo di Caprio, retained some of Hallström's snappy weirdness when he moved into English, since when he has wandered into the mainstream and can't seem to locate the exit. His signature is to take a popular work of fiction and coat it in a thin film of simplifying gloop.
The Cider House Rules
,
Chocolat
,
The Shipping News
have all been Hallströmed. Now it's the turn of
Salmon Fishing in the Yemen
.
The book itself is no masterpiece, but when it was published in 2007 there was something doubly cheering about Paul Torday's debut novel. For one it was the first work of a writer entering his sixties, and it playfully adopted a narrative form reliant on emails, memos, letters, diaries and interview transcripts. And then there was the Swiftian outlandishness of the proposal in the title. A nerdy government fisheries scientist is retained against his will by a confident young female surveyor to pitch an idea to an idealistic Yemeni sheikh keen to fish his native wadi. The UK government, eager for a good news story about the Middle East as British soldiers continue to be blown up in desert wars, get involved. It goes to the very top. No matter that salmon don't tend to spawn in the Yemen, whose waters – when they are there at all – are far too warm: the sheikh has money and a vision that the contemplative joys of casting a rod will have a beneficial impact on his countrymen.
Scott Thomas is no Malcolm Tucker but she has a ball embodying the crassest excesses of the spin culture
As in the novel, so - at least initially - in the film. Dr Alfred Jones (Ewan McGregor) is quick to point out the absurdity of the sheikh's pipedream to Harriet Chetwode-Talbot (Emily Blunt), but thanks to the meddling of government in the form of the PM's press adviser Patricia Maxwell (Kristin Scott Thomas) he is soon on secondment to the Yemeni salmon project willy nilly. A visit to the Highlands to fish with His Royal Moneybags (a chiselled Amr Waked) gradually brings him onside. It helps that, caught in a marriage to sexless bean-counting financier (Rachael Stirling), his feelings for Miss Chetwode-Talbot, as he prissily insists on addressing her, are allowed to flourish. And why not? Blunt models a floaty floral dress immaculately, and spills tears ever so prettily. The only snag is that her own heart is promised to a lunky dreamboat who is off fighting in Afghanistan.
While flashes of the book's emails and memos are amusingly retained here and there, the task of Simon Beaufoy (The Full Monty, Slumdog) is to turn the jerky rhythms of Torday's gentle satire with romantic nobs on into a coherent movie narrative. As long as he keeps faith with Torday's original premise, it proves moderately entertaining. Scott Thomas, playing a character who in the novel is male, is no Malcolm Tucker but she has a ball embodying the crassest excesses of the spin culture. Meanwhile McGregor and especially Blunt, who was once so funny in The Devil Wears Prada, get to flex their comedy chops as an odd couple thrown together on a very odd job.
It's when the film starts to take itself seriously as it moves to the parched crags of the Yemen for the watery climax that a story always threatening to lose its grip finally goes belly up. In attempting to solve the gaucheries of the novel, the script introduces fresh frailties of its own. At once a comedy about the incompetence of al-Qaeda (Torday had the idea of the bungling assassin long before Chris Morris), the novel is also a sort of parable about what can go wrong when the West meddles in the East. Hallström largely skates over these elements in favour of what you suspect was a diktat from the money guys who would not cough up for anything but a box-ticking romcom. Accordingly, the last few scenes are risible manipulative drivel.
Be warned that the women's glossies on the movie poster have issued raves all round. Don't be taken in. In other hands, in another life, Salmon Fishing in the Yemen might hit some of the same notes as Local Hero, the Highland comedy featuring a mogul with an improbable dream. McGregor, using his own accent here, is after all Denis Lawson's nephew. But Hallström with his sweet tooth is not fit to kiss the hem of Bill Forsyth's garment. As Kristin Scott Thomas drawls, "It's fishing. Who the hell cares?" Who indeed?
Watch the trailer to Salmon Fishing in the Yemen
The task of Simon Beaufoy is to turn the jerky rhythms of a gentle satire with romantic nobs on into a coherent movie narrative
rating
Explore topics
Share this article