Bon Voyage, Bob, Tanztheater Wuppertal Pina Bausch, Sadler's Wells review - interminable ennui |

reviews, news & interviews
Bon Voyage, Bob, Tanztheater Wuppertal Pina Bausch, Sadler's Wells review - interminable ennui
Bon Voyage, Bob, Tanztheater Wuppertal Pina Bausch, Sadler's Wells review - interminable ennui
At three and a half wearisome hours, this feels like a marathon
Tuesday, 26 February 2019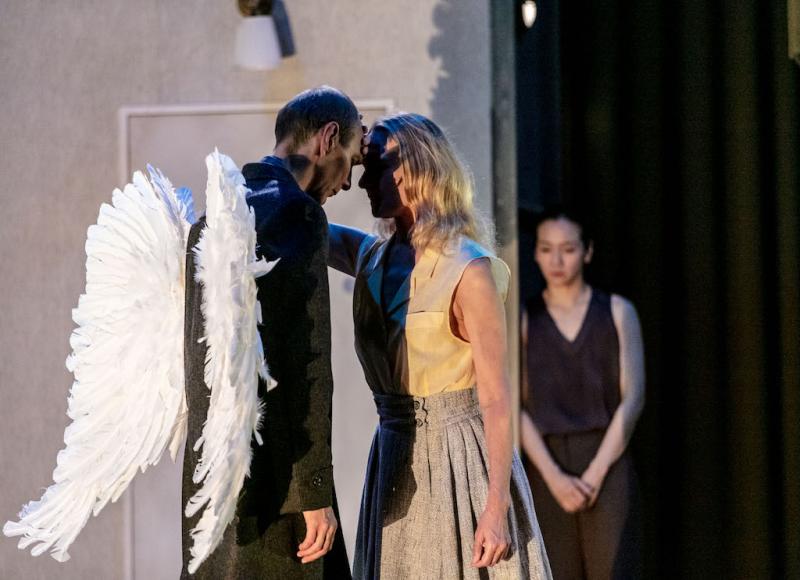 Andrey Berexin as a Wim Wenders-style angel dancing with Julie Shanahan
It's a decade since Pina Bausch sadly died, and during that time her company has kept her memory alive by revisiting her amazingly rich legacy. Inevitably, though, the time would come for them to embark on a new phase; but how?
The unique mix of dance and visual theatre that Bausch developed with them over 36 astoundingly creative years is so distinctive that any attempt to follow in her footsteps would most likely seem like a pastiche.
In 2015 the company finally took the plunge and invited two choreographers to create new pieces for them. After premiering in Wuppertal last year, both productions have now come to Sadler's Wells. Norwegian choreographer Alan Lucien Oyen seems like a perfect choice since he works across genre – with dance, theatre, text and film. A meditation on death and the way we cope with loss, and thereby an indirect acknowledgement of the huge gap left by Bausch's sudden death, Bon Voyage, Bob has all the right ingredients.
The demise of brothers, fathers, mothers and sisters through accident, illness, murder and suicide are recalled in disjointed snippets. Time has stopped; the hands of the clock are stuck, and the man trying to adjust them is (literally) left hanging off the door frame. Welcome to a world of surreal detachment in which, thanks to Alex Eales' nimbly revolving set, one visually rich vignette follows another at breakneck speed. One minute we are in a Paris apartment, the next a Turkish hotel, a bedroom, sitting room, church or even a morgue that doubles as a restaurant.
The cast is kept busy shifting the props and furniture. They build an elaborate set around an armchair in which Julie Shanahan sits, only to dismantle it moments later after she has shot herself (pictured below, photo Meyer Originals); then they roll it all out again for two further repeats. Are we watching a film being made or seeing memories being replayed over and over again? Who knows when the boundaries between fact, fiction, memory and recall are constantly being blurred and the details challenged? In any case, fiction seems far more potent than actuality. Sitting on a bed, Héléna Pikon recalls watching a movie; on screen, she says, "their faces must be 10 metres wide and one teardrop must be gallons of water." Her tears, by comparison, are so insignificant – nothing.
Behind her, the bedroom mirror is replaced by a picture window that allows her to see into a neighbouring space where a Wim Wenders-style angel (recognisable from his film Wings of Desire) dances with Julie Shanahan (main picture) while her own face is illuminated by the beam from a cinema projector. Atmospheric lighting by Martin Flack lends each scene the dystopian beauty of a David Lynch movie or an Edward Hopper painting. "I feel like a stranger in my own home," says one protagonist and this sense of alienation is enhanced by Gunnar Innvaer's clever sound manipulations. Stories are rarely narrated directly but are recounted over the phone, spoken into dictaphones, left as garbled messages, passed on in broken English or written in letters translated from the German.
And there are some gorgeous moments; Julie Shanahan lights one match after another while, behind her, a lothario dances a duet with his alter ego, a sleek brown horse seductively gyrating on two legs. And Nazareth Panadero runs through the space in a flowing pink robe (pictured above right by Mats Bäcker), laughing hysterically as a funeral director asks his client for details about the demise of her father and philosophises on the ubiquity of death: "You have to think positive," he advises. "We all have to die."
Why, then, did I spend so much of the first half longing for it to end? It's because one scene franticly follows another without let up, while the dancing – beautifully fluent solos and awkward or combative duets – feels like little more than a series of interludes, a way of buying time while the next tableau vivant is set up.
And this marathon lasts three and a half wearisome hours. The potential is there for a really good piece, but to reveal the glittering kernel buried within, you'd have to shave at least an hour off the endlessly repeating scenes.
A lothario dances a duet with his alter ego, a sleek brown horse seductively gyrating on two legs
rating
Share this article