Berlioz Requiem, Spyres, Philharmonia Orchestra, Nelson, St Paul's Cathedral review - masses and voids |

reviews, news & interviews
Berlioz Requiem, Spyres, Philharmonia Orchestra, Nelson, St Paul's Cathedral review - masses and voids
Berlioz Requiem, Spyres, Philharmonia Orchestra, Nelson, St Paul's Cathedral review - masses and voids
Shock and awe on the 150th anniversary of the composer's death
Nelson, the Philharmonia Orchestra and Chorus and the London Philharmonic Choir in rehearsal
Asked to choose five or ten minutes of favourite Berlioz on the 150th anniversary of his death (yesterday), surely few would select anything from his giant Requiem (Grande Messe des Morts). This is a work to shock and awe, not to be loved - music for a state funeral given a metaphysical dimension by the composer's hallmark extremes in original scoring. It cries out for an ecclesiastical edifice to resonate with the masses and provide the voids, but St Paul's Cathedral has always been one step too far: glorious to be in, not the place for a true musical experience. All things considered, John Nelson, the Philharmonia Orchestra and Chorus and the London Philharmonic Choir managed it as well as they possibly could
It depends on where you sit, but even in the very front row of the seating under the dome, what in continental terms would be seen as a VIP seat but made available because the three unreserved press rows were already full, I can't claim to have had the ideal experience. Illuminating, certainly, to hear how Berlioz writes for cellos and especially double basses; but the massed choirs, though they still made such a splendid noise, especially in full throttle unisons, that one wondered if a few professionals had been lodged within them, sounded a good deal further away than they actually were.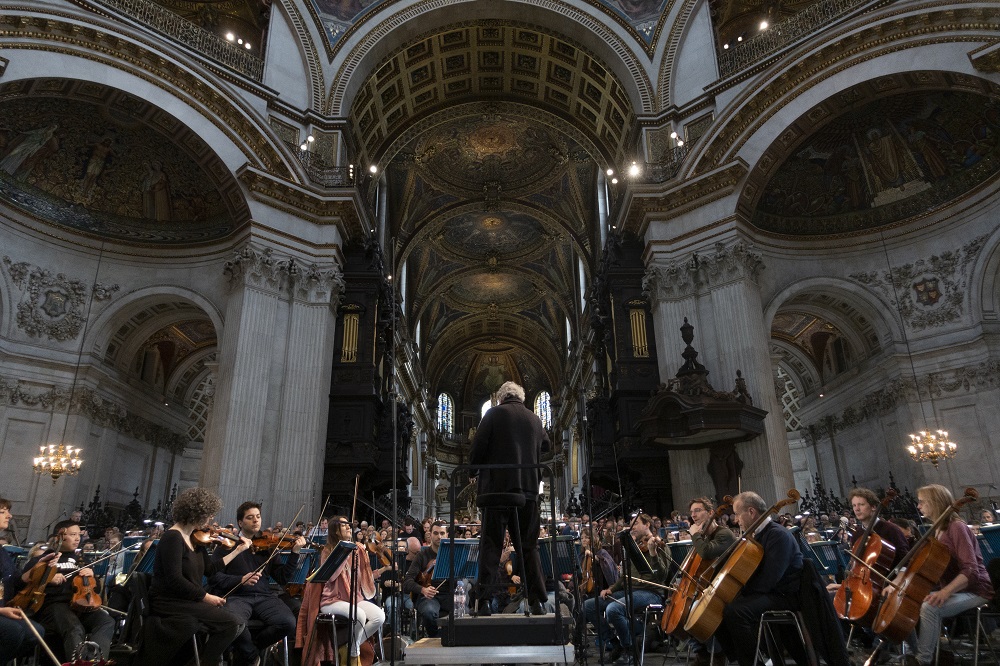 It certainly wasn't the fault of them or their chorus masters, Gavin Carr and Neville Creed - Nelson is also a renowned chorus trainer - if hardly any consonants emerged. Worst casualty, from my perspective, was the judgment-day juggernaut of the Lacrimosa, all string ricochets and roars, but very little of the vital melodic line coming through.
The foundations duly shook with the soundings of the four brass bands, placed at the pillars to the two transepts; judgment day indeed. What worked best were the moments of dynamic or orchestral restraint: unearthly chords of wind and brass, above all the heaven of the flutes above the hell of the trombones, the chromatic descents of the Kyrie fading to black, string elaborations around the ghostly choral keenings on Berlioz's favourite interval (minor sixth to fifth).
Nelson couldn't hope to interpret much under these circumstances, and maybe Berlioz's approach to the mass doesn't allow that; a firm beat and proper cues from a manager of huge forces were required, and duly provided. Acoustically and emotionally the high spot of the evening - and how high it is for the tenor - was the angelic trumpeting of Michael Spyres (pictured above by Marco Borrelli) in the Sanctus; singing like this would make it one slice of Berlioz to take to one's desert island, after all, if it weren't for the relatively earthbound choral "Hosannas"s.
It's not in any way Spyres's fault if he got a longer programme biography than the note for the music; Latin/English texts most of us could do without, but unforgivable not to list the players and choral members. This, of all solemn events, was not the right place for a glossy, flimsy souvenir brochure. Hoping for better this summer from the BBC Proms, which must surely be giving us the Mass in the place where it works best, the Royal Albert Hall. No idea what the overall programme is yet - details in April - but the biggest and most original, if not the very best, of Berlioz has to be among the anniversary tributes.
Acoustically and emotionally the high spot of the evening was the angelic trumpeting of tenor Michael Spyres
rating
Share this article