BBC Proms live online: BBC Singers, BBCSO, Oramo review – threnodies to an empty hall
BBC Proms live online: BBC Singers, BBCSO, Oramo review – threnodies to an empty hall
No joy in Beethoven without an audience, but reflective moods work well
The BBC Symphony Orchestra under Sakari Oramo play Beethoven to an empty hall
So the bubble of reactionary brouhaha over the Last Night of the Proms quickly burst: there can be no argument about singing "Land of Hope and Glory" or "Rule, Britannia!" when they're to be presented in their original Proms forms (Elgar's Pomp and Circumstance March No.
1, where the tune preceded the words the composer so disliked, and Henry Wood's 1905
Fantasia on British Sea Songs
, all orchestral – only later did Malcolm Sargent rearrange the closing anthem to go with a solo voice). Apart from the death threats to conductor Dalia Stasevska and her family, what's most lamentable is that neither Tory politicians nor their flag-waving followers could manage to add their regret over the demise – we hope temporary – of over 70 concerts without an audience.
Even in the first of the 16 Proms to be screened and broadcast live last night, mourning and melancholy hung like a pall. It was sensitive planning to begin in reflective mode, like the first of the Royal Opera's three events back in June, before moving on to the three-quarters celebration of Beethoven's Third ("Eroica") Symphony. Certainly the short pieces by Americans Whitacre and Copland worked best, along with Beethoven's second-movement Funeral March. Diversity has not yet hit the BBC Singers, but they sang exquisitely under Nicholas Chalmers, their spacing in the stalls visually striking and atmospherically complemented by the beams of light above. Whitacre's setting of his friend Charles Anthony Silvestri's simple lyrics about the cusp of sleep is straightforwardly rewarding, spiced as usual with the occasional harmonic crunch, the final surrender to Morpheus hauntingly fading to nothing. Pure Albert Hall magic, except that we weren't there and Katie Derham's guests on BBC Two, Stephen Fry and Ayanna Witter-Johnson, would insist on rubbing in how exciting and thrilling it was that they were.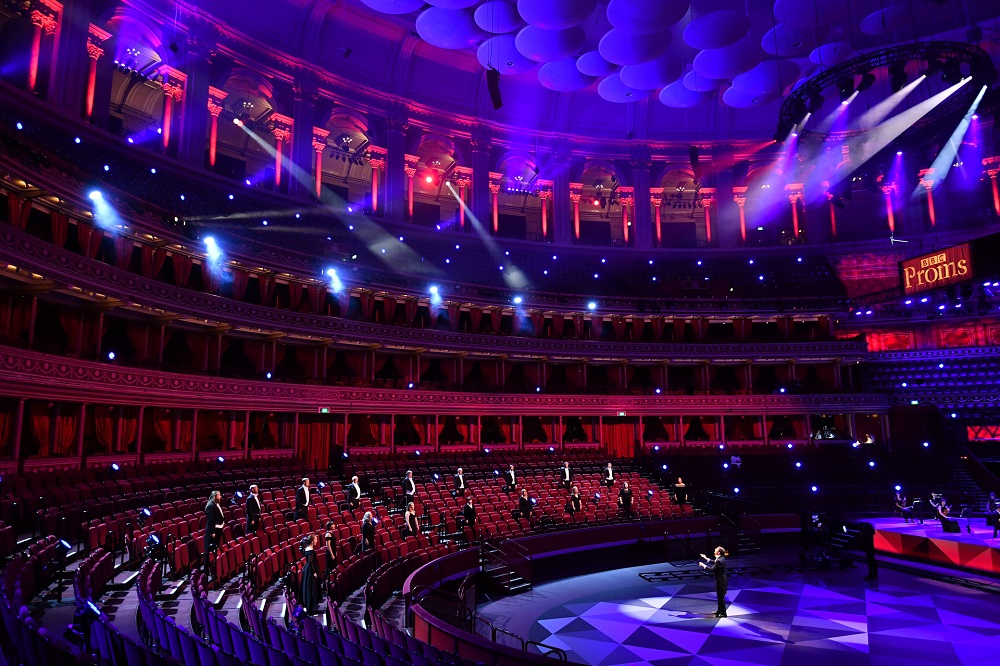 Copland's Quiet City similarly worked the space, BBC Symphony Orchestra principal trumpeter Philip Cobb's vibrato just right, beautifully echoed by Alison Teale's cor anglas and supported by a cushion of strings. Selected images of deserted urban landscapes around the world during lockdown were judiciously placed at the beginning and end of the piece, leaving the rest to be consummately well filmed as always by BBC camera operators. This worked, but the admirable opening gesture – introductory centre stage for a new piece, the Basquiat-inspired Tuxedo: Vasco 'de' Gama by the British composer of Afro-Caribbean descent Hannah Kendall (pictured below) – left no more trail after it than her curtain-raiser for the Chineke! Orchestra Prom in 2017. Despite the harmonica and the music-box playing of the spiritual "Wade in the water", the work was hardly likely to impact on a wide audience with its tritone-drenched torpor. At least it was compact and well scored.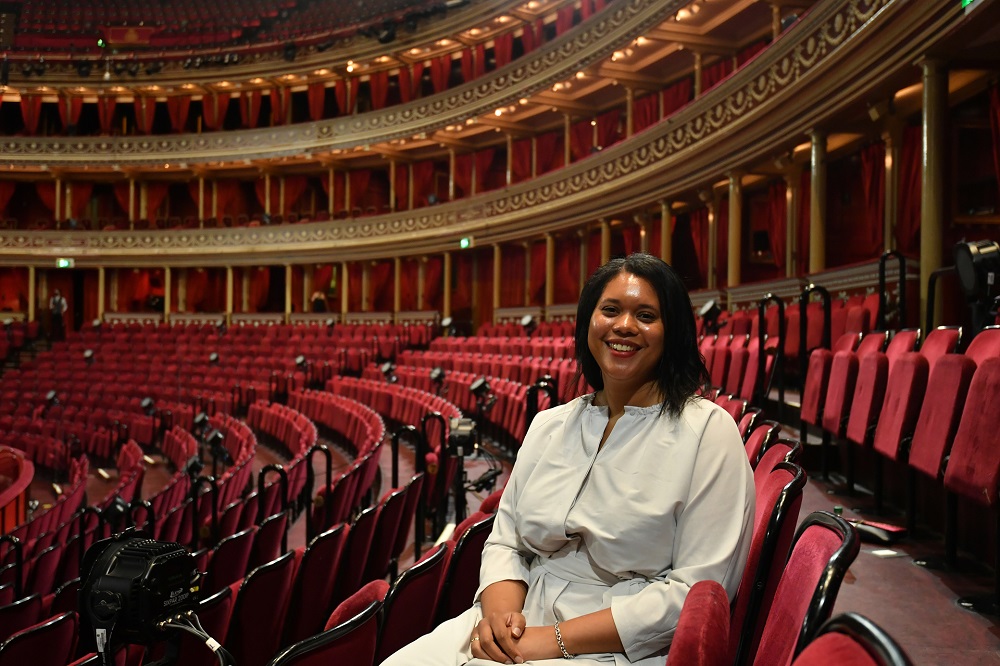 Fry was right to talk about Beethoven as man of the people, though he had to go and spoil it by asserting very questionably that "he's our friend in a way that few composers are". Really? I can name at least a hundred. Just how much the electric charge of the "Eroica" Symphony's first, third and last movements depends on a live audience was all too clearly reflected in the performance. Much-loved BBCSO Principal Conductor Sakari Oramo's interpretation is clear of purpose, dynamic in its ongoing sense of drama and full of nuance, but the excitement just wasn't there in an empty Royal Albert Hall, or at least didn't feel as if it was from watching on screen (but then maybe I've just about had my fill of concerts I can't attend).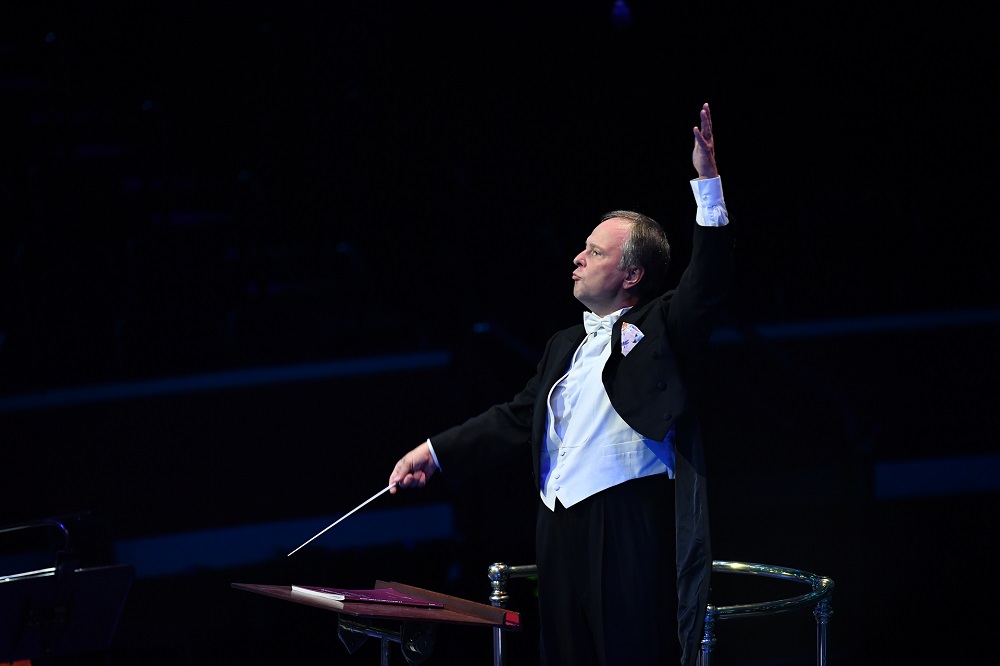 Fugal passages were keenly articulated, the horns did their hunting-calls proud in the scherzo's trio, but the rest lacked real joy, the players seeming to fight against burial alive in a colosseum which had turned into a mausoleum. Where the performance came into its own was in the Funeral March, presented with hardly a break after the first movement as its flipside, naturally and humanly paced with exceptional wind playing (and not just from Teale, a decisive star of the evening). Those dying falls were set up by compellingly hushed string playing a minute or so earlier. Yes, we're still in tombland, and until we can get back to hearing full orchestras in the flesh, we will remain so.
Players seemed to be fighting against burial alive in a colosseum which had turned into a mausoleum
rating
Share this article