Live from Covent Garden 1, Royal Opera and Ballet online review - small-scale but perfectly formed
Live from Covent Garden 1, Royal Opera and Ballet online review - small-scale but perfectly formed
Clever programming from mastermind Antonio Pappano showcases best of British plus
Antonio Pappano rehearsing on Saturday afternoon for the livestream
Vintage champagne was served up last night, and whether you found the glass half-full or half-empty would depend on your perspective.
In the bigger picture, it's disappointing that not more musicians could return to the
Royal Opera House stage
, and no-one to the auditorium, as they've been doing to concert halls in Norway, Sweden and Czechia, and to a car-park transformed as operatic space in Berlin (next Saturday, when Covent Garden starts charging for content, more players will, for Schoenberg's chamber arrangement of Mahler's
Das Lied von der Erde
). But given the constraints, the Royal Opera's music director Antonio Pappano, also a superb pianist-partner and last witnessed conducting the London Symphony Orchestra in a blitzing programme of Vaughan Williams and Britten at the Barbican on the night before lockdown, masterminded a vivid journey with top fellow-performers - dancers from the
Royal Ballet
as well as singers.
Singing without music in front of them, soprano Louise Alder, tenor Toby Spence and bass-baritone Gerald Finley told the full and vivid stories of their songs and operatic excerpts. The opening sequence of Britten's On This Island, an often-overlooked song cycle of the first order, reminded us of two causes for regret: that Alder (pictured below in rehearsal with Pappano) was robbed of her due title as Cardiff Singer of the World - not that it's done her any harm - and that W H Auden, whose poems are set so well her, only wrote one libretto for Britten, the love-it-or-hate-it (I love it to bits) "American folk opera" Paul Bunyan.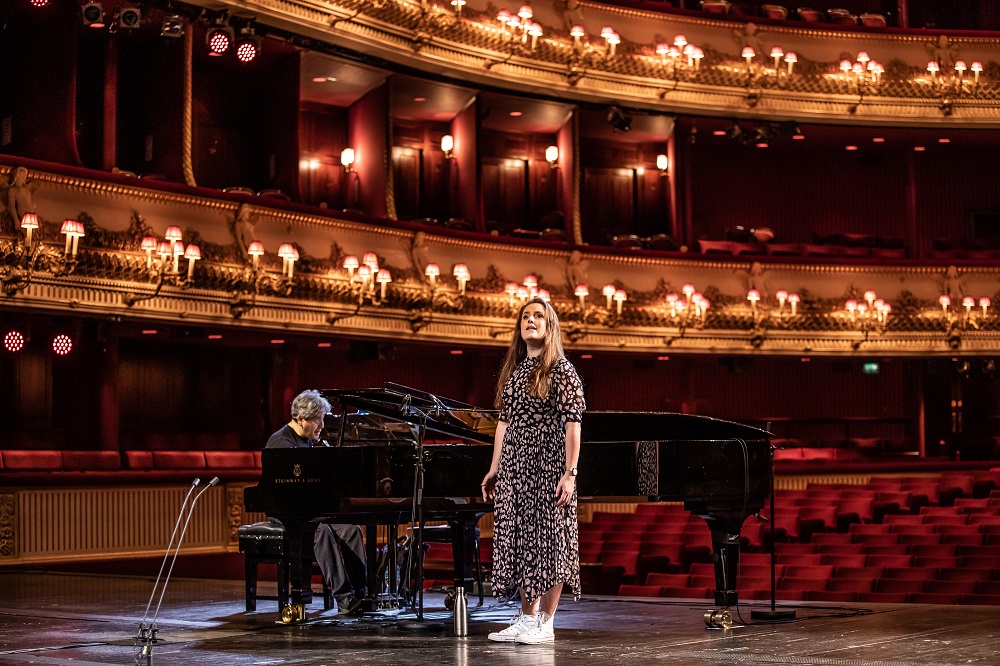 What a canny idea to begin with a fanfare of sorts, "Let the florid music praise', where the piano imitates the now-missed flute and trumpet', and where the celebrations quickly die into an intimation of mortality - to be resumed in the hypnotic "Nocturne", the last two of Butterworth's A E Housman A Shropshire Lad settings - Spence playing the ghost of "Is My Team Ploughing" with closed eyes, open when the friend left behind replies - and "Fear No More the Heat O' The Sun" from Shakespeare's Cymbeline in music by Gerald Finzi and rendering by Gerald Finley (pictured below in rehearsal with Pappano).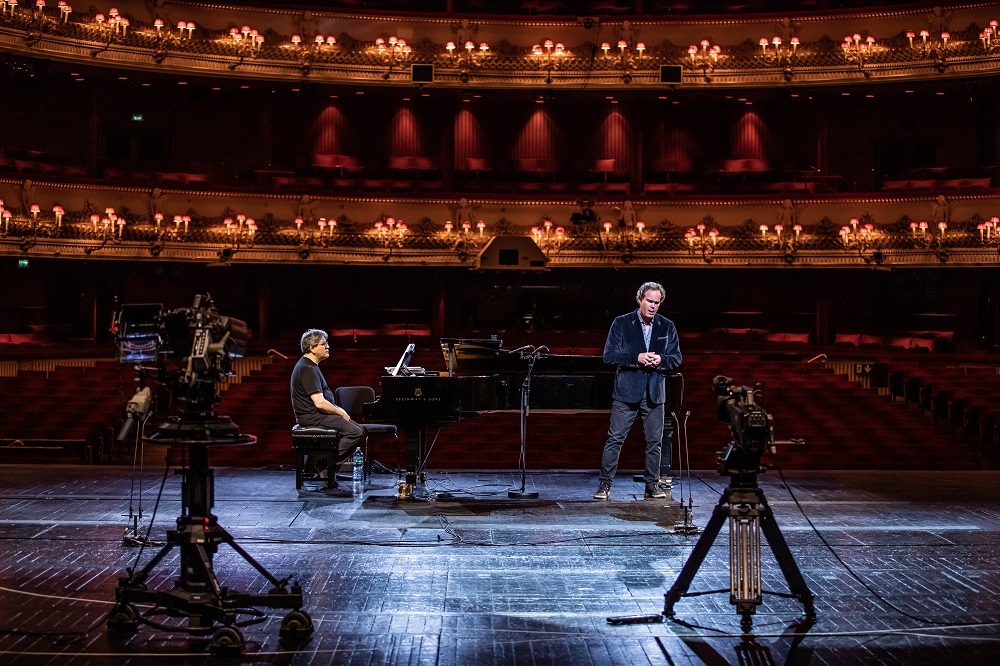 Finley also gave a comic tour de force in Britten's arrangement of the popular song "The Crocodile" and a world premiere in this "Best of British" song sequence, 60-last-week Mark Anthony Turnage's vivid renderings of animal poems by Stevie Smith, Hardy and Whitman - Brittenish (Winter Words), introspective-unaccompanied and a little too solemn in turn. Turnage spoke simply and eloquently in the second of two short interviews with non-irritant general presenter Anita Rani. In the first, choreographer Wayne McGregor slipped in the crucial concern about how so many freelance performers haven't qualified for any sort of financial assistance. He also touched on "high touch" in dance, how everyone missed "devouring space in a studio" - but at least that devouring was possible on a big space with couple Francesca Hayward and Cesar Corrales (pictured below). McGregor's moves to Strauss's song "Morgen!" were beautifully executed and fine in themselves, but maybe not the ideal correspondence to the essential inwardness of the song, unless as thought and feeling given body. Musically, it was as good an interpretation as I've ever heard from Alder, Pappano and Royal Opera leader Vasko Vassilev.
And then they all took the knee. The elephant in the room was the absence of a BAME singer - dancer Hayward was born in Nairobi to a Kenyan mother and British father, but we could have had baritones Roderick Williams or young Ross Ramgobin, for instance, instead of Finley. When you're broadcasting to the wider world, especially at this moment, gestures matter. But no quibbles about the quality of execution at any point until, perhaps, the final Pearl Fishers duet, where you really missed a continental opulence for Frenchman Bizet's Italianate ardour. Alder's way with Handel's "Tornami a vagheggiar" from Alcina, though, was consummate: brilliant with fireworks in the fresh ornamentations towards the end, equally good with meaning as she lived the ardent entreaties of amorous Morgana.
Next week will certainly be worth anyone's £4.99. Even a poor writer, making temporary hay thanks to Zoom classes (and loving the work), was able to throw his mite into the hat this week; do the same if you can. The results are well worth it: beauifully filmed from various angles, the singers face the back of the stage so that we can see them against the vision of a half-lit red-and-gold auditorium. As for the wider issues, there was an important reminder here that the Royal Opera is the second largest employer in the arts after the BBC, and is suffering a genuine existential threat. We wait to see what the government's going to do about it.
Watch the complete performance for the next 13 days. Event begins at 6m08s
The singers, performing without music in front of them, told full and vivid stories
rating
Explore topics
Share this article