50 years since Nureyev defected and Kirov Ballet debuted in London |

reviews, news & interviews
50 years since Nureyev defected and Kirov Ballet debuted in London
50 years since Nureyev defected and Kirov Ballet debuted in London
Mariinsky aims to seize back the honours from the Bolshoi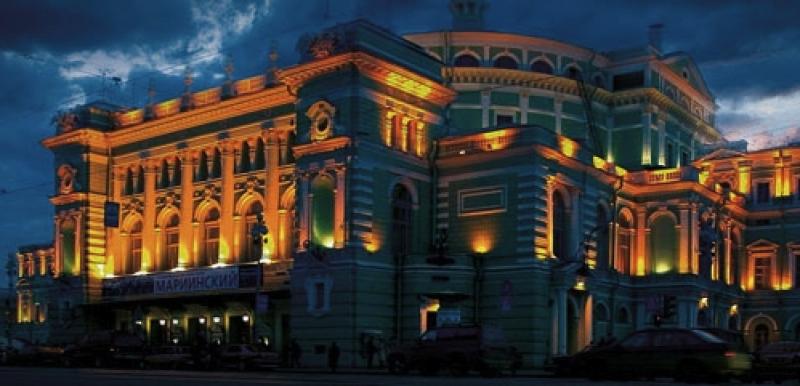 The Mariinsky Theatre: The cradle of Russian Classicism, bred from a French balletmaster with Italian influences
It's 50 years since the mighty Kirov Ballet made their debut London tour - reeling from Nureyev's defection days before at the Paris airport. The tour was promoted by the unique impresarios of Soviet culture, Victor and Lilian Hochhauser. Half a century on, the pair are still indefatigably promoting the company, now named Mariinsky Ballet, whose season at Covent Garden opens on Monday, 25 July and runs to Saturday, 13 August.
The St Petersburg company has been lying low while their Moscow rivals, the Bolshoi, made the Royal Opera House their summer home for the past few years - but it was only a decade ago that the public vote in London was the other way, backing the Mariinsky against a Bolshoi that at the time appeared to be in artistic tatters. Both companies have changed leadership since then, and the Mariinsky aims to seize back classical honours with its aristocratic productions of Swan Lake and La bayadère, while showing its conquest of American Neo-Classicism in a Balanchine/Jerome Robbins programme.
The biggest gamble appears to be a new ballet on Tolstoy's Anna Karenina, created by London's favourite Russian choreographer, Alexei Ratmansky, formerly the Bolshoi's director and now resident in New York. This ballet about an unhappy wife's tragic affair has just been shown to New York for the first time, with the company's two leading stars, Diana Vishneva and Uliana Lopatkina, to unusually mixed reviews. The music is by Rodion Shchedrin, the modern Russian composer currently being specially championed by Valery Gergiev, the Mariinsky's director, conductor and mastermind.
The programmes are (casting is subject to sudden changes):
25-28 July, 6 & 8 Aug: Swan Lake, opening with Lopatkina, and offering Victoria Tereshkina, Alina Somova, Diana Vishneva, Anastasia Matvienko and Ekaterina Kondaurova as the Swan Queen
29, 30 July, 1 Aug: Fokine's Chopiniana/ The Firebird/ Sheherazade, the Mariinsky Theatre Orchestra deployed in two major scores by Stravinsky and Rimsky-Korsakova, with Kondaurova and Anastasia Petushkova as the Firebird, and Kondaurova, Lopatkina, Tereshkina or Vishneva as the perilously amorous Zobeide and Vladimir Shklyarov, Igor Kolb, Daniil Korzuntsev or Igor Zelensky as the Golden Slave
2 & 3 Aug, Don Quixote with the Matvienkos or Evgenia Obraztsova and Alexei Timofeyev
4 & 5 Aug, Balanchine/Robbins programme of Balanchine's Scotch Symphony and Ballet Imperial, Jerome Robbins's In the Night, with music by Mendelssohn, Chopin and Tchaikovsky. Dancers include Lopatkina, Obraztsova, Kondaurova, Somova, Tereshkina, Shklyarov, Kolb, Korsuntsev and New York's David Hallberg
9 & 10 Aug, Anna Karenina, British premiere of Alexei Ratmansky's ballet to Rodion Shchedrin's music, with Diana Vishneva or Uliana Lopatkina as Anna
11-13 Aug, La bayadère, the second-greatest "white" ballet of the 19th-century glory period of Russian Classicism, with Tereshkina/Shklyarov, Vishneva/Zelensky, Somova/Matvienko and Lopatkina/Korsuntsev the scheduled casts as the doomed Nikiya and Solor

Several favourites of previous Mariinsky visits appear: the sublime Uliana Lopatkina heading the ballerinas, with Diana Vishneva and Igor Zelensky also mature avatars of Mariinsky refinement. Newer faces are the fêted Alina Somova (a Marmite dancer who divides opinion on her idiosyncratically flexible dancing) and Vladimir Shklyarov, while Victoria Tereshkina, Evgenia Obraztsova and the tall redhead Ekaterina Kondaurova have also won followings around the world. The appearance of David Hallberg from American Ballet Theatre in Balanchine's Scotch Symphony and two Swan Lakes with Tereshkina and Kondaurova shows London the man whom New York is currently talking about.