The White Crow review - gripping depiction of the brilliance of Nureyev |

reviews, news & interviews
The White Crow review - gripping depiction of the brilliance of Nureyev
The White Crow review - gripping depiction of the brilliance of Nureyev
A portrait of the artist as an arrogant, ruthlessly ambitious young genius
Oleg Ivenko (as Nureyev) and Ralph Fiennes at work on set
Genius is as genius does, and Rudolf Nureyev made sure nobody was left in any doubt about the scale of either his talents or his ambitions.
Genius is as genius does, and Rudolf Nureyev made sure nobody was left in any doubt about the scale of either his talents or his ambitions. Based on Julie Kavanagh's biography Rudolf Nureyev: The Life, The White Crow pairs director and actor Ralph Fiennes with screenwriter David Hare to deliver an involving and often thrilling account of Nureyev's rise to fame as a ballet dancer and his sensational defection to the West in 1961. It pulls off the tricky feat of being both successful drama and a plausible depiction of the rarefied world of ballet.
In its recounting of Nureyev's life from his birth on board a Trans-Siberian express to that pivotal moment of escape from the suffocating clutches of Nikita Kruschev's Soviet Union, The White Crow might have benefited from a few snips of the editing shears. Fiennes has helpfully colour-coded the various eras of the story – nostalgic monochrome for Nureyev's early years in dreary post-war Russia, sludgy brown Cold War tones for his young adulthood in Leningrad and bright light and blue skies for the Paris where he seized his freedom – but you can still occasionally find yourself feeling adrift in a narrative no-man's land.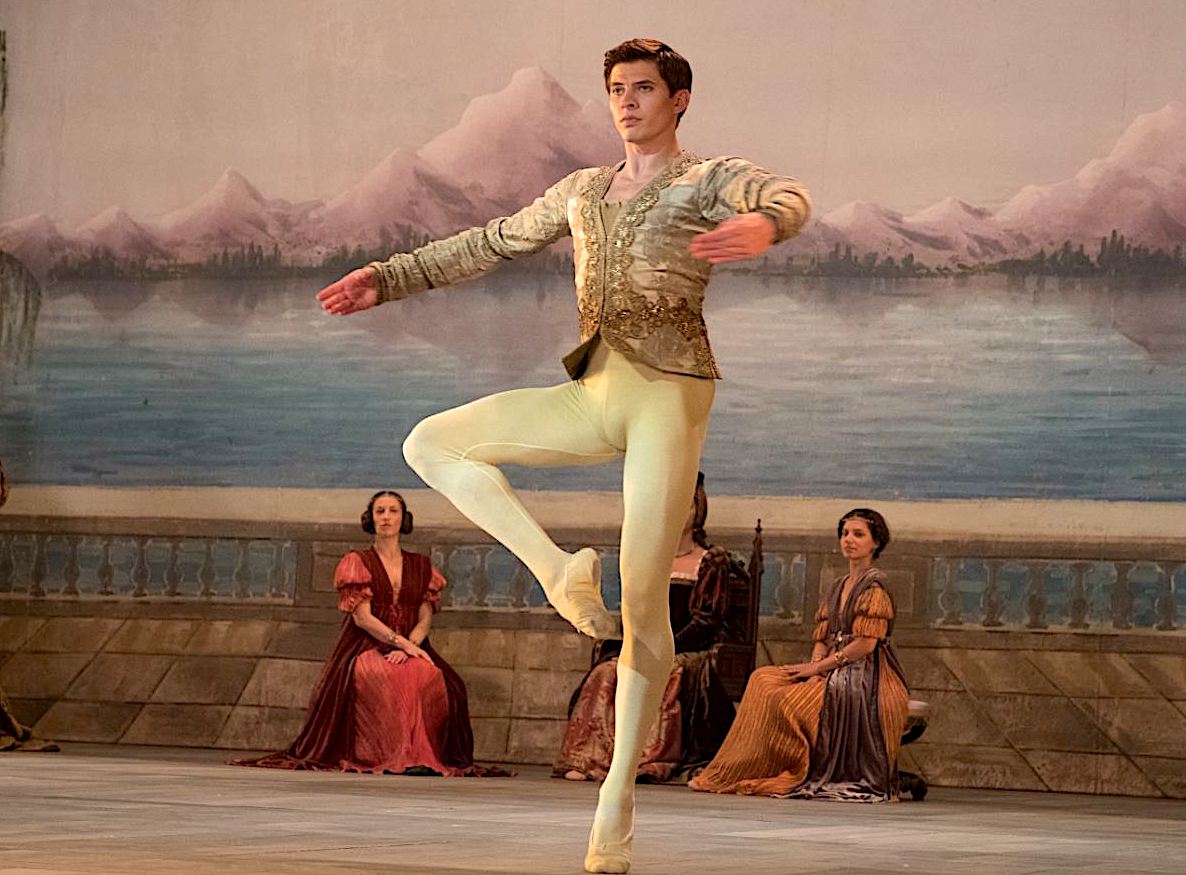 However, both Fiennes and Hare play the big moments with panache, much assisted by their star Oleg Ivenko. A Ukrainian dancer, Ivenko is skilled enough to persuade you you're watching a star being born and a strong enough actor to capture Nureyev's overweening arrogance and self belief, as well as the potent androgynous sexuality he brought to his dancing (and his private life). Ivenko also curtly dispenses the peremptory rudeness which would have instantly torpedoed the career of a lesser talent. This Nureyev has no hesitation, as an up-and-coming young dancer, in demanding that he be assigned to a different teacher because he doesn't like his present one, or in ordering the managing director of the Kirov Ballet out of the room where he's rehearsing. When a stodgy commissar wants to send him back to be a dancer in Ufa, the provincial town where he grew up, he declares that this will be an unacceptable detour from his inevitable ascent to stardom.
Fiennes has cast himself as ballet master Alexander Pushkin, a mild-mannered, simpatico figure who coaxes results from Nureyev by shrewdness and insinuation rather than bullying or brute force. Why does Pushkin never give him any feedback about his dancing? demands Nureyev at one point. "When you please me, you'll know," Pushkin responds mildly. Fiennes really can speak Russian, and his soft, sibilant delivery is integral to his carefully calibrated performance. When his wife's motherly adoption of Nureyev (she feeds the skinny youth with home-made French onion soup) morphs into a sexual relationship, Pushkin's sorrowful acquiescence is painful to behold.
When Nureyev goes on tour to Paris with the Kirov in 1961, he's determined to exploit this precious contact with the free world despite the Russian security men who dog the dancers' footsteps, and voraciously devours Western culture, from the Sainte Chapelle to the Louvre to louche nightclubbery. Typically, his motivation seems to be the vastly superior career opportunities available in the West rather than any desire to make a political statement, and he accepts the rapturous acclaim from the Parisian audience as nothing more than his due.
This doesn't prevent the climactic showdown at Le Bourget airport – where Nureyev's escape is assisted by the enigmatic French socialite Clara Saint (Adèle Exarchopoulos, pictured above) – from becoming an irresistible emblem of the Cold War struggle as French police hold Nureyev's vengeful Russian minders at bay. It's an extraordinary story, and Fiennes and Hare – and Ivenko – have done it justice.