Alice's Adventures in Wonderland (2014), Royal Ballet
Alice's Adventures in Wonderland (2014), Royal Ballet
Classy dance, design and music, marinated just a little long in the treacle well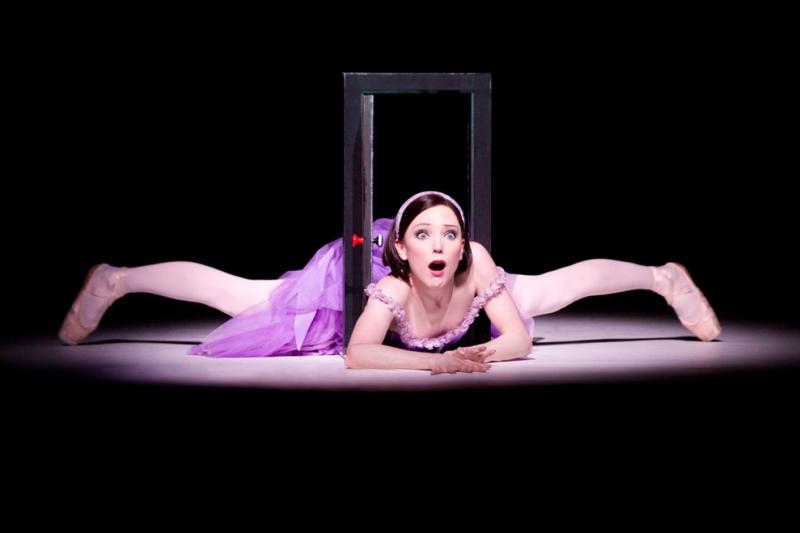 Sarah Lamb as Alice: sweet but never arch
Christopher Wheeldon's hard-working mix of skewed classical ballet, vaudeville and Victorian theatrical magic achieved through state-of-the-art technique wasn't much liked by theartsdesk's critics on its first and second outings. Marvelling at it on DVD as I worked on the notes for that release, I wondered why. Now it's clearer that many of the special effects and characterisations work best in close up.
But for all that it's an inventive if overlong entertainment, its occasional treacle quotient fine for seasonal cheer.
You'll get your money's worth simply from the wonders of Bob Crowley, a designer who's moved with the times, hand-in-glove with projection design from Jon Driscoll and Gemma Carrington and the puppetry of the fabulous Cheshire Cat. All that expenditure has proved itself for this durable three-act ballet. Still, I'd have been happier if Wheeldon had kept it to the original two and pared down. Bbut while the first two curtains are weak, at least without a decided over-extended first act, you're fresh for Alice's identity-crisis solo and a caterpillar sequence which, while still pandering to ballet's old-fashioned love of dodgy orientalism, doesn't now outstay its welcome.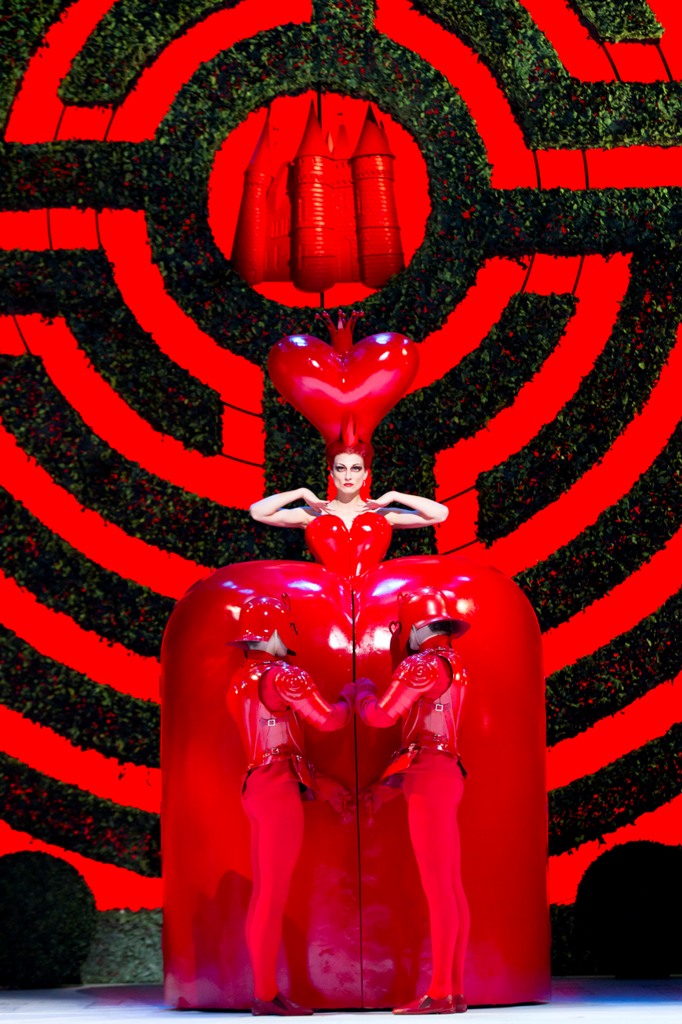 We're never going to get round the basic fact that Lewis Carroll's strange meetings were mostly a pretext for word-play, but Wheeldon and his team have exercised huge imagination in finding suitable substitutes. He wisely doesn't try to cram in anything from Through the Looking-Glass and he does his best to thread the picaresque element with parallels between a teenage Alice's romance with a Christ Church gardener dismissed by her haughty mother and her dream pursuit of him as the Knave of Hearts, a putative tart-stealer wanted by mama transfigured as the Queen of Hearts.
Many of the original charmers and dancers with a gift for comedy were back again on this first night. The star turn, of course, is Zenaida Yanowsky (pictured right by Johan Persson) as a pathological society-hostess Queen with a mug readable, I should imagine, from the back of the amphitheatre and consummate slides from classical elegance into splits and other contortions – artistry for which the Rose Adagio parody and her tango solo richly cater. Sarah Lamb makes Alice's constant presence seem easy and sweet without archness – impressive that the Royal Ballet could find a second heroine as good as Lauren Cuthbertson, and there are no doubt others – while Vadim Muntagirov, replacing an injured Federico Bonelli, has the perfect boy-next-door look as the most personable of Jack/Knaves and gives the court-room pleading a special virile energy.
Alexander Campbell took over the Mad Hatter's routine from fellow Sydneyite Steven McRae, understandably not quite so nifty as that king of tap danfor whom Wheeldon devised the role. Ricardo Cervera (pictured left by Bill Cooper) is a White Rabbit of less pronounced neuroses than Edward Watson (though that may be the difference between staging seen from a distance and DVD close-up), and in any case he relaxes into the role, ending with a precise bunny-twitch for the latter-day Carroll who brings down the curtain. Simon Russell Beale's dance debut as the Duchess didn't seem quite right in the first run, but Philip Mosley makes little enough of the character: it may be that consummate drag dancer Alastair Marriot finds Ugly-Sister magic later in the run, but the Duchess's scene with the meat-cleaving Cook and the crying baby remains along with the Caucus Race one of the few weak stretches. Choreographically, it's really not up to the savage strains of the music.
The music itself waxes ever more attractive under Canadian National Ballet MD David Briskin's confident baton. Joby Talbot's melodies don't extend beyond short strains, but I hear more now how he transfigures the Hearts-kingdom tune from waltz to variation, and the "leitmotifs" for each character are well drawn. Most effective is the percussion-glittering orchestration, shared by Talbot with Christopher Austin and nodding to Ravel and Debussy as well as contemporary minimalists.
If the score would only occasionally settle to simplicity instead of digging deeper into the treacle well, it would be a modern classic. It's at its best serving the Balanchinesque corps card dance – consummate, as are the flamingoes and kid hedgehogs of the croquet game – and the Fokine ensemble number in the court room. A shame the ensuing Pas de deux is so sugary, but this again is where pruning wouldn't have gone amiss. But like I pointed out, you get your money's worth, even if, as Tchaikovsky said of the Nutcracker premiere, the eye tires of so much opulence.
Carroll's strange meetings were mostly a pretext for word-play, but Wheeldon has exercised huge imagination in finding suitable substitutes
rating
Share this article