Ballet Nights, Lanterns Studio Theatre review - dance gets its own cabaret season |

reviews, news & interviews
Ballet Nights, Lanterns Studio Theatre review - dance gets its own cabaret season
Ballet Nights, Lanterns Studio Theatre review - dance gets its own cabaret season
A compered gala packed with fine and varied items, but the idea still needs tweaking
Wednesday, 04 October 2023
White act: Melissa Hamilton in the final throes of Michel Fokine's 'The Dying Swan'
The variety show format is hardly new to concert programming. In the early 1900s it was the norm. Go to hear a Beethoven piano sonata or the latest piece by Claude Debussy and you could expect it to be followed by a novelty item on the fiddle, a vocal rendition of "Sally in our Alley" or a ventriloquist. By comparison Ballet Nights – an enterprise headed by impresario-compere Jamiel Devernay-Laurence – is playing safe by focusing on dance.
Granted, each evening draws from a range of styles – from classical ballet through neo-classical to modern and avant-garde – with a single substantial piece of piano music at the top of each half. The season is billed as "dance's first Jazz Club meets stand-up gig" but to judge by the opening night, so far only the lighting (dim) fits that description. If there were jokes, I'm afraid they passed me by.
Devernay-Laurence's pitch is a sound one, however: he wants to spotlight the performers as extraordinary people and bring the audience as close to them as is practically possible. Dockland's Lanterns Studio Theatre is an unusual space – a vast square barn wedged between the towering glass blocks around Canary Wharf – and for Ballet Nights its footprint is largely given over to the dancers, creating an exciting acreage of floor to run and jump in, the spectators (who are encouraged to bring in their drinks) just metres away. Devernay-Laurence, once a dancer himself, makes for an agile MC, darting about with a hand-held mic to deliver anecdotes about each act. But while it may be mildly interesting to know that so-and-so has only recently recovered from a broken foot, admistrative logistics and how who knows who are of no general interest at all. Devernay-Laurence brings a welcome cheeky energy to his task, but he needs to think again about what kind of chat will draw outsiders into this rarefied world.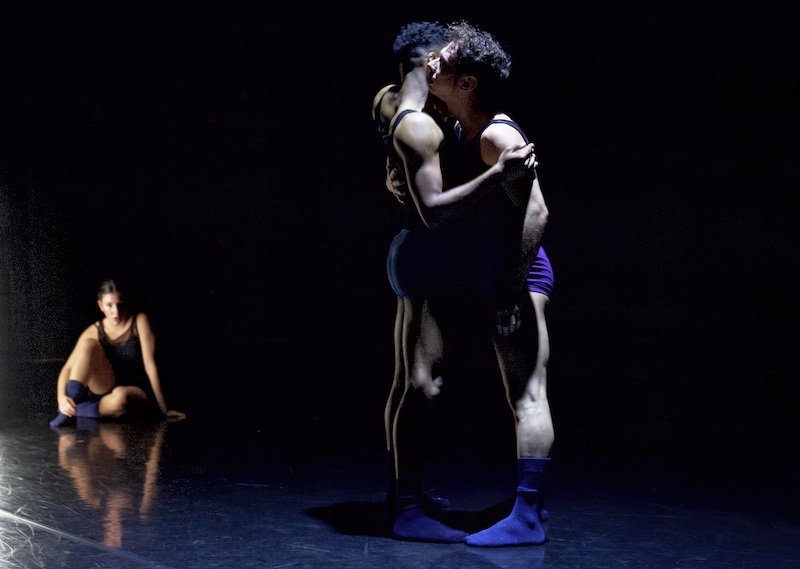 Melissa Hamilton's The Dying Swan was a case in point. Instead of merely bigging her up as a class act at the Royal Ballet (anyone could see she was good), he could have told us something useful about that solo (pictured above). Such as that it has nothing to do with Swan Lake. Such as that it was a "pièce d'occasion" made famous by the dancer Anna Pavlova who performed it around the world about 4000 times. Similarly, a pas de deux from Kenneth MacMillan's ballet Isadora cried out for context. What we saw was a barefoot woman in floaty half-undress coming on strong to a man who seemed discombobulated by her forthright ardour. We badly needed to be told that the extract was from a ballet based on the life and loves of the Edwardian dancer and celebrity man-eater Isadora Duncan, famous for her disdain for shoes and prevailing mores. Amy Thake and Edd Mitton of Yorke Dance Project, a company that specialises in reviving MacMillan ballets, danced the extract beautifully, but much of the detail was lost on a crowd who hadn't been briefed. I would also take issue with the fact that no credit was given to the composer of the (taped) music. Quite apart from giving the impression that Ballet Nights can't be bothered to find out who wrote the score to Isadora (it was Richard Rodney Bennett), that kind of oversight could land them in hot water.
There was more MacMillan danced by leading lights from the Royal Ballet in the slow pas de deux from Concerto, danced with fine control by Hamilton and Ryoichi Hirano. At the newer end of the spectrum was a Ballet Nights commission from Jordan James Bridge who performed it most compellingly, stripped to the waist. Peter Leung's All In Passing was the sleekly modern ensemble work on the bill, danced by members of New English Ballet Theatre (pictured above). A complex extended puzzle of a piece, it felt a little too long and demanding for this cabaret context, which caters more to short attention spans.
The intriguingly titled "You Will Get Your Wants" by Gavin McCaig was a duet in which Joseph Taylor clearly lost the marital tug of war to Julie Nunes, who stalks off at the end presumably to get her wants elsewhere. But the two dazzlers of the evening were both solos. Constance Devernay-Laurence was trussed into in a splendidly elaborate tutu for the Gamzatti variation from La Bayadère – but how much more fun it would have been for the audience to know that this triumphant solo comes just as this glamorous 19th century babe has effected the murder of her love rival by sending flowers concealing a poisonous snake. Nonetheless there is always something thrilling about seeing high-Russian classicism in full mufti out of its context. In a bare black space you see it for the extraordinary confection it is.
More explosive still was the Czardas choreographed and performed by Royal Ballet principal Steven McRae (pictured above right) wearing his other hat as a tap-dance supremo. Whipped on by the high-end gypsy fiddling of Vasko Vassilev, who physically interacted with the dance by crouching at its feet, McRae posed and whirled and rattled like a southbound train to whoops and cheers. It's that kind of virtuosity and that kind of style – glittery black trousers and ripped bare torso under an expensively tailored jacket – that could make Ballet Nights a hot ticket, along with the anchoring quality of the season's featured pianist Viktor Erik Emanuel. The Chopin Variations brillantes and Liszt Ballade No. 2 he performed at the head of each dance set would stand scrutiny in any concert setting. More please.