Cinderella, English National Ballet, Royal Albert Hall review - big, bright and bankable |

reviews, news & interviews
Cinderella, English National Ballet, Royal Albert Hall review - big, bright and bankable
Cinderella, English National Ballet, Royal Albert Hall review - big, bright and bankable
Christopher Wheeldon's glossy arena show suggests bigger isn't better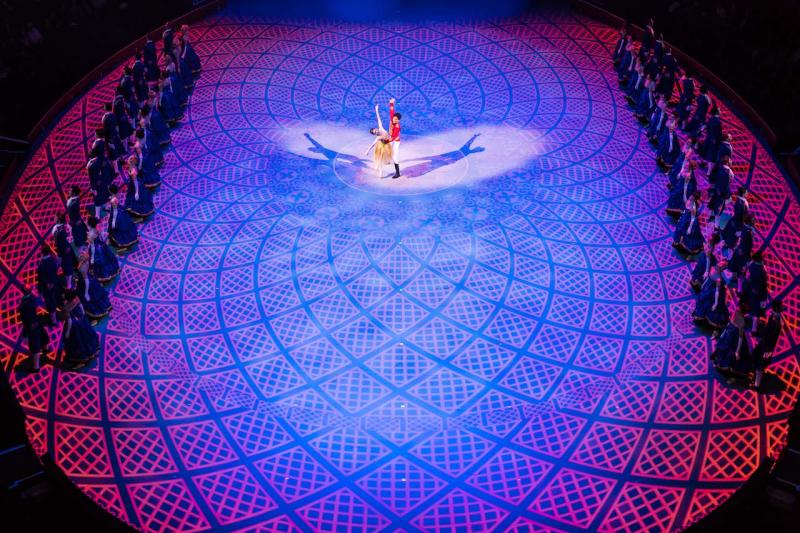 Having a ball: Alina Cojocaru and Isaac Hernandez with the artists of English National Ballet
It might seem odd to laud the entrances and exits of a ballet, but when it comes to stagecraft Christopher Wheeldon is second to none. You lose count of the ingenious ways he finds to shift up to 130 dancers in and out of view at the Albert Hall.
Wheeldon created his three-act
Cinderella
in 2012 for a conventional stage, but for
English National Ballet
he has reworked it for this vast, non-theatrical O. For once, the wheels of Cinders' carriage have space to roll.
The down side is that the narrative feels overstretched and thin in spite of the pyrotechnics that have been thrown at it – massive projections of baroque palaces, starry skies and a tree that grows as you watch. This is said to be ENB's biggest production ever, but it doesn't feel as big as Derek Deane's arena Swan Lake, and only rarely delivers the same frisson of epic spectacle.
Familiarity should be a gift for long-distance storytelling. Determined, it seems, to find more contemporary resonance in the narrative, Wheeldon squanders this advantage, inventing new characters and fiddling with the plot just enough to make it muddled but not enough to add significant depth of interest. It's hard enough to identify characters at a distance, but after the Prince (Isaac Hernandez) and his boyhood friend, the son of a palace servant (Jeffrey Cirio), swap clothes for a lark, you can almost hear the trip of the switch as more distant sections of audience literally lose the plot.
Even I, in a closer press seat, was temporarily confused to spot a scruffy, top-hatted character hobnobbing with Cinderella around her kitchen fire, as if the Artful Dodger had wandered off the set of Oliver!. It was the Prince in disguise, stupid. We had to see that the pair had history. It seems that love at first sight, or first dance at the ball, is no longer enough.
While Prokofiev's score allows for pantomime elements, you wish Wheeldon had listened harder to the music's tragic tug. It was impossible to feel for Cinderella's plight faced with the bizarre sight of Alina Cojocaru ladling porridge to her seated family while standing atop a mobile dining table – a desperate bid to cover the expanse of floor.
Wheeldon gives lots of complex comic choreography to Cinders' competitive sisters, and Emma Hawes and Katja Khaniukova work their socks off being funny, but that level of detail, again, doesn't deliver beyond the front stalls. Tamara Rojo's bibulous stepmother (pictured above) is more crudely drawn and thus draws more laughs. The artistic director certainly looked as if she was having a ball all of her own.
This choreographer is at his best when marshalling the troops in big geometric patterns, and there are plenty of these at the end of the Seasons section, when the colours of spring, summer, autumn and winter cluster in dazzling concentric circles, and again at the ball. The costumes (Julian Crouch) and puppet heads (Basil Twist) are mostly top-notch, although Cinderella's pheasant-themed cocktail frock renders her peculiarly underdressed at the ball, and the designers' most brilliant ideas are glimpsed too briefly. The fluffy egret girls! The courtiers with conker heads! We needed to see more of them.
We also needed to see that the orchestra was live. Hidden behind a screen and amplified, the sterling work by conductor Gavin Sutherland and the ENB Philharmonic cries out for far more presence.
There is no doubt that this is a bankable show, which is what ENB needs in order to fund the increasingly interesting mixed programmes it mounts in autumn and spring. It's not Wheeldon's best work – for bums-on-seats appeal, his Alice for the Royal Ballet was much bolder – but many will enjoy the glossy effects, and might even be persuaded to give ballet a second look.
Familiarity should be a gift for long-distance storytelling. Wheeldon squanders this advantage
rating
Share this article