'It's more fun to dance in a tutu': Tory Dobrin of Les Ballets Trockadero de Monte Carlo |

reviews, news & interviews
'It's more fun to dance in a tutu': Tory Dobrin of Les Ballets Trockadero de Monte Carlo
'It's more fun to dance in a tutu': Tory Dobrin of Les Ballets Trockadero de Monte Carlo
The artistic director of the Trocks explains how he keeps his ballet parodists on their toes
Wednesday, 12 September 2018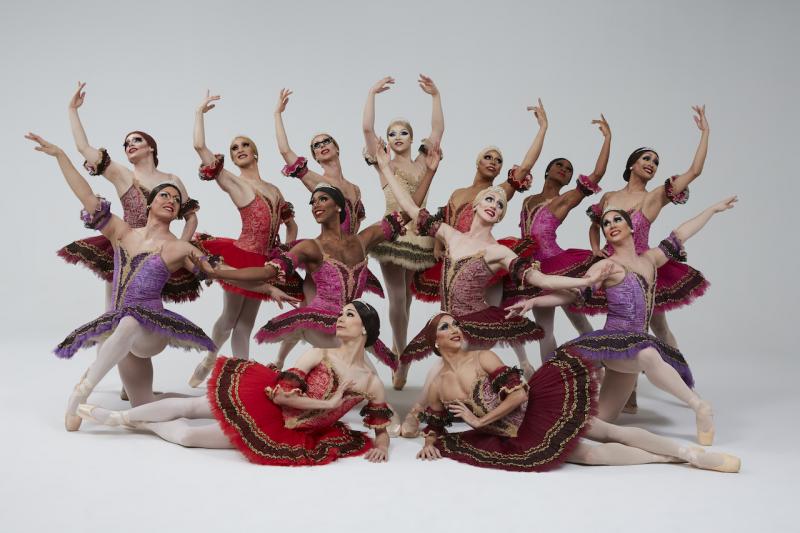 Tutu marvellous: members of the Trocks in their staging of 'Paquita'
Forty years on from its beginnings as part of New York's gay lib movement, Les Ballets Trockadero de Monte Carlo is playing to a global, largely straight audience. As the company launches a major UK tour, starting this week at the Peacock Theatre in London, its director of 28 years analyses its longevity.
JENNY GILBERT: So, Tory, the company has been going since 1974. How is it still possible, given the greater acceptance of gender fluidity, to make comedy from men impersonating women?
TORY DOBRIN: I don't like the word formula, but it's true that we've found a thing that works and we've stuck to it. The comedy came out of the gay liberation movement in the US in the mid 1970s, and we've continued with that point of view. The reason it still works is that we're satirising characters, not gender. When the guys dance as ballerinas they're not imitating women, they're imitating "ballerinas". There was a whole movement in New York – other art forms were doing it too – Gran Scena with opera, The Ridiculous Theatrical Company with plays. Sometimes I'm proud to say that, out of that era, we're the only company still in operation.
One reason for our global reach is that dance is good everywhere, though I accept that we do verbal jokes too. Whenever it's possible to organise, our pre-show announcements [delivered in a heavy Russian accent] are translated into the local language, but they never get as many laughs as they do in English. Vladimir Legupski, Ida Nevasayneva, Nadia Doumiafeyva… Once the audience hears those names, they know they're allowed to laugh.
Tell me more about those stage personae. Each dancer has two, right? One female, the other male. Do you invent new names when you recruit new dancers?
Only rarely. When a new member comes into the company, they usually adopt the name of an exiting dancer. I like the continuity of passing stage names down generations of performers, like in Japanese kabuki. The company has always been big in Japan, and not just because the Japanese are in the grip of a ballet boom. They're also very comfortable with gender fluidity, given the long tradition of men playing women in kabuki, and women playing men in takarazuka. The Japanese don't have a hang-up about "gay stuff". It's just part of the culture.
But how do you account for the way your audience has broadened, even in conservative parts of Britain? On your last UK visit, in Canterbury I recall that the capacity crowd was a sea of silver hair. Is that a measure of how far LGBTQ acceptance has trickled down?
There's less shock these days, for sure, but that doesn't mean there's less enjoyment. This is a comedy company. There's certainly a gay sensibility and an element of camp, but ballet is hard. It's hard to be a good ballet dancer, and it's really hard to dance on point. So there is a certain lunatic element to these dancers. They have to be pretty out there to want to do it. And that crazy energy is what audiences respond to.
Some of the comedy springs from things that happened in rehearsal that we kept in
Speaking of technique, is daily class for the Trocks the same as daily class in any other ballet company?
Yes and no. Everyone works hard, but these dancers have a lot of fun, too. They compete like men compete. There's competition among women in ballet too of course, but it's usually more subtle. Men compete out and out – they're doing impromptu pirouette competitions after class. They all want to dance better. And they all have the opportunity to dance better because in this company we don't have gradations of roles. Everyone gets a chance to be a soloist. That keeps the company focused, and also friendly. There's not a lot of seething people waiting for the older members to die off. These are also fun guys and, truly, it's fun on stage. We don't allow improvising, but each dancer has their own comedic input and I keep a log of which ballerina does which role in which city. So even if you've seen the Trocks' Swan Lake twice already, the next time will still guarantee new jokes. Just as Lucille Ball and Hermione Gingold could not do Gigi in the same way, so each Trocks Swan Queen has his own take on it.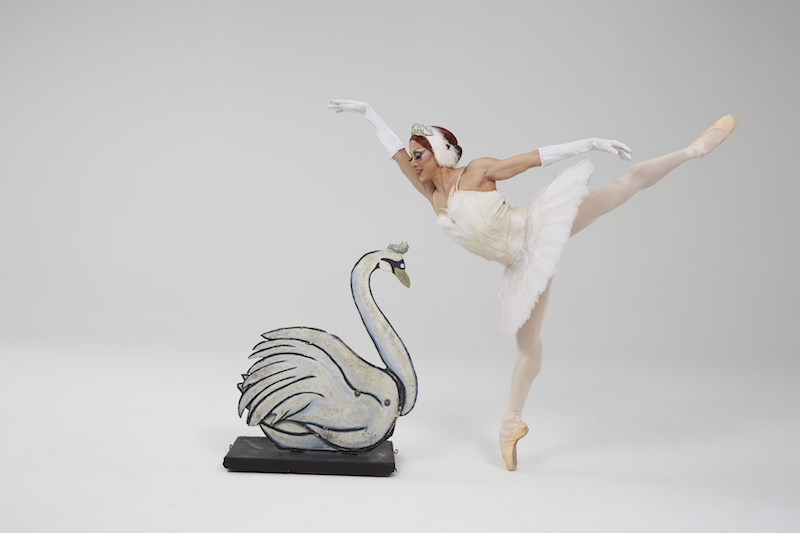 But how, after 28 years as director, do you keep a sense of what's funny?
I listen to the audience. And I apply my own taste.
It's striking that the comedy is never smutty, because it easily could be.
If I think it goes close to the edge, that's fine. But the minute it goes to the dark side, it doesn't work for me. I'm also careful that we don't use the same jokes all night long. Dancers falling over, or a tiny danseur struggling to partner a tall ballerina … You can only find that funny once. Some of the comedy springs from things that happened in rehearsal that we kept in. Like the whole line of dancers falling over in Paquita. Or the danseur who drops the ballerina and then does a couple of push-ups. Our dancers are natural comedians. My role is to shape and edit that.
Do you require a new dancer to be proficient on point before he's hired?
If someone auditions I assume they already own a pair of point shoes. Nowadays, unless you have particularly ginormous feet, it's not difficult to get hold of a size 46 or 47. They're made to measure anyway. When dancers audition for me I only need to see them do an échappée or an entrechat to know that they're going to be able to do it.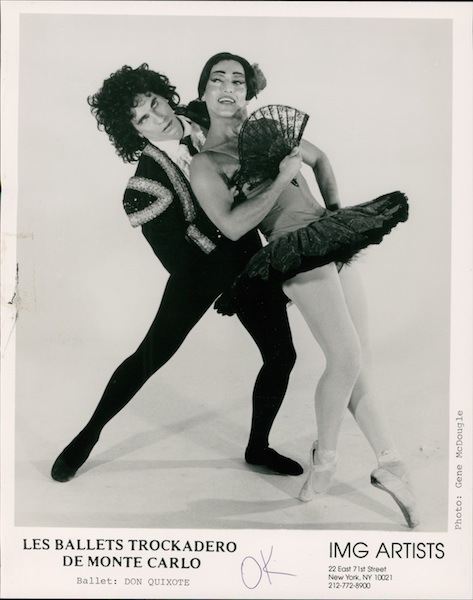 But how does a guy learn to go up on his toes in the first place?
When I was dancing in the 1980s (pictured left, as the boy, Basil, in 'Don Quixote'), there were only two teachers in the world who would let the boys go on point in class. Now every teacher will let you do that. Times have changed. Let's say the guy isn't as masculine as he might be, or he's not very tall. Dance schools now say, how about Ballet Trockadero as an option? As a career move it's a good one for a dancer who wants to see the world. The only countries we haven't cracked yet are Arab countries.
How do you go about developing the stamina, and the line, that pointwork requires?
I compare it to being a tennis player. If you're a baseline player and then you're asked to play close to the net, you still know how to hold the racket and position your body. Male dancers learning to dance on point is not like young girls learning to dance on point. These guys already know the mechanics of dancing – how to centre their weight, how to maintain a line – they're just adding an extra element.
Does the company subscribe to a particular school of training?
Absolutely yes. What we're aiming for is the high-classical, 19th-century Russian look, so our teachers at home in New York are mostly Russian and mostly women. We're reclaiming the old glamour of ballet.
Did you set out to preserve a dying species?
We didn't, but that's what's happened. It may sound like a contradiction, but we're traditionalists. Plus it's actually more fun to dance in a tutu than in tights and a leotard. It's like if you're going to a Halloween party, it's more fun to go in some gorgeous get-up than in your jeans. And for a man, a tutu is wonderfully taut and supportive. It has its advantages….
That's maybe tutu much information. Let's change the subject. Why such a narrow repertory?
We would love to do a few contemporary ballets, but what stops us is lack of funding. At one point William Forsythe said it was OK for us to use one of his pieces. But we didn't have the money to pay for the rights. We also spoke to Mark Morris about doing a Carmen, but that didn't happen for the same reason. In London we're bringing Napoli from the 19th-century Danish school. And for that we hired a Danish ballerina, Karina Alberg, as coach. Technically the Danish school is very different from what we're used to. The upper body is so still, and the timing and co-ordination totally different. Does the audience care? Not at all. But for the dancers it's a challenge and they love a challenge.
Is YouTube a useful resource for your dancers in terms of refining the style?
Absolutely it is. I'll often present them with clips of performances, and not only by Russian ballerinas I specially admire. I'll also get them to watch performances I don't want them to emulate. "This is what we're trying NOT to do," I tell them. A guy might arrive in the company a fan of Sylvie Guillem, but he'll very quickly learn that that's not what we're about.
The reason it still works is that we're making comedy out of characters, not gender
Explore topics
Share this article