Les Antliaclastes, Institute of Contemporary Arts/ A Guide to Puppetry |

reviews, news & interviews
Les Antliaclastes, Institute of Contemporary Arts/ A Guide to Puppetry
Les Antliaclastes, Institute of Contemporary Arts/ A Guide to Puppetry
A Mime Festival favourite returns, plus a guide to puppetry techniques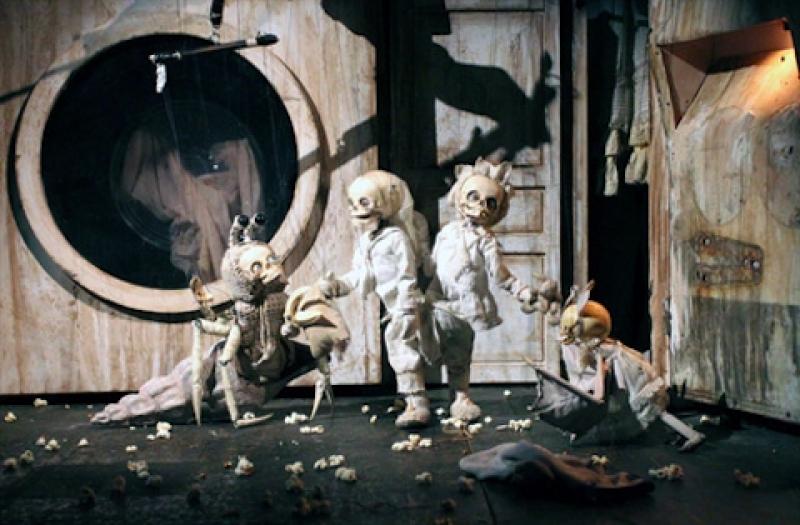 Les Antliaclastes: Like miniature relics of an experiment by a crazed Victorian Frankenstein
The puppets appearing in LIMF this year are by no means all child-friendly - after the mild kiddy-horror of Teatro Corsario and their hand-manipulated Bunraku creatures, the return of the much more disturbing imagination of Patrick Sims, founder and governing mad scientist of Buchinger's Boot Marionettes, was my most-looked-for event.
The unhinged strangeness of
Armature of the Absolute
and of
Shellachrymellaecum
still rattles discomfitingly around in the darker corners of my memory from time to time, scratchy, dusty flutterings of skeletal critters, tiny fairy babies sobbing in jars of formaldehyde, ancient wind-up gramophones crackling.
But last year Sims broke up with his fine band of Boot Marionetteers, leaving them with a bunch of unperformable puppet masterpieces, and Sims with the need to start a new troupe as good as his last. Les Antliaclastes is the result, and their debut production Hilum had a reassuringly familiar promise of disturbed ghosts in the ICA.
The weird words have sepulchral reference points: the young French absurdist playwright and very tiny man Alfred Jarry (1873-1907) is a hero figure for Sims - he created the lavatorial and surreally shocking Ubu Roi (the misshapen monster for which Sims created a puppet in Armature, and who returns briefly to Hilum), and when he was around 15 he wrote its precursor, Les Antliaclastes. The hilum is the point where blood vessels and nerves enter an organ, an umbilical sort of attachment.
Whatever it means, there is a definite, if addled, air of musty childhood here. You spend your hour peering into an incredibly decrepit utility room at a washing machine, decaying walls and moth-eaten laundry. From doors and drawers creep distorted little pale-boned creatures, like relics of a horrid experiment by some crazed Frankenstein hybridising birds and babies. A foetus has a beak, a granny with glasses has no arms but wings, a pair of Siamese twins hop about on two bird's-legs, a crab scuttles myopically about on bony little tippy-tappy digits. Spooky and shrunken, like skeletons and mummies from a museum of curiosities. The curtains on the show are cupboard doors lined with shelves littered with bits of things: dismembered bits of swan, jars of pickled something-or-others, bleached bone joints, tiny teeth.
All this does a good half of the work necessary for a good show, but I found no suspending theatrical thread in Hilum for its exquisitely peculiar little marionettes. Partly this is due to the extreme obtrusiveness of the four puppeteers, shrouded in white 19th-century clothing, their faces veiled with white lace table mats and bobbled little bonnets, everything chalk-white, except for a very pink toe sticking through a hole in a stocking. They crowd the stage, treating the homunculi like cats or children, shoving them away when they want to get to the washing machine. (Sometimes they even get into the washing machine.)
Many strings got tangled up, and complex operations became all too complex, as puppeteers resorted to untangling minute fish from fine wire hooks, or guided recalcitrant little electric-powered oddities around the stage by yanking their cable. A minute pink Chevrolet whirls on to a cracked Elvis record, bringing a faint memory of Lady Penelope's FAB Rolls to mind. There's a promising birth scene where the washing machine disgorges a tiny washing machine, but where you're expecting the visceral horror of the John Hurt scene in Alien, this didn't go anywhere. I suppose what I'm saying is that Hilum wasn't horrible enough - the Buchinger spirit is still there, but oddly domesticated, put through the whites on the washing-machine cycle. Either that, or it was one of those nights when inanimate objects just refused stubbornly to do what they were supposed to.
A Guide to Puppet Techniques
The techniques here - string and miniaturism - are fascinating to see, though, after the Bunraku-esque hand-puppet work of Teatro Corsario, and later in LIMF Faulty Optic will show their own idiosyncratic take on disconcerting visual manipulation.
While half the impact of puppets can be the fastidiousness of the makings of the marionettes and the expertise of their handling, for thousands of years, and the world over, puppets have been familiar instruments to tell tall tales far too weird to be done as plays - absurd parables, mythical tales and unmentionably down-to-earth comedy. Of many different strands, these are five of the main ones:
Rod puppets
The earliest puppets known were found in the Indus valley, rough clay-modelled dolls with separate heads that could be turned by a rod. Four thousand years later, this technique's evolution is ambitiously demonstrated in the National Theatre's Warhorse, where the Handspring Puppet Company use three or four people to manipulate a single life-sized horse marionette using a variety of rod and other techniques.
String puppets
Sometimes with articulated joints, controlled from above by strings or (later) wires. Traditions in the Far East date back 4,000 years with the manipulator either out of sight, to enhance the illusion, or visible, adding a contrast of scale and drama in the stage. The word "marionette" is thought to come from "little Mary" in Italy, since string-controlled puppets were used in medieval Italian Christian morality plays until the puppeteers' comic liberties with their stories got puppets banned from church. The puppeteers moved outside into the streets, and the commedia dell' arte tradition arose, from whose character Pulcinello the British Punch derived.
Some of Shakespeare's plays were performed using string puppets, and Mozart operas are popular with two celebrated Marionette Theatres in Salzburg and Prague, where the productions are considered adult, not children's, entertainment. Petrushka, the Russian folk tale, is perhaps the most renowned puppet tragedy in theatre as recreated by Igor Stravinsky and Michel Fokine in ballet for the otherworldly dancer Nijinsky. Sometimes, as the "Supermarionation" of Thunderbirds (pictured left) showed, it's the incompetence that makes puppets more adored.

Shadow puppets
China, Turkey and Indonesia have celebrated forms of shadow play that go back millennia. France came to it two centuries ago and developed it with magic lanterns into the deliberately horrific phantasmagoria form of theatre, designed to frighten spectators out of their wits. The French tradition is vividly alive now in the wealth of puppets and mime performers produced in that country in a large range of techniques.
Bunraku
Hand puppetry, developed to tremendous sophistication in Japan with two or three puppeteers each moving a part of a fair-sized creature directly with their hands inserted inside the head, body, hands and feet, creating very life-like movement and facial mobility. (Pictured right, a traditional Bunraku head.) The puppeteers usually had to be visible, though disguised in the backcloth. Teatro Corsario's puppetry in LIMF last week evolved this to hide their puppeteers to the point of invisibility, allowing for some strange illusions for the audience. ENO's recent opera A Dog's Heart also exploited these techniques.
Glove puppets
Sooty and Sweep, the Muppets, what these have in common is the need to "talk" realistically to the audience, where other forms of puppets aim at visual illusions combining with musicians and audio engineers. A serious approach to glove puppetry was attempted in the 17th century in China, where a tradition of local glove-puppet opera developed. The challenge in glove puppetry is to coordinate mouth movements exactly with the often rapid-fire speech.