Mariinsky Ballet, Royal Opera House: The Highlights |

reviews, news & interviews
Mariinsky Ballet, Royal Opera House: The Highlights
Mariinsky Ballet, Royal Opera House: The Highlights
The thrills, hokey moments, new faces and glories of a superb season
Alina Somova and Alexander Sergeyev in Balanchine's 'Scotch Symphony'
The Mariinsky Ballet has just completed a three-week season, with terrific highs (and the odd low). This was the 50th anniversary of the Mariinsky's (then Kirov's) first London visit, in 1961, and it is worth highlighting the role impresarios Victor and Lilian Hochhauser have played in the cultural life of London.
They brought the Mariinsky to London in 1961, and, half a century later, they have once more given Londoners a summer of artistic richness, with 10 ballets, six choreographers and numerous casts. We owe a great deal to this extraordinary couple.
So, to work.
GREATEST THRILL: Balanchine's Scotch Symphony, beyond doubt for me. This will probably elicit the most raised eyebrows. In a gorgeous evening devoted to New York City Ballet choreographers George Balanchine and Jerome Robbins, the pre-Revolution-Mariinsky-trained Balanchine won plaudits for his Ballet Imperial, with the very Imperial Viktoria Tereshkina thundering through the Tchaikovsky ballet. But for me, she was too imperial, and imperious, by half. Unlike Ismene Brown, I found her dancing hard, bordering on harsh. Instead, I was beguiled, entranced and in fact melted by the delicate Romanticism of Scotch Symphony. Here Balanchine, with typical witty economy, paid homage to Bournonville's La sylphide, just without the story. The up-and-coming Alexander Sergeyev (main picture, above), not perfect by any means, was however touchingly alert to the ballet's tender charm. And I succumbed.
MOST WELCOME RETURN: Again, from the same programme, it was a pleasure to see Robbins's In the Night, three couples' psychodramas played out to Chopin Nocturnes. In the wrong hands, this piece can look like Antony Tudor at his most Edwardian. (There are lots of "Never-darken-my-doors" melodrama gestures.) But in the right hands, and those hands included all 12 on stage at the Opera House, Robbins's outsider view of interior drama is transfiguring. Which leads me to:
HOKIEST MOMENT SUCCESSFULLY NEGOTIATED: The third couple in In the Night quarrel and misunderstand one another, finally to be reconciled as the woman slowly kneels at her partner's feet, finally bowing her head to the ground, palms upturned in supplication. Only the very greatest can carry this off. Happily, Uliana Lopatkina is indeed among the very greatest, and this tall, uncanny dancer, a being from another world (pictured above left), touchingly and truly came down to earth: by humbling herself, she showed her greatness of spirit.
EXCITING NEWCOMER: Don Quixote is not the Mariinsky's natural emotional territory, better negotiated by the more rumbustious Bolshoi. (I make an exception for the thrilling Diana Vishneva [pictured right].) However, Espada, the bullfighter, with a cameo pas de deux in the first act, stole the show when danced by soloist Alexander Sergeyev. It was not his technique, although he has that in spades, but his sense of presentation: he drew himself up, torero-style, in a grand backbending arc, carving out space, and a place for himself on a stage otherwise overstuffed with fuss and bother. One to watch out for.
BAGS OF TECHNIQUE: The Firebird is not much my thing: too much panto, too little dancing is my usual view. If anyone could change my mind, it would be Ekaterina Kondaurova, "Big Red" as she quickly became nicknamed. With her blazing red hair matching her blazing tutu, she was a febrile, dazzlingly strong Firebird, all tremor, nerves and extraordinary steely jumps.
MOST EXCITING MIXED MARRIAGE: It's going to take more than one viewing to get to grips with Alexei Ratmansky's Anna Karenina. But on a first visit, one definitive scene is the horse race where Anna inadvertently reveals to her husband her feelings for Vronsky, which is a magical combination of MacMillan's expressionistic narrative style and Bournonville's delicately steely bouncing choreography: it sounds perverse, but the inventive Ratmansky pulls it off.
OLD FAITHFUL: Mariinsky followers know that the orchestra of the Mariinsky Theatre is one of its glories, and in particular on nights when Boris Gruzin is conducting, a joy. So it proved, night after night.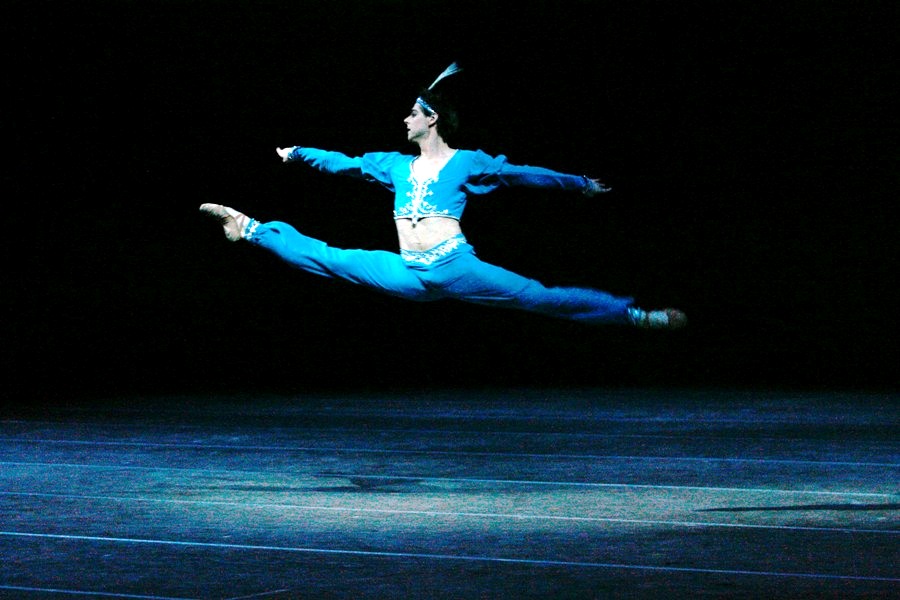 SADDEST EVENING: The dreary Soviet production of Swan Lake (in which not only does Odette not die, but Von Rothbart is beaten to death with his own wing: kids, don't try this at home!). The dancers seemed aware that this production has gone well beyond camp. They performed valiantly, but one wonders why they have to.
GREAT REGRET: Laid low by a bug, I missed La bayadère. (The wonderful Vladimir Shklyarov, pictured left, as Solor; photo: N Razina.) The corps, so magnificent in La sylphide, Swan Lake and Scotch Symphony, were clearly born and trained to perform the Kingdom of the Shades scene.
Note to Hochhausers: can we have them back again soon please?
The Mariinsky Theatre Opera and Ballet 2011-12 season opens with Verdi's opera Aida on 26 September and Lavrovsky's ballet Romeo and Juliet on 29 September