Matthew Bourne's Nutcracker!, Sadler's Wells Theatre review - new candy, but the nuts are off |

reviews, news & interviews
Matthew Bourne's Nutcracker!, Sadler's Wells Theatre review - new candy, but the nuts are off
Matthew Bourne's Nutcracker!, Sadler's Wells Theatre review - new candy, but the nuts are off
This is designer Anthony Ward's Nutcracker! with multiple exclamation marks
Frozen pond or Sweetieland? Cordelia Braithwaite's difficult choice as Clara in Matthew Bourne's Nutcracker!
The legendary quip of a sophisticated ballet critic that we are all one Nutcracker nearer death never rang so true as now. One goes to the theatre with one's heart in one's mouth, behind the partypooping mask.
Matthew Bourne's dance panto Nutcracker! had its very fresh charms in 1992 – the classical skit that launched a path to a knighthood, naughtiness nicely bedecked in every shade of pink, on stage and in innuendo. I observed from its press night audience at Sadler's Wells last night that a good half of them could not have been out of nappies in 1992, or even born. A generation of theatregoers has been cultivated by Bourne's clever whimsies and parodies of Swan Lake, Cinderella, Sleeping Beauty and all, rather than the source ballets on which the young Matt shaped his whimsical homages, drawing on a personal well of shadowed emotions for stagings that smartly captured modern times with surprises, joie-de-vivre and pathos too.
30 years have affected the gender smarts of this cheeky, bed-obsessed Nutcracker! with its camp, twerking jokes
Those 30 years have affected the gender smarts of this cheeky, bed-obsessed Nutcracker! with its camp, twerking jokes about a teenage girl raised in a Dickensian orphanage, desperate to be rogered by her dream date, who is probably gay actually. In 1992 I remember that was quite funny, but also felt part of current social conversation about sex. And that was important - Bourne's pieces were more than superficially and deftly entertaining, they were sly social commentaries on men's secret selves.
I think there is also a historical nuance of significance in that the 1992 production marked a century since the Tchaikovsky-Petipa-Ivanov ballet was unveiled in St Petersburg. Returning and refreshed a generation later, does Bourne's staging emit a hint of that significance in its own afterlife, alongside its cordial generosity with pink? (Below, the Marshmallow Girls led by Ashley Shaw as Princess Sugar)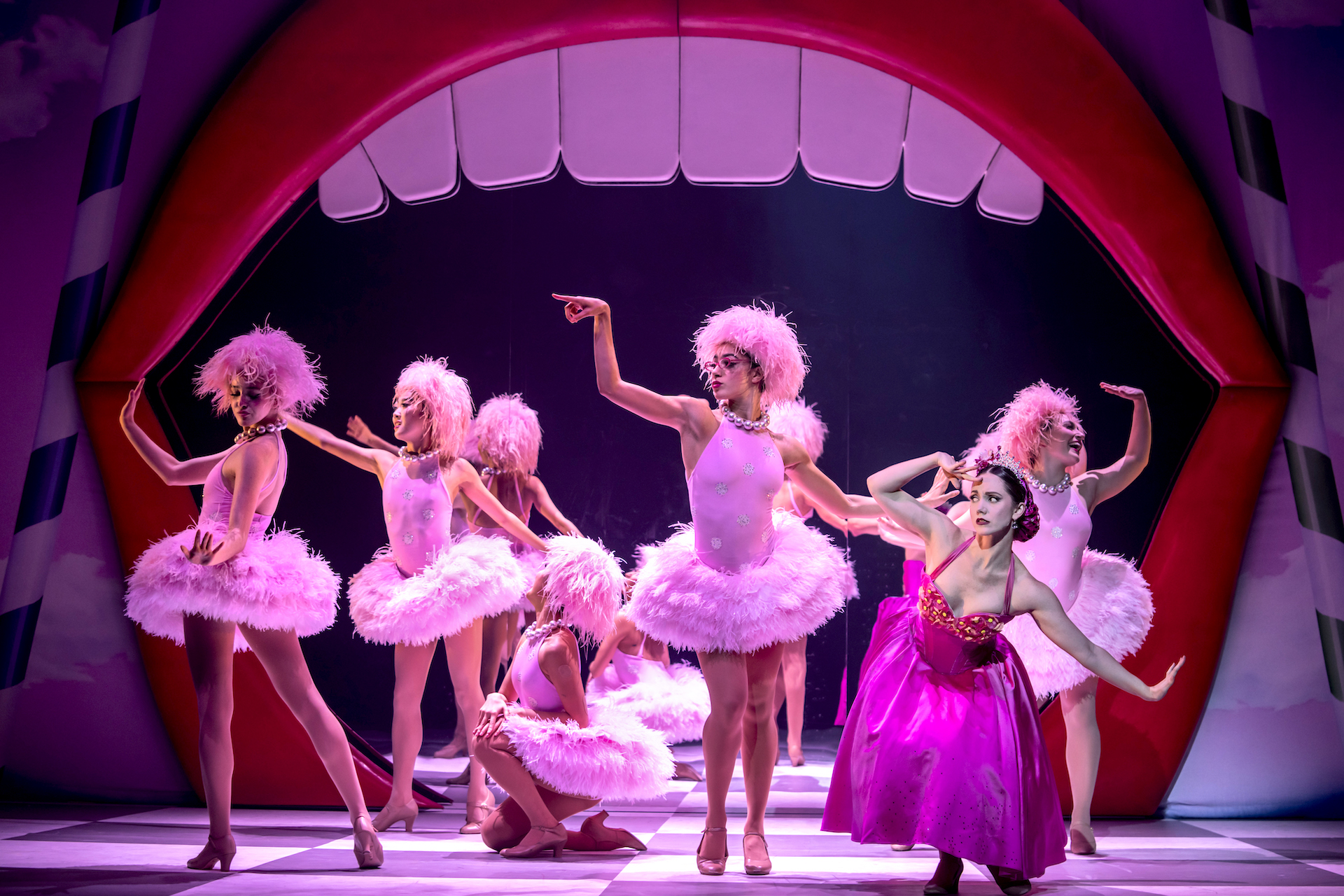 Plus ça change, plus ce n'est pas la même chose. Our sense of Bourne's own artistic possibilities can't help being honed by the dark passion and sophisticated expertise of his recent The Midnight Bell or the 2002 Play Without Words. Given the sweet seriousness and wonder that overflows in the best Nutcracker productions, and in Bourne's best parodies such as Swan Lake and Highland Fling, the vocabulary of jump-hop-clap-kick here remains elementary, no matter how dandily it's dressed.
But the crucial modifier is how social context has changed. Nutcracker! cracked some tasty nuts then, coated in all that candy. Today, in the light of constant stories of abuse of youngsters in care, and the fierce contretemps about transgender politics assaulting the cultural world, it's clear that nut wars have moved on.
It's an anchor to past times that all the gender jokes focus on confusing or challenging male characteristics, the epicene MC, Knickerbocker Glory, the lunkhead Gobstopper boys, the knowingly fluttery cherubs in pyjamas – above all, is the Nutcracker only liberating his human self from his doll body, or is he bisexually liberating himself? And the butt of the masculinity jokes - as unfortunately can be seen more clearly nowadays - is young Clara, whose virginal romantic dreams can't prosper in such a twisty and male-focused world.
Its messages redundant, the show now rests on its production values – which are worth five gold stars with a cherry on top. This is Anthony Ward's Nutcracker! with multiple exclamation marks. The designer gives the panto stunning costumes and fascinatingly squashable and pop-uppable sets, remade with even more lavish flummery and digital wizardry, and brilliantly lit by Howard Harrison.
The first half is all monochrome for the orphanage, dissolving into glistening white in the snow scene – hat-tip to Forties Hollywood - and unleashing the whole galorious candy range of tottering wedding cake and E numbers in part two (pictured right). Exquisitely fluffy pink marshmallow skirts, or shiny gobstopper heads and Mr Whippy hair, clouds that are meringue pillows, an iceberg that's a crash-landed sheet of fondant icing – there's eyewateringly parent-defying stimulation for a little kid at Christmastime.
Artistically, though, the eye is conditioned by sterner values. For a Bourne admirer, the disposability of the concept has if anything been underlined by the scenic brushing up, reflecting that this is an early, even an apprentice piece, when one feels he was splashing out on his ability to please.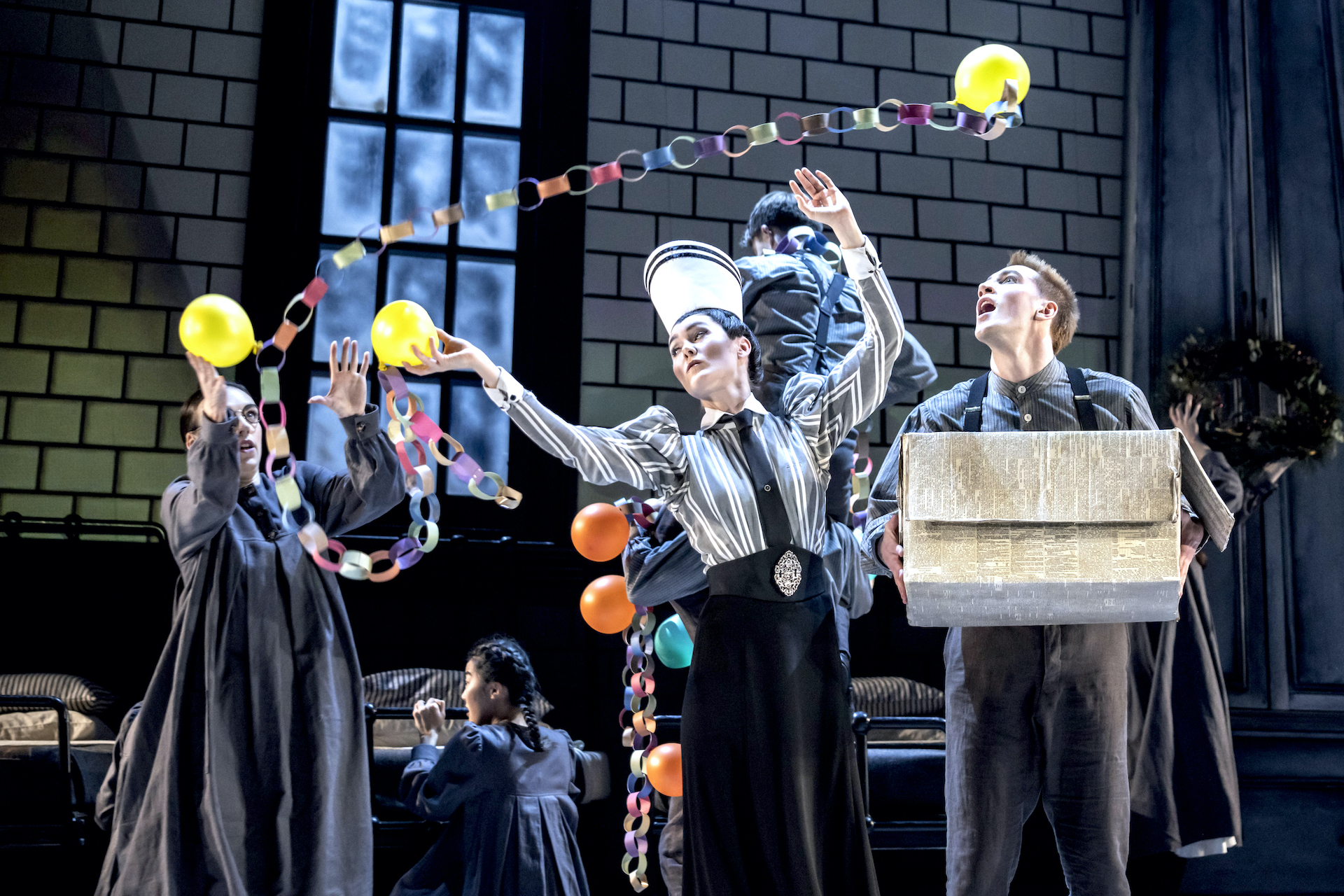 The orphans of Act 1 (pictured above, with Stephanie Billers as Matron) play entirely for laughs, and the grimness has been toned down, so the dash of poignancy I remember has been lost. Cordelia Braithwaite is all unclouded sunshine as Clara and the ensemble's manic cartoon dancing doesn't react to the depths and frissons of Tchaikovsky's magical music, which is played at a respectful clip by the little band – as always in Bourne's productions - though the amplification distorts orchestral proportions in favour of boom and bluster, with added thunder.
Amid the unstinted playing to a fun-starved (and noisily appreciative) audience, there's hardly a moment to stop and shiver as Tchaikovsky casts a spell. Just the once, when Clara's duet with the Nutcracker reminds us of Bourne's real talent for innocent, folksy, hopeful pas de deux, love that doesn't need a triple jab of glycerine. Five stars for packaging, two for contents.
The show is now all about its production values – which are worth five gold stars with a cherry on top
rating
Explore topics
Share this article