Matthew Bourne's Nutcracker!, New Adventures, Sadler's Wells Theatre |

reviews, news & interviews
Matthew Bourne's Nutcracker!, New Adventures, Sadler's Wells Theatre
Matthew Bourne's Nutcracker!, New Adventures, Sadler's Wells Theatre
A giddily inventive Act I and eye-watering designs, but it tails off into recurrent crotch-grabbing
Thursday, 15 December 2011
Bourne's 'Nutcracker!': the marshmallow debutantes with bride Sugar Candy
Here's a mindboggling statistic. By my calculation, some 330,000 seats are going to be offered for sale in London and Birmingham for just one ballet this Christmas - that's live seats, not counting the three (yes, three) cinema screenings of foreign Nutcrackers being beamed into the UK on a lot of holiday dates. So the dance industry reckon to sell up to half a million Nutcracker seats mostly in London in a bit over a month?
I'm tallying up Royal Ballet (20 performances), Birmingham Royal Ballet (28), English National Ballet (35) and Matthew Bourne (47) live, not to mention New York City Ballet, Dutch National Ballet and Bolshoi Ballet via satellite. This is a crazy overfishing of a market that every year has to walk the wire of purveying innocent festive joy to the audience while extracting from their wallets with deadly seriousness the sort of money that keeps an organisation alive throughout the rest of a year. Do these people not confer about their plans?
But why should you care? The kitchen story isn't your concern. Your aim, when choosing a Nutcracker to go to, is to find that elusive balance between laughter and pangs of heady memories, happy dreams, sighs, even grief, that Tchaikovsky's music carries in its frosted, sugar-sparkling backpack (which as you grow older each Christmas intensifies in emotion).
Ever since Bourne produced this - his first big classic rewrite - far back in 1992, audiences have been happily laughing at and with it. The first half puts a smile on the face and warms the heart with its perfect, Bournish comedy - but the second is a let-down, repetitious and over-dependent on campery.
Bourne is an outstanding theatre man who can judge a narrative set-up to perfection - it's the secret of his profoundly rewarding Swan Lake, and it's true of many Nutcrackers that they get the first of the two acts (the "real" Christmas party) more right than the second, the dream fantasy of utmost pleasures and indulgences, with its non-narrative parade of dances.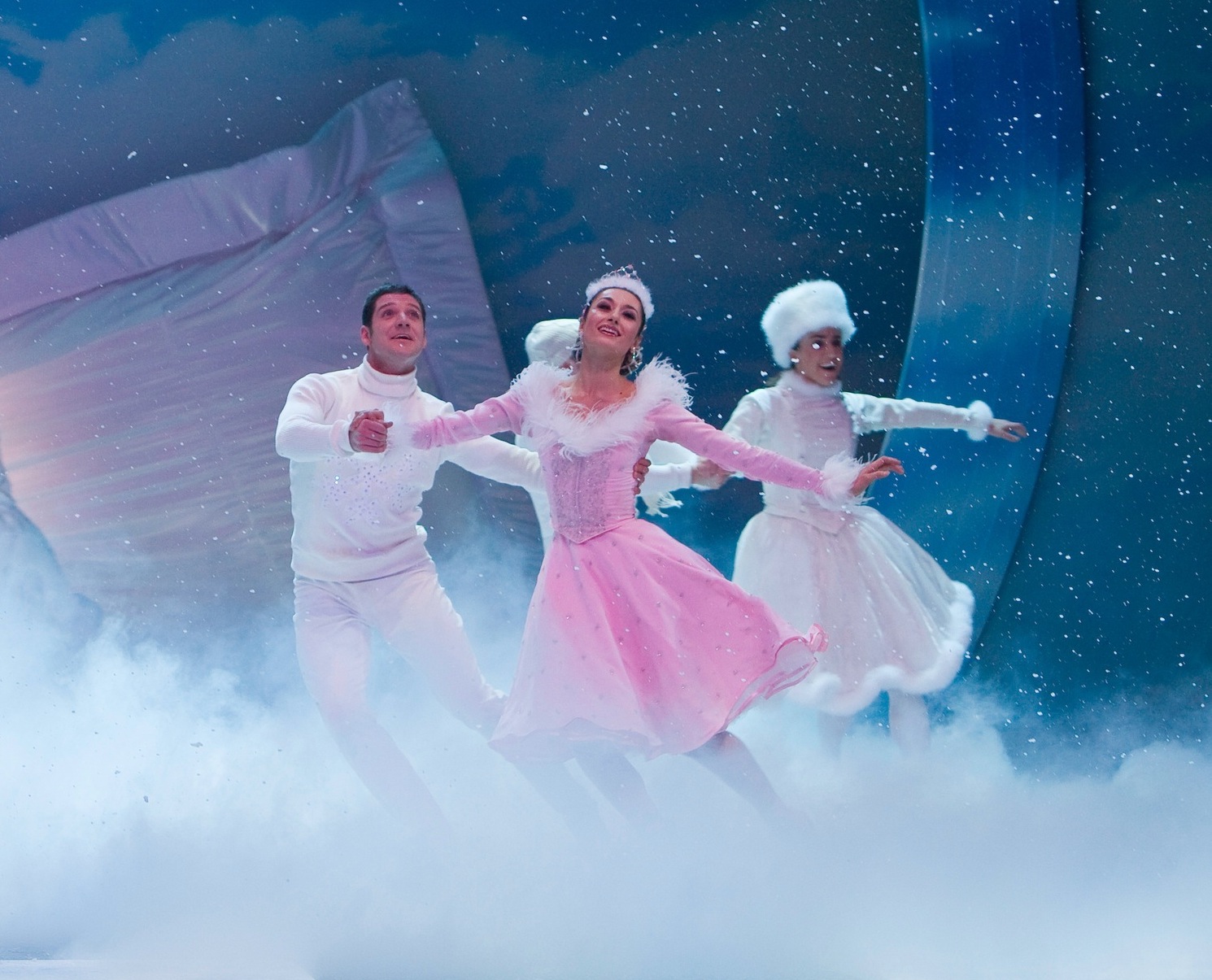 This one launches brilliantly in Dr Dross's ghastly Victorian orphanage, stuffed with rebellious pubescents in voluminous grey uniforms, most of whom seem to be obsessed with sex - peering up skirts, playing pocket billiards, slapping bums. Their dorm is so horrible that it's cracked right through, letting in the weather. When the patrons turn up to be impressed at Christmas by their own philanthropy, the presents for the orphans, even the balloons and paper hats, are loaned only for the occasion by the awful Dr and Mrs Dross, who smartly take back the meagre goodies after the public show is over.
Meanwhile their two children, Sugar and Fritz, are rabidly smug brats, honed in nastiness towards the unfortunate. The effects in Act I are superb, design coups de théâtre produced by Antony Ward, the production's co-deviser, and I couldn't give away what they are - except that they respond with real imagination and mischief to Tchaikovsky's suggestive music.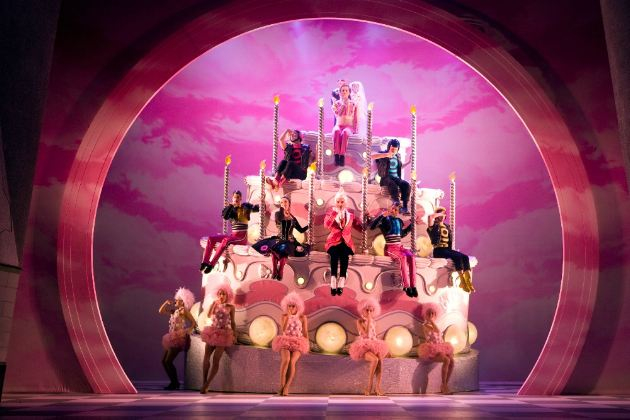 And then we land up in Act II's Sweetieland, where by typical slyness, Sugar Dross has purloined the affections of Clara's Nutcracker chap, and is about to marry him - Clara is not on the guest list. All this looks promising at first, hinting at Grand Guignol catfights and misunderstandings. Instead, Clara is largely sidelined for a tame parade of dancing confectionery, starring Ward's cartoonish costumes - squirly liquorice allsorts for the squirly Spanish dancers, short-sighted cherubs in striped pyjamas, and marshmallow-pink puffs for the girlie debutantes (main picture) teetering about with only one brain between the five of them. Bourne isn't as much of a choreographer as all that Act II music needs, and his takes on the Waltz of the Flowers and the Sugar Plum Fairy music are not wildly rewarding. The dextrous talent for creating myriad individual characters that he shows in Act I gets obscured here behind oft-repeated cabaret bottom-wiggling and crotch-grabbing, nudge-nudge wink-wink.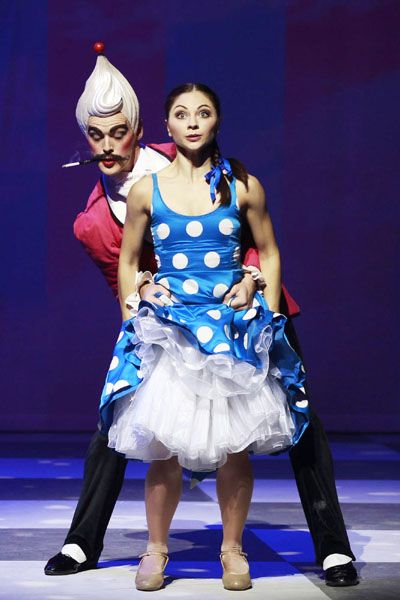 Hence my disappointment. But there may be enough cheeky goodwill and joie de vivre sown by Act I for most people. Hannah Vassallo (lately of Dirty Dancing) is an appealing Clara (pictured right) with her massively hopeful showbiz smile, though plays second fiddle to her rival, Ashley Shaw as Sugar, who steals the limelight with stylish balletic swoosh. A few more muscles, a little more height, wouldn't come amiss on the Nutcracker prince than Chris Trenfield provided last night, but right down to the bit parts there's enough vivacity to launch a space rocket.
Go and hugely enjoy Act I, and suck your teeth for the rest of it. Most Nutcracker Act IIs are disappointing - the challenge of creating heaven in a little girl's mind would sap the confidence of almost any choreographer, and Ward's blinding designs and the deceptively amplified music-making by the small orchestra (a good lead cello) under Brett Morris's brisk baton work hard to make up. I suspect you'll still be seeking another Nutcracker after it, though. Maybe that's how all those 330,000 seats will be filled, by serial Nut-fanciers constantly left unsatisfied and craving yet another fix.
Matthew Bourne's Nutcracker! is at Sadler's Wells Theatre, London, until 23 January, 2012; then tours to New Victoria Theatre, Woking, 1-4 Feb, 2012; Birmingham Hippodrome, 7-11 Feb; Milton Keynes Theatre, 14-18 Feb; King's Theatre, Glasgow, 21-25 Feb; New Wimbledon Theatre, Wimbledon, 13-17 Mar; The Lowry, Salford, 20-24 Mar; New Theatre, Oxford, 10-14 Apr; Bristol Hippodrome, 17-21 Apr - all UK tour tickets here


The children in Dr Dross's ghastly Victorian orphanage appear to be obsessed with sex
Share this article